Okay, so I know that the Apple iPad is supposed to be the savior of the Western world and all that, but I am a simple blogging sort of guy. My question: if I am running Movable Type (MT), not Wordpress, can I create new blog entries from the iPad itself?
You absolutely can. In fact just about this entire blog entry (other than the image editing I did to make it flow mire easily and make a bit more sense) was written on my one Apple iPad, and mine is just thewifi version. So, yeah, it works.
But that is the joy of standards, actually, because the version of Safari on the iPad is pretty darn functionally identical to that on the Mac, other than the special code for the pop up keyboard and the lack of Flash, so why would you think it wouldn't work?
Heck, I am starting to wish that autocorrection was part of my computer experience, not just my mobile/iPad experience, but that is another story entirely!
Anyway, once you have logged in to your Movable Type backend, just tap on the Create menu as always: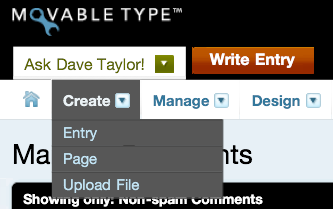 Once you do, you'll see a standard Movable Type (MT) blog entry screen: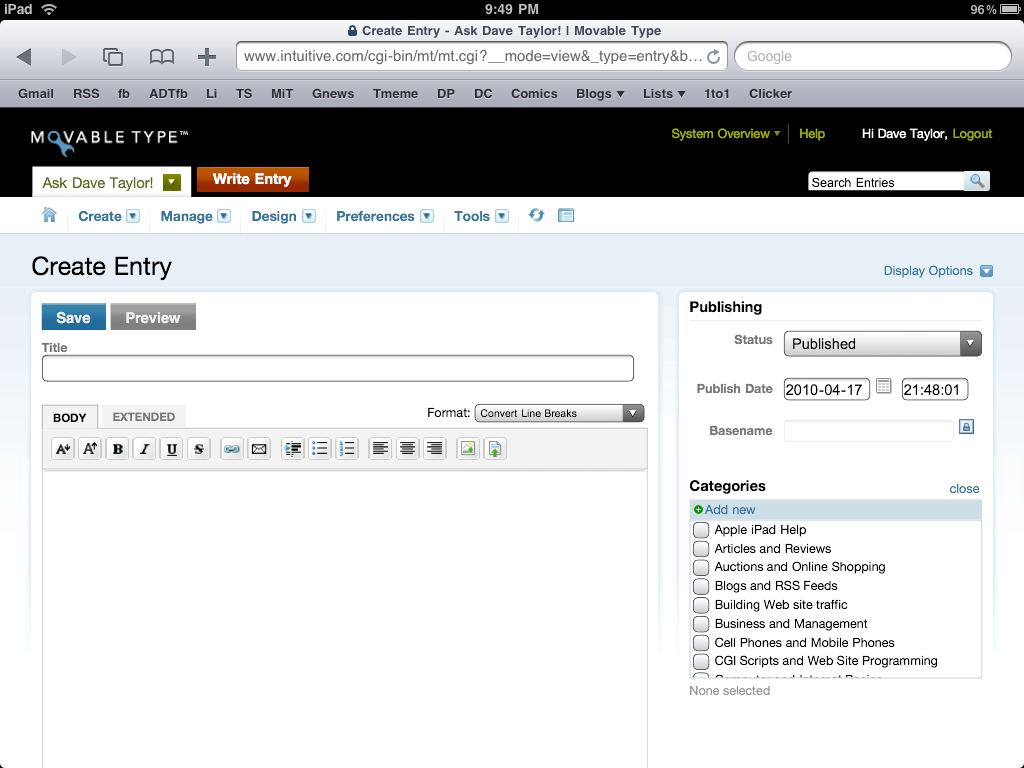 (it's kind of small here, but looks fabulous on the iPad)
For this particular entry, I started by scheduling it for the 23rd by clicking on the "Status" menu: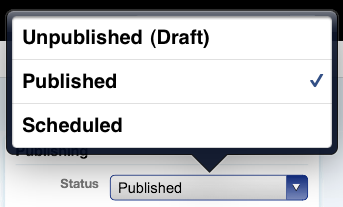 Then tapping on the tiny calendar icon adjacent to the date gives me the ability to specify the desired publication date of this entry (I actually wrote it on the 17th).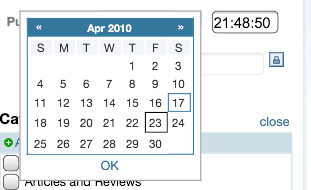 With that done, I tap on the text input box adjacent to "Title" and it gives me the ability to enter the title of the blog entry by popping up the virtual keyboard: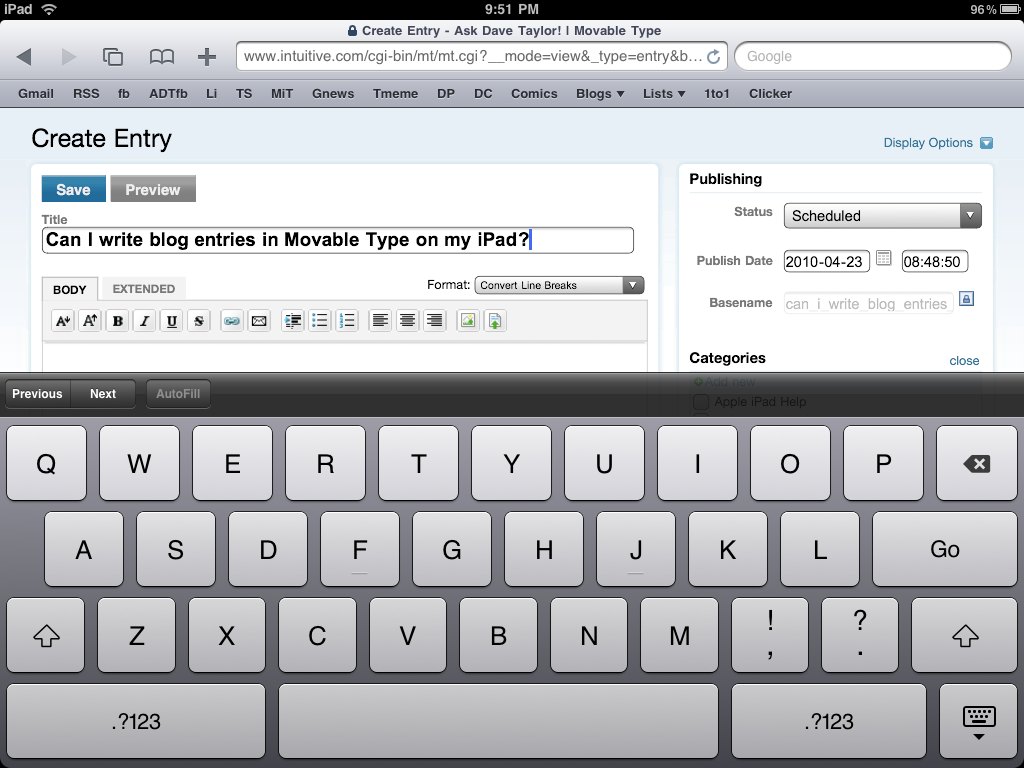 Once I've copied in the question (and tweaked it slightly, shhh) here's what I see on my iPad screen: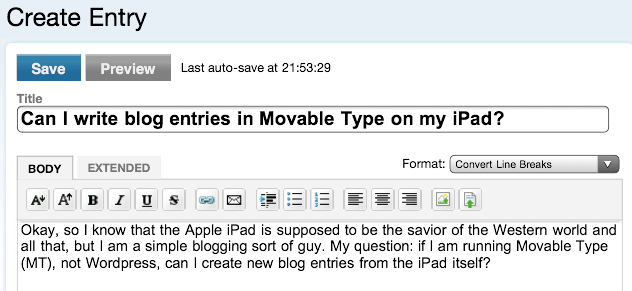 I tap on the "Extended" tab and start typing in my response. Here's what I see at this point: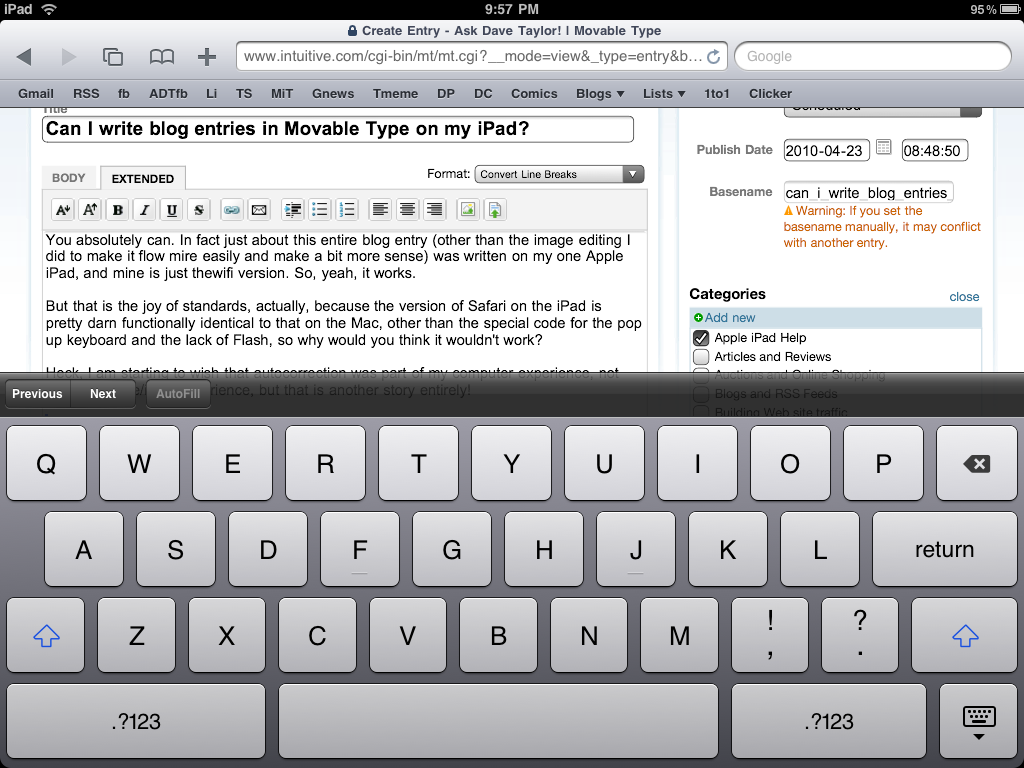 A bit more typing, some fiddling with graphics on my MacBook Pro, which is unavoidable due to my inability to edit and scale graphics as I desire on the iPad itself, a few keywords and I tap "Save" and the blog entry – no, this blog entry! — is ready to go!
Congrats to Apple for doing such a good job with Safari on the iPad, I must say.
Oh, and if you're looking for more
iPad help
, well, ya just found it. I've been writing all sorts of iPad articles here, and if there's a question that I haven't addressed, please don't hesitate to submit it as a question!