Dave, I use Incredimail and was wondering if there's any way I can use both Google Gmail and Incredimail together with two different email addresses?
I don't know much about Incredimail, but it sure looks like a fun email program from the Web site. Further, the company must have quite a few users because it actually filed a public stock offering in January of 2006 (it's traded on NASDAQ under symbol "MAIL").
But can Incredimail work with Gmail?
It turns out that it can indeed, and that further, Incredimail actually issued a press release about its compatibility with Gmail back in December of 2004: GOOGLE'S GMAIL NOW FULLY COMPATIBLE WITH INCREDIMAIL: Growing 43-Million Strong IncrediMail Community Can Utilize Gmail Accounts.
"A Gmail user only needs to enter an email address and password one time to access his or her Gmail account via IncrediMail. With this information, incoming and outgoing POP3 servers will be automatically configured so that the user can access all of IncrediMail's tools including tailored letter backgrounds, anti-spam functions, an array of emoticons and other special animations."
Of course, that doesn't tell you how to do it, just that it can be done, so I installed Incredimail to try it out myself…
First off, I gotta say, Incredimail is very slick and fun. I like it! If I used a PC as my main email system, I would very seriously consider switching just so I could enjoy all the fun graphics, icons, page designs and more.
Even better, when I installed Incredimail, it automatically pulled my AOL screen names out of the AOL system and my general ISP configuration out of Microsoft Outlook. Very nice!
However. It's darn optimistic for Incredimail's folk to say that it's a "one click" install to get Gmail working. In fact, I found it quite a challenging task.
I'll show you by giving you the step by step procedure.
First off, you need to add a new account to your Incredimail configuration, which you can do by clicking on Accounts under the Advanced menu. That will show you your current accounts: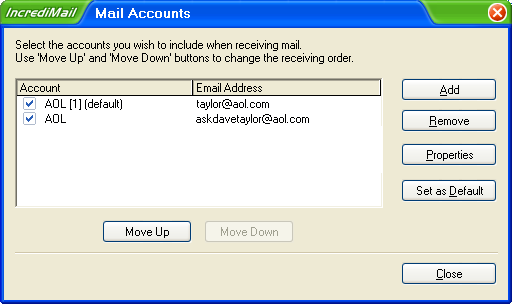 Click on "Add" here to add a new account for Gmail, and that launches the Account Wizard: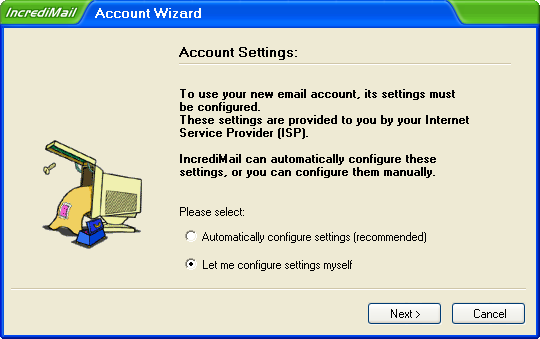 You can't use the automatic configure settings for Gmail, unfortunately, so we'll have to go through here step by step.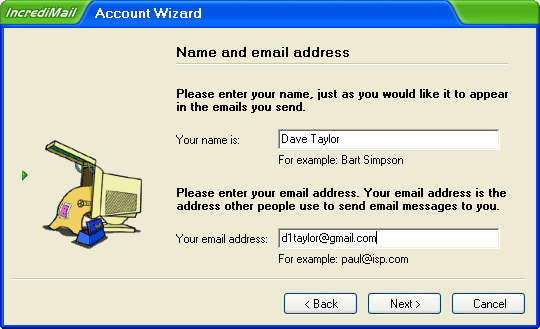 This first part is pretty easy: just enter your full name and Gmail email address, then click "Next":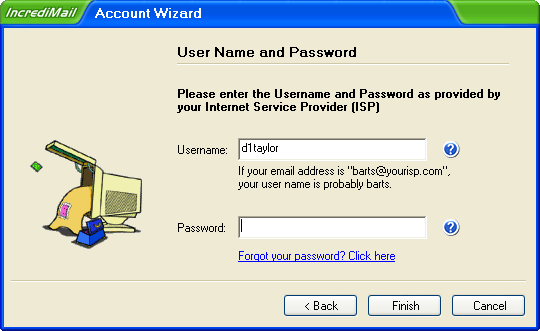 You also now need to enter your account password and a few seconds later you'll hopefully see this typically cheery message: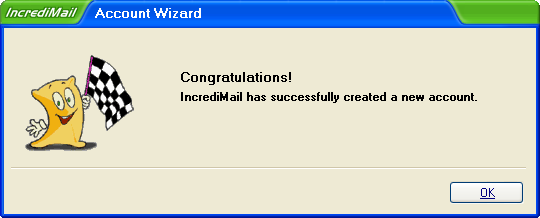 Most likely you aren't done yet, because you now need to pop into your Gmail account and make a few changes to the Settings. Fortunately, Incredimail has
a nice Gmail configuration tutorial
that's automatically brought online: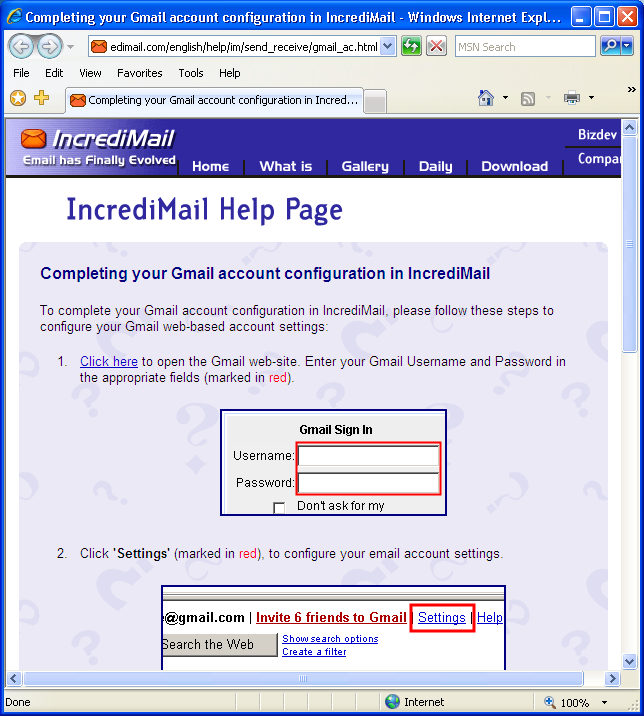 and: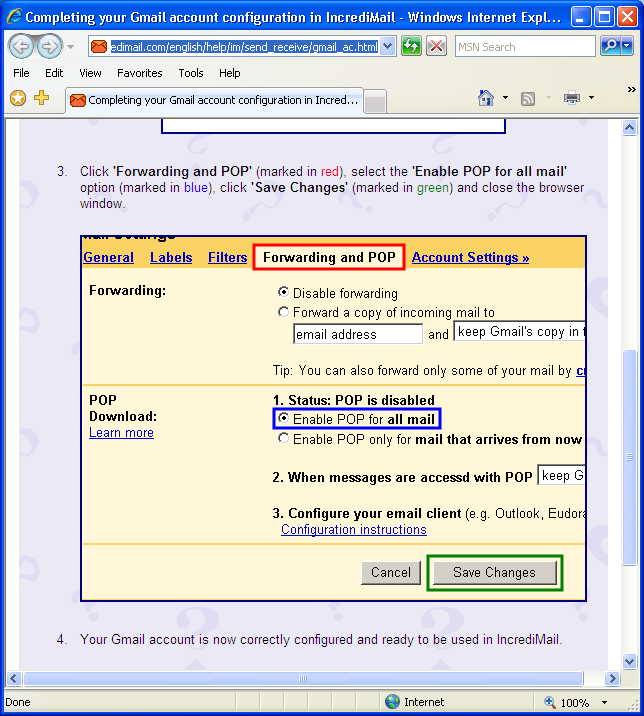 Now, finally, before you just start using Incredimail for your Gmail account usage, you might check your Gmail Properties
within Incredimail
to ensure that it meets your needs. You can do that back at the Accounts area by selecting your new Gmail account then clicking on the "Properties" button:
Notice on this first "General" screen you can turn on – or off – the inclusion of Gmail in your general mail reception schedule.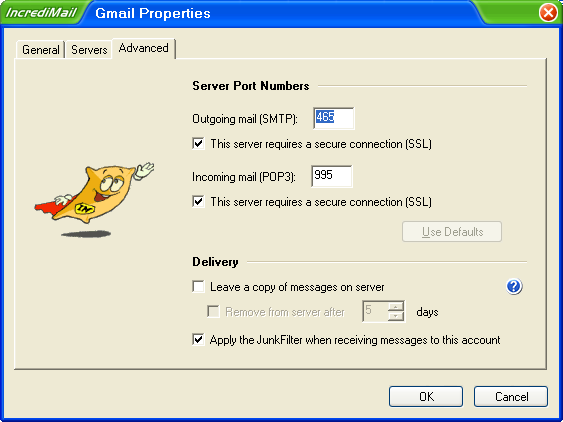 Here you should consider whether or not to leave a copy of your email messages on the Google server. Remember that you have two gigs of space with a Gmail account, so it can serve as a nice backup for your messages.
Anyway, that should get you up and running with Incredimail. Sorry it's kinda difficult, but at least you only have to go through it once!