This is a weird question, but I seem to recall that Paypal used to have a feature where I could "beam" money to someone else with a cellphone, but when I go to the site today, I can't find anything about it. Is there any way to do this?
I too recall that Paypal used to have a feature that let you send money through the Paypal system via simple message service (SMS) messages. But I guess it wasn't a success because I can't find it on their site either.
However, good news! There's a new service called TextPayMe that offers exactly that service (maybe it's from the group inside Paypal who figured out how to do it better?) and it's pretty darn fun and easy to use. In fact, I signed up, because if you sign up today, they'll give you $5 credit, a maneuver eerily reminiscent of how Paypal started, if you remember that long ago.
When you sign up, the system sends your cellphone a text message that includes a confirmation code, so you do need an SMS-friendly phone. My Moto RAZR worked great. First I saw: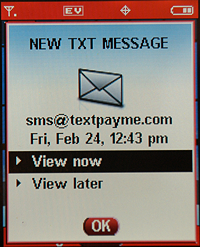 Then I read the confirmation message:
and, finally, once I typed in that confirmation code ("elegant organization") into the Web browser, I received another message welcoming me to the service: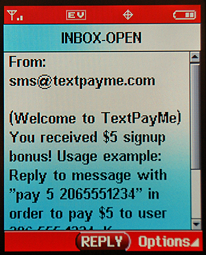 Couldn't be much easier!
Now, when I want to send money to someone else via cellphone, I simply send a text message to
[email protected]
with the amount to transfer and their cellphone number. If we wanted to use a typical Hollywood number as a demo, the transfer message might look like this:
pay 20 2035551212
That'd send $20 to (203) 555-1212.
Now, before you panic that someone can borrow your phone and promptly deplete any balance you might have, it turns out that the TextPayMe service actually
calls you back
to confirm the transaction. You'll then need to confirm the payment request and enter your secret 4-digit PIN number before it completes.
Simple, effective, and if your circle of friends are all hooked up, it's an easy way to transfer a few dollars around to pay for pizza, movie tickets or push a few bucks at a pal when your wallet's depressingly empty.
If you do want to sign up for this service, do me a favor and click on the following graphic link. You'll still get that nice
$5 credit
on your account, but I'll also get some points and when I get enough referral points, the AskDaveTaylor labs will get a shiny new XBox 360 for testing and, um, evaluatory purposes.
Just click and we'll both come out ahead! 🙂
If not, you can also go straight to the TextPayMe site and sign up directly too.
Thanks to the inimitable Chris Pirillo for bringing TextPayMe to my attention!