My friend was showing me a copy of Windows XP running on his Sony PSP and I'm gr33n with envy! How do I download Winxp onto my own Sony Playstation Portable? For that matter, can I get a copy of Windows Vista for my PSP?
This is an amazingly common question, actually, and the answer may disappoint you: you can't run any version of Windows on your PSP. Your friend has a "mockup" of Windows where hackers have managed to tweak the icons and graphics in the PSP operating system itself, but they cannot run Windows itself on the device because the Sony PSP is not a PC.
Having said that, there are some pretty fun mockups out there, including pspWxp which features the following screen shot: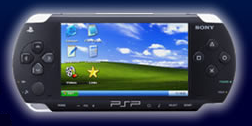 The truth is clearly spelled out at the
download.com page
for PspWxp, where it says: "PspWxp stands for PlayStation Portable Windows XP (based off of winpsportal) and allows you to use Windows XP on your Playstation Portable. Well, really it is just a set of Webpages that look similar to Windows XP, but they are offline. It has some useful features lots of games and applications. You do not need to access the Internet for most of pspWxp, only to access the links and use the Web browser."
Sites like PSP411 also list mockup skins too, including this recent article about
the Windows Vista version of pspWxp
. Again, though, it's just obfuscating, because the fact is
you can't run any version of Windows on your PSP because it's not a PC.

Nonetheless, while I haven't tried this emulator and generally shun any third-party software that monkeys with my Sony PSP, the reviews of pspWxp are very good so if you are feeling daring you might want to try it out for yourself and see how it works!
Digging around I'm not entirely right here. Apparently you can hack the heck out of your PSP, drop an emulator called
Bochs
onto it, then more or less run Linux or Windows 95 on your device. If you are feeling very adventurous, check out
Hacking Windows onto the PSP
for details.