Early this morning I was poking around in the iTunes Store and came across the most surprising iOS app I've ever seen listed: Windows 7 for iOS, direct from Microsoft Corporation. Unfortunately, by the time I clicked on the download button, it had been pulled and I can't find the listing again when I search. Still, what would you pay to get a fully functional copy of Windows 7 on your new iPad?
I'm frustrated that I didn't grab a copy, but I'm expecting the app to show up again any day now in the store, so do keep an eye open. It really would be useful to be able to run Windows apps directly on the iPad or iPhone, wouldn't it?
As you might know, Microsoft's Windows 7 is the most popular operating system in the world. Wikipedia says that Win7 is loaded with cool features too:
"On October 22, 2009, Microsoft released Windows 7. Unlike its predecessor, Windows Vista, which introduced a large number of new features, Windows 7 was intended to be a more focused, incremental upgrade to the Windows line, with the goal of being compatible with applications and hardware which Windows Vista was not at the time. Windows 7 has multi-touch support, a redesigned Windows shell with a new taskbar, referred to as the Superbar, a home networking system called HomeGroup, and performance improvements."
TechCrunch also had a brief note on the short-lived Windows 7 for iOS, noting:
"In a surprise move early in 2012, Microsoft released a streamlined version of its flagship Windows operating system for the Apple iOS environment, hoping to bring back many of its customers that have switched to the dark side of Apple products. There's no explanation as of yet about the backroom deal that Microsoft and Apple must have made, but with Apple's massive cash reserve, it's entirely possible that the company quietly acquired Microsoft, or a controlling interest, as part of this transaction."
All I did manage to capture was a screen grab of the iTunes Store entry…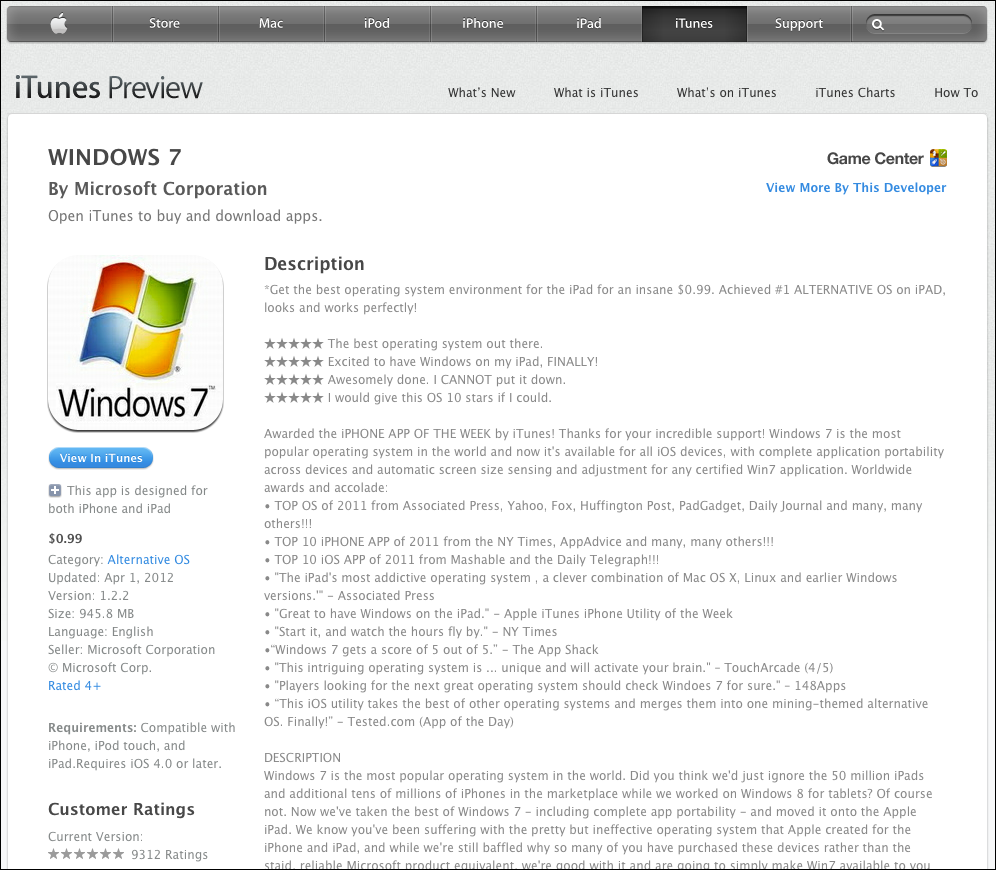 Tip: click on the image if you want to read all the rave reviews, etc.
I'll keep this story updated if
Windows 7 for iOS
appears again.