I've just signed up for MSN Hotmail and I like it. In fact, the ability to access my email from anywhere on the Internet is way cool, and 250MB of disk space for storing my old messages seems like a ton of space. The only problem is that I have a ton of contacts in my Outlook Express program on my office PC and I'd really like to have access to them in Hotmail. Is that doable?
Glad you like Hotmail. Lots of people are still quite devoted fans of this, possibly the oldest of the Web-based email services, and with 250MB of disk space, what's to complain about, right? 🙂
It turns out you can accomplish what you're asking about, exporting your Address Book from Microsoft Outlook Express and importing it iinto MSN Hotmail. It's easy, but there are a number of steps you'll need to take.
First off, on your office PC start up Microsoft Outlook Express and choose File –> Export –> Address Book. Now choose "Text File" from the choices: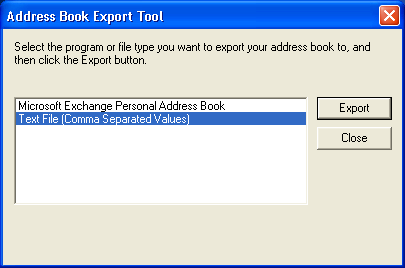 The system will ask for a file name: click on "Browse" and make sure you know what folder your export is going to be put, then name it something simple like
contacts
and let Outlook Express add the appropriate filename suffix.
Now you can choose which fields you want to export: I suggest you select them all: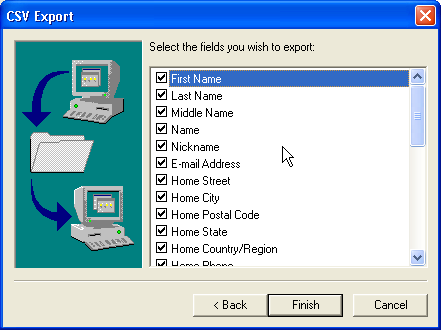 Click "Finish" and a second or two later, you'll be notified that the export is finished and you can quit Outlook Express.
Launch your favorite Web browser and log in to your Hotmail account, then click on the "Contacts" tab. On the left side you'll see a bunch of choices: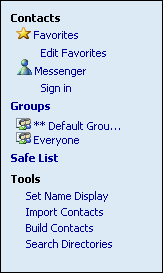 From this set of choices, select "Import Contacts", then select "Outlook Express" from the two options shown. Now you'll need to select the CSV file you just created in Outlook Express:



Here's where it's smart to have taken a few seconds earlier to see what folder Outlook Express was going to save the export. I not infrequently find that I've saved a file from a program in Windows just to have no idea where it's located on my file system!
Select the file, click "Finish", and, if all goes well, you'll see:


And that's all you need to do!