I take tons of pictures with my iPhone and upload them to Facebook, Google Plus and Flickr. Nice. But what I'd like to do is some rudimentary cropping and color correction since sometimes they're not quite what I want. Suggestions? I have an iPhone 4, not a 4s.
Without much fanfare, one of the nicest features added to iOS 5 in the recent update from Apple has been the ability to do just what you ask, some basic photo editing within the Photo browser on the iPhone. What's ironic is that until i was researching your question, I hadn't realized these capabilities are available and when I wanted to crop, I'd zoom in on the picture, then take a screen capture of the zoomed and panned image. Result: low resolution images posted on Facebook and the like, often of cool cars I see while driving…
These leads to an observation about the increasing level of complexity of our gadgets, actually. I don't think it's just me, but as we add more and more features and capabilities, even the best designs begin to break down, leaving us using 20-30% of what our gizmos can do, and clueless about the rest. As a new iPhone 4s user, I'm struck by this in terms of my interaction with the voice interaction system Siri. What can it do? Well, I can just ask it to do a zillion different things and see what fails, but that's inefficient. The engineers know its core capabilities, so why not give us a cheat sheet?
Anyway, whether or not gadget user interface design is a challenge or not, let's stay reasonably focused on your question about photo editing on the iPhone. There are, of course, a ton of third party apps that can help you with more sophisticated editing and manipulation, ranging from Instragram's retro filters to Adobe Photoshop Express, which takes some of the best features of Adobe's flagship photo editing app and squeezes them onto the little device.
Let's just look at the built-in capabilities, though. Here's a photo that I took of a lucite inventors trophy that I'd like to tweak a bit. Viewing it on the Photo viewer, here's what I see:

Typically, I focus my attention on the bottom row of buttons, allowing me to email, share, and tweet the image, go to the next, and delete it. What is very easy to miss is that on the top right is another button labeled
Edit
. Tap it and…
It's not incredibly powerful, certainly not when compared to Adobe Photoshop Express, but for basic crop and fix work, the built-in photo manipulation tools can be surprisingly effective.
From left to right the arrow lets you easily rotate the image, 90-degrees at a tap (which easily lets you fix the "wrong orientation" photo problem that is easy to encounter on the dual-orientation iPhone), the "magic wand" that can perform useful color correction and balance levels, the red eye correction tool and the cropping tool.
I'll tap on the cropping tool because I want to get rid of the superfluous portions of the photo in question. It brings up a rectangular grid with drag corners:
As I drag the corners of the crop box around, it 'zooms in' so I can see the composition:
That looks better. A tap on "Crop" on the top right and the image has been trimmed to its newer size and tighter visual focus.
Done with the crop, done with the changes. To remind you that you've made changes, there's now a yellow "Save" button (yellow? where does the iOS 5 interface use yellow for button colors?). Tap on it…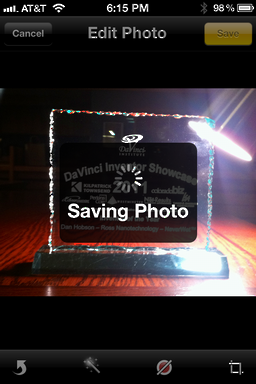 Now the newly modified and cropped image has
replaced
the previous image and it's ready for sharing and uploading.
It's easy to forget that the iPhone has these built-in photo editing and manipulation tools, and while they're not fancy, you just might find that rotate, red eye, magic wand and crop are all you need for a lot of your photo manipulation.