I'm freaking out! I sent $200 via Paypal to a friend of mine to help her out in a bind and she said she never saw the money or even a notification show up. Upon closer examination, I realize that I used the wrong email address for her. Now I'm afraid that someone else is getting the money! How can I cancel the transaction ASAP?
Deep breath. More likely than not the transaction is pending, unclaimed — looking too much like a phishing scam to be clicked upon — rather than them actually claiming your $200 payment. Still, there's no reason to ignore it, so let's axe this transaction as soon as we possibly can, then you can resend the money to the correct email address.
When I did this, I got an email from Paypal two days later with the subject "Your unclaimed payment to…" and a helpful explanatory note that:
"Two days ago you sent a payment to [[ email addr ]]. This payment is still unclaimed. Often, unclaimed payments are a result of a payment being sent to a misspelled or otherwise incorrect email address. Please double-check to make sure you sent your payment to the intended recipient's correct email address."
No reason to wait for this message, though! First step is to go to the Paypal site and log in to your account.
Now, look at your list of recent transactions and it will likely show up like this: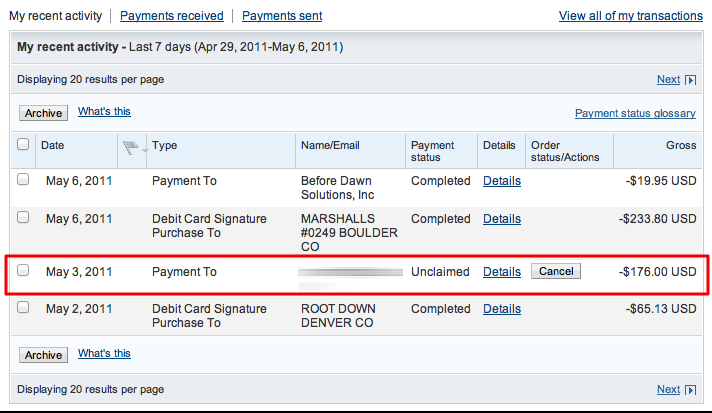 I've blanked out the email address for privacy, but you get the idea. Notice that there's a handy "Cancel" button that you can click on, but instead, let's get a bit more detail on the transaction to ensure it's the one we want. To do that, click on the "Details" link…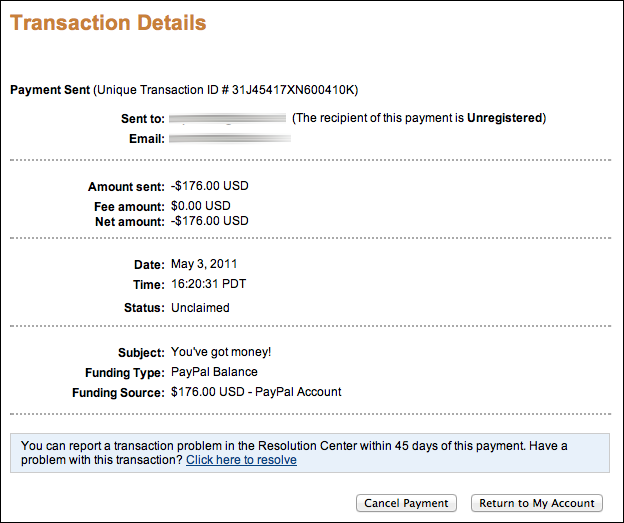 A lot more detail, the better to ensure it's the transaction I want to void. To do that, notice the "Cancel Payment" button on the bottom. I'll zoom in:



Click on that button — no surprise! — and it'll confirm you want to actually cancel the transaction: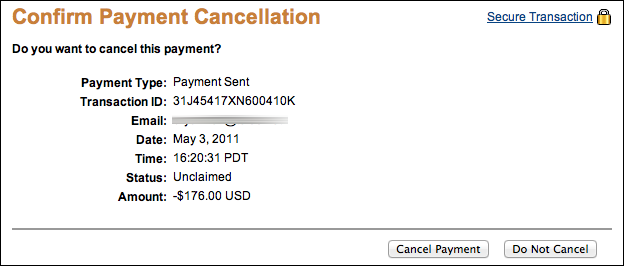 That's the right one? Click "Cancel Payment" and you're done…



Now, what if someone had claimed the money and the transaction was completed? It's nice of you to be generous, but $200 is a lot of money. In that case, there'll be a different message at the bottom of the transaction:



Choose "Click here to resolve" then mark it as an unauthorized transaction and explain what happened in the subsequent input field. And good luck!