I recently switched from Safari on my Mac to Google Chrome as my primary Web browser, and I really like the themes and the speed – seems a lot faster! – but Safari has a nice pop-up blocker and Chrome doesn't. Isn't there some way to stop pop-up windows in Google Chrome, maybe through an extension or plug-in?
Actually, Google Chrome does have a built-in pop-up window blocker, it's just buried within the configuration and preferences area, rather than highly visible on the menu like in Apple's slick Safari browser. It's kind of the problem of our times: increasing capabilities making it harder, not easier, to work with the software and technology we use.
Chrome is a good example of this and is consistent with a lot of my Google experiences: they have extraordinarily sharp engineers, but their user interfaces often leave something to be desired as you have to basically struggle through or become a digital adventurer on your quest to figure out how to customize things. I could talk about Google Voice, for example, but that's another story…
For what you seek, a pop-up blocker capability within Google Chrome, let me show you how to find it and enable it. Ready?
Start by choosing Preferences… from the main menu:


Now the main Preferences window has the basics, but we're not interested in them:


Instead, click on the "Under the Hood" gear icon along the top…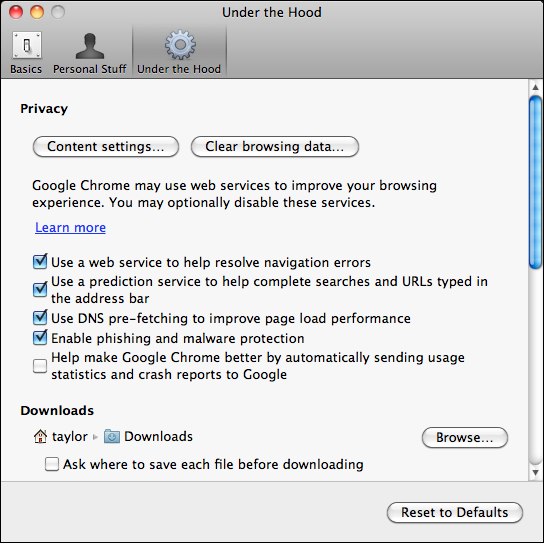 We're still not where we need to be — I told you it was rather buried! — but we're close. Click on the "Content Settings…" button and you'll find that there's quite a bit you can tweak and modify in this remote corner of the browser preferences:


Along the left side click on "Pop-ups"…



There's that pesky setting! Choose to
not
allow pop-ups (honestly, it should be the default) but I suggest that you also click on "Exceptions" to allow a few sites that are using pop-ups responsibly to work:


I allowed all the Facebook apps to pop-up windows, but nothing else. This'll effectively block all the pop-up adverts I see from different sites, those annoying windows that secretly pop under your current window and that you don't notice until much later, at which point you don't have a clue where they're from. All gone!