I have some videos I want to share with my family, but don't want anyone else to see. Is there a way to password protect a video on YouTube or otherwise make it invite-only?
Surprisingly, there's actually no way to set up a password protected YouTube video, though that feature is available on other Web hosting services like Vimeo. I guess YouTube doesn't like passwords or something. Go figure. 🙂
What YouTube does offer is the ability for you to invite specific people to see an otherwise private video. They'll each need a Google account and have logged in to YouTube for it to work, but YouTube definitely supports more than just public video content. In fact, you can also upload a video that's completely private just to you and when you're ready, share it to the public, unlisted or private, invite only.
Which begs the question: What's "unlisted"? In YouTube, an unlisted video is one where it won't show up in search results, won't show up on your playlists if someone views them, but is viewable by anyone who knows the correct URL. So it's kind of privacy lite, if you will, and if someone posts or shares that video URL, well, then it's in the wild and everyone would be able to view it. A bit more open than what you seek!
What most people might not realize is that the easiest way to select between the four different types of video on YouTube is on the upload screen. To get there, just click on the "up arrow" on any YT page:

Now you're on the upload page. Most people just drag a video to proceed, but give this screen a closer look before you proceed: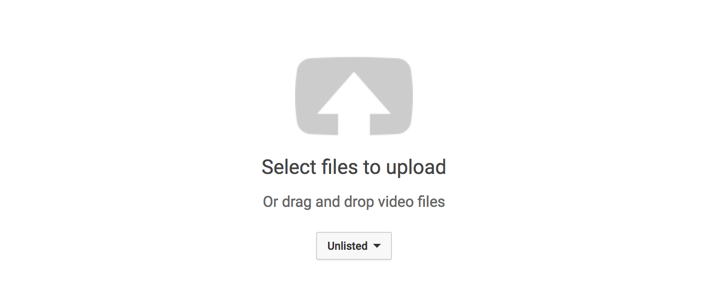 Where it says "Unlisted" (yours might default to "Public" here) turns out there are four different options from which you can choose:
As discussed earlier, you want to choose "Private" here to proceed. Do so, then click and select or just drag your video file onto the grey and white upwards arrow area.
Now, as the video is uploading, you can make some changes, including adding a good title and description:
Even while it's uploading – or once it's uploaded – click on "Share" just below the menu that indicates the video is marked as Private. I've highlighted it above!
A window pops up inviting you to specify the email address of people with whom you'd like to share this particular video:
Easy enough. Enter the email addresses of your family members and they'll get email invitations to view this particular video. Note that if they don't also have a YouTube account, they might need to set one up beforehand (they don't have to upload anything, however!).
Finally, your video will show you a list of whom you've invited and the status of their invitations:
Very nicely done by YouTube, actually. Simple and straightforward once you know what Private videos are, right?
Pro Tip: While you're here, please check out all our YouTube help and why not also subscribe to our informative and entertaining YouTube channel too: AskDaveTaylor on YouTube.