I have a bad habit of sending an email, then reconsidering what I've said. Is there any way to "unsend" an email message from Gmail so I can rephrase it?
So Google has a time machine you can tap into called Gtime. That'll take care of what you're asking about: it lets you back up a maximum of 15 minutes into the past.
No, just kidding. There's nothing like that available — as far as I know, at least! Ya never know with Google — but there's a different way to solve the problem and it's a feature that started out in Gmail Labs and is now a full-blown part of the standard Gmail system: Undo Send.
What it does is delay actually sending your email after you click on the "Send" button, letting you have a few seconds to come to your senses and "Unsend" the message, which then lets you continue composing it, change your mind and delete it, etc.
For real. Let's have a look!
Here I am writing an email to President Trump, and I'm poised to send it:
Without any changes, a click on "Send" sends the email, done deal, nothing I can do about it.
But instead, let's enable Undo Send and see how things change. To do that, you'll want to choose "Settings" from the gear menu on the top right: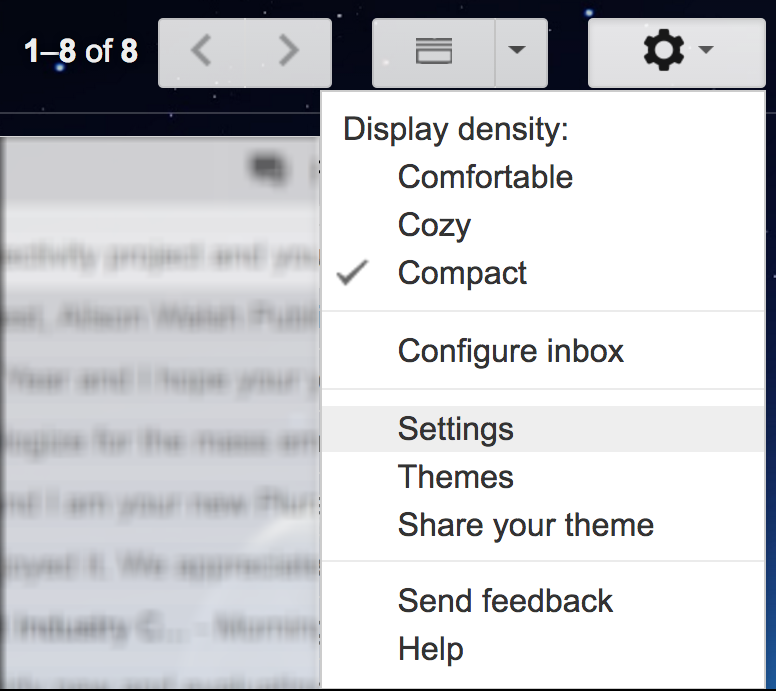 Once you choose that, you'll see that there are a zillion different preferences and settings for your Google Mail / Gmail account. It's quite staggering, actually. But don't worry, you can stay on the main page, "General" settings. Just scroll down to find this:

Enable it by clicking on the checkbox. That's easy enough.
By default, it has a 10 second delay, but you can tweak that to be longer if you really need a few seconds to think:

Five seconds seems almost pointlessly slow, but it might be good if you find that you accidentally press Send without having actually finished your email. I know I certainly get one of those sort of emails every day or two, followed a few minutes later by "sorry, sent that too soon". On the other extreme, 30 seconds is a pretty long time in practice.
Set as you desire? Great. Don't forget to scroll to the bottom of the Settings page and click "Save" to make sure that the change affects your Gmail experience.
Now I'm going to click "Send" on that letter to the President. This time the little yellow alert window has a new link:

Actually, now that I think about it, I do want to work on exactly what the letter says before really sending it along to the White House. That's done by clicking on the "Undo" link in the middle of the status window — before it vanishes and it's too late!
The message composition window re-opens with my message loaded, and the status update changes to:
A very simple concept, but certainly quite easy to work with, and as long as you don't realize hours later that you shouldn't have sent a particular email, it will prove most helpful for you!
Now about that time machine, Google…