I have some friends who are debating politics and while I'll occasionally comment, I don't then want to see every single notification for the next two weeks. Can I comment and turn off notifications for a posted photo if it's not my own?
First off, good on you for continuing to read and comment on political posts on Facebook. Quite honestly, I suspect that the number of people who are unfriending each other is skyrocketing as we come into the last few weeks before the presidential election. Will everyone re-friend each other afterwards? Maybe, maybe not. I know I have at least one friend who swears that he has no interest in being friends with anyone who can support the "other" candidate, so maybe we're just seeing a massive redefinition of the social graph around politics?
In any case, yes, you can definitely control what you get notifications about, whether you like, comment or even have posted a particular photo or status update. Facebook isn't quite that aggressive that it forces updates into your newsfeed, like 'em or not!
What's surprising is that the process is pretty darn similar whether you're using Facebook through a Web browser or a mobile app. I'll show you the process with both so you can see what I mean.
To start, the iPhone-based Facebook app has a Notifications view that's the easiest place to turn off notifications for a photo or update you've been tagged in, have commented upon, or even posted originally. Here's my Notifications view in the Facebook app on my Apple iPhone 7: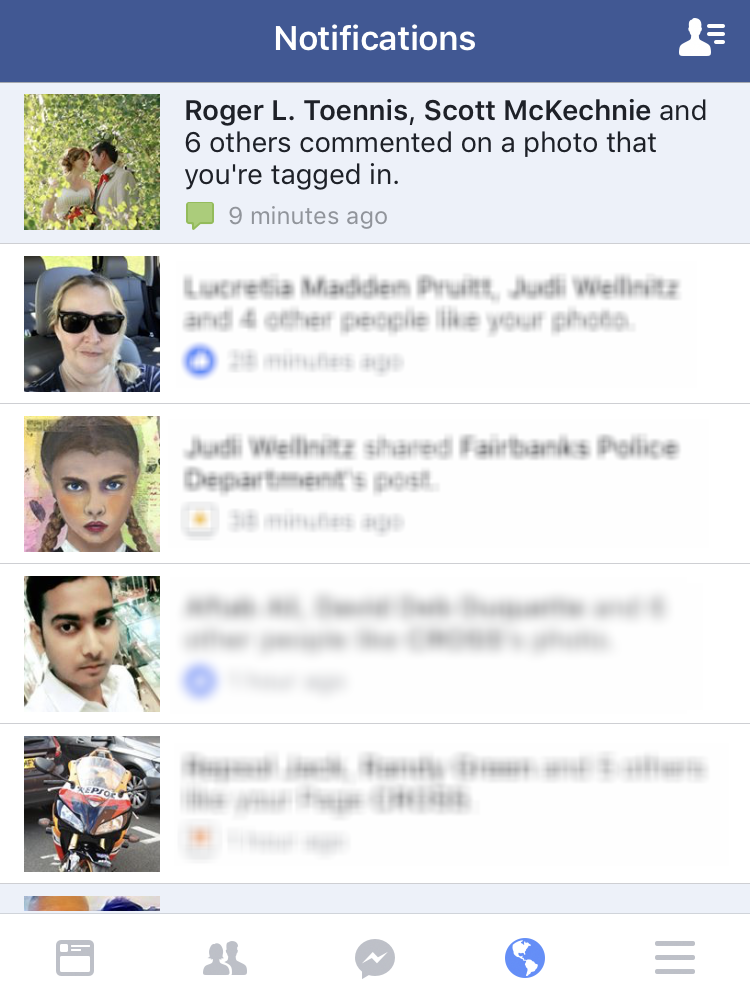 Obviously, it's just the first one we want to pay attention to, so read it closely and you'll see that it's notifying me that other people have commented on a photo I was tagged in. I haven't commented, it's not even my photo. Uh, no thanks.
To disable notifications for this photo — and know that the person posting never gets any indication you've muted them! — swipe the notification in question to the left…

Two buttons show up! It's a miracle!
Ah, well, not really. But tap on "More" to see what's revealed in the Facebook app:

Well there ya go! Tap on "Turn off notifications about this photo" (or however it's worded for your specific scenario) and you're done!
That's how you solve the problem on your mobile smartphone device, but Facebook on your computer is a separate world, so you'll need to turn it off on the Web interface too, believe it or not!
On the Web interface, there's a pop-up menu that shows you all the notifications on Facebook. In that, you'll see entries like the following notification associated with others commenting on the photo I'm tagged in:

Again, there's a secret to this! Move your cursor over an entry in the Notifications window and two buttons magically appear:

See 'em? The downward triangle and the dot. Click on the downward triangle icon…

There it is, that "Turn off notifications about this photo" choice. Choose it. Done.
Now, while we're talking about Facebook, have you "liked" me there? Please do: Ask Dave Taylor on Facebook.