I'm fascinated by Google Trends and how it reveals breaking news, both political and cultural. Is there any way I can get Google Trends emailed to me as topics surface?
Google Trends — at google.com/trends — is pretty darn interesting, a sort of breaking news version of the company's long-running zeitgeist. The latter shows what's been happening with user searches, but on an annual basis. Trends shows that same sort of information, but based on current data, updated in real time. Right now, for example, the top searches are Transcendence (the movie), Mexico earthquake, Mt Everest (where there was a n accident and a dozen sherpas died), Lindsay Lohan list and the TV show Orphan Black, each of which is seeing over 50,000 searches in the previous hour from the US alone.
New things bubble up rather quickly in our hyper connected era so you're right that paying close attention to Google Trends is a good way to reveal what's breaking, what's new and what's suddenly popular in contemporary culture, what's the zeitgeist. But by going to the page? Not so much.
Fortunately you can now subscribe to updates via email, which makes Trends even more useful.
Let's start on the Trends home page, which looks like this: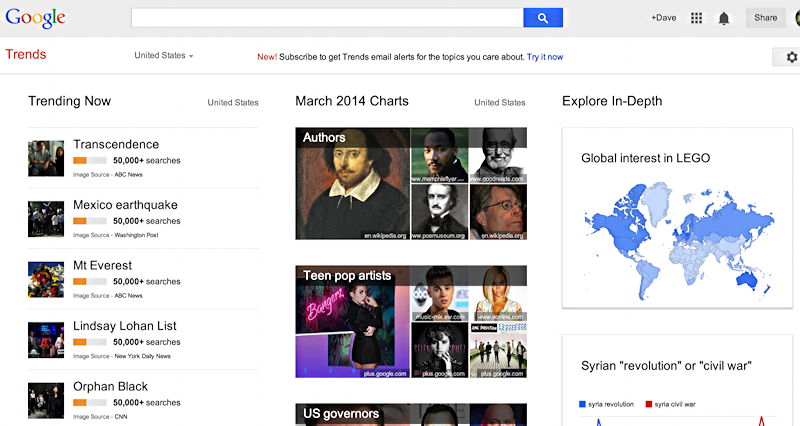 Well, it's going to look a bit different because it's constantly updated, but it'll look similar to this!
Look closely at the very top and you'll see the little tip:

Click on…
… wait for it …
… … wait for it … …
Click on "Try it now".
Yeah, kinda obvious, right?
It'll explain that you can go just about anywhere now in Trends and you'll find a handy "subscription" button, like here, in Hot Searches:
Click on "Subscribe" and…
You can choose "Hottest", "Hotter" or "Hot" to set up what will trigger an email being sent from the trend analysis side, but it's also smart to set up the frequency option too:
I opted for "Once a day" and we'll see how that works out.
So that's it. Easy enough. Now you can set it up for yourself and tweak things to meet your own information needs. Good luck!