I love Siri on my iPhone, but am wondering if it's available for my Mac too? In particular, I like her telling me about the weather. Doable on my iMac?
Ah yes, our voice enabled future. Some people love it and others hate it, saying we're already so self-absorbed (witness the huge rise of selfies) that we shouldn't be talking to our computer, just other people. Whatever. They're just cranky because their computers don't like them very much. 🙂
I too use voice systems all over my life, from telling Google Home or the Amazon Echo to play music as I walk into my house or office to asking Siri to set alarms and remind me of events coming up by starting with "hey siri" and watching her wake up and listen. If only my kids were that responsive!
The great news is that as of the release of MacOS X 10.10 (which was a while ago) Siri has also snuck onto your Mac system, whether you have a big iMac or a tiny little MacBook Air. If you're up-to-date with the operating system, Siri's ready to go. If you've enabled it, that is!
So let's start there. Use Spotlight to search for Siri by pressing Command-Space and typing in, well, "siri":
Choose the second option, actually, the "PreferencePanes" choice. That will bring up a System Preferences window specifically for Siri settings and options:
Most importantly, make sure that "Enable Siri" is checked on the left side. Then you can tweak and adjust settings to your heart's content here, including changing Siri's voice and whether Siri should show up in the menu bar or not. Just as importantly, notice the Keyboard shortcut: "Hold Command Space".
Let's give that a whirl. If you just quickly press on Command+Space then you'll get the usual Spotlight search, but if you hold the two keys down for a couple of seconds, Siri should pop up in the top right of your screen:

Very cool! So let's give her a whirl, but first, just wait and give her a few seconds to suggest some phrases…
Now click or tap on the microphone icon at the bottom of that window to turn listening back on and say "what's the weather outside" to check and see if it's all configured properly. Most likely, it's not:
Sounds like a smart fix. Click on "Security & Privacy Settings" and you'll be in yet another System Preferences control panel:
Make sure you're on the "Privacy" tab along the top and that "Location Services" is selected on the left side. A quick look and you may be tempted to say all is well and Siri is broken, though. I mean, "Weather" has permission to access your location!
Scroll down and you'll find that Siri has her own entry and that's what also needs to be enabled:
Enable Siri & Dictation to access your location services and once you close this window, you'll be ready to go with weather forecasts on your iMac or MacBook system: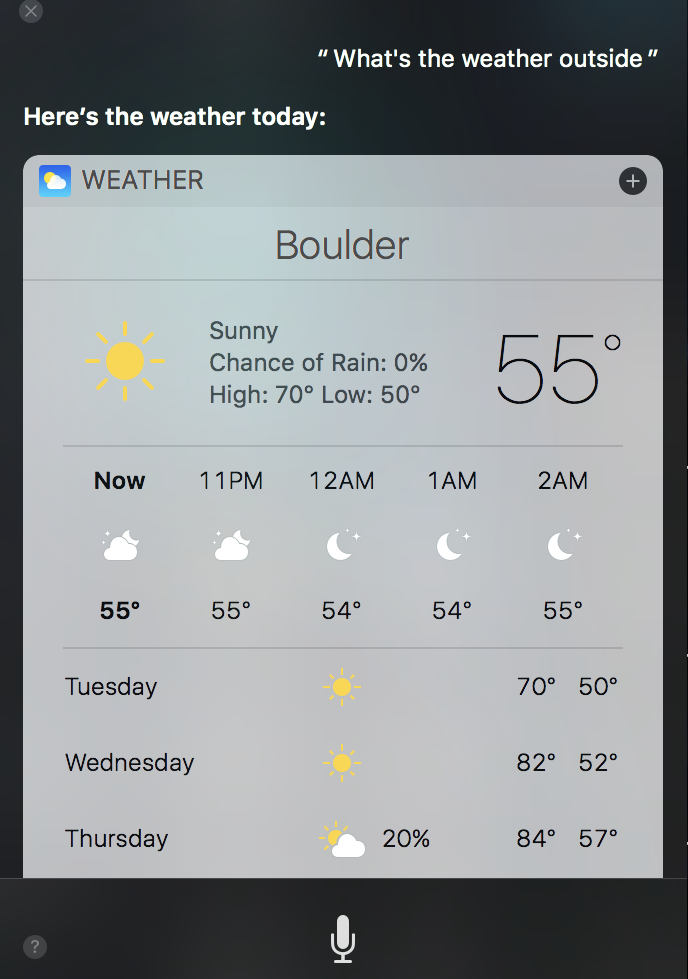 That's pretty darn cool, ya have to admit.
Have fun with Siri now that you know how to get her to work on your Mac system!