It's Easter morning and my friends are posting funny profile pictures with bunny ears. One said "temporary profile picture" next to it. Cool! How can I temporarily change my profile picture so that tomorrow, when it's not Easter, it goes back to the regular Facebook profile picture?
Bunny ears are good and in fact it's great fun to change your profile picture on a whim and sometimes it's important for people to show support for a digital movement too, whether it's a rainbow flag, a single candle in remembrance, or an "I voted" icon replacing your usual profile picture on Facebook. Problem is that it can be tricky to remember to reset it, and if you're like me, finding your original profile photo can be quite tricky in the chaos of ever-growing Facebook photo albums.
Turns out that you can indeed set a temporary Facebook profile picture or photo to allow you to change with the holiday or latest meme or cause, while having the system automatically reset your original photo once the temporary time has elapsed. But there's a catch!
The catch is that you can only set up these temporary profile photos in the mobile version of Facebook. You'll need to make sure you have an Android or iOS smartphone handy (Samsung Galaxy S7 or Apple iPhone 6s both work great, of course!) and make sure that the photo you want to use is available on your mobile device too. Then here's how it works…
First off, you'll need to get to your profile page in the Facebook app. The easiest way is to simply tap on the "More" button on the lower right of most Facebook screens, then find your profile on the list (if you have pages you run too, as I do):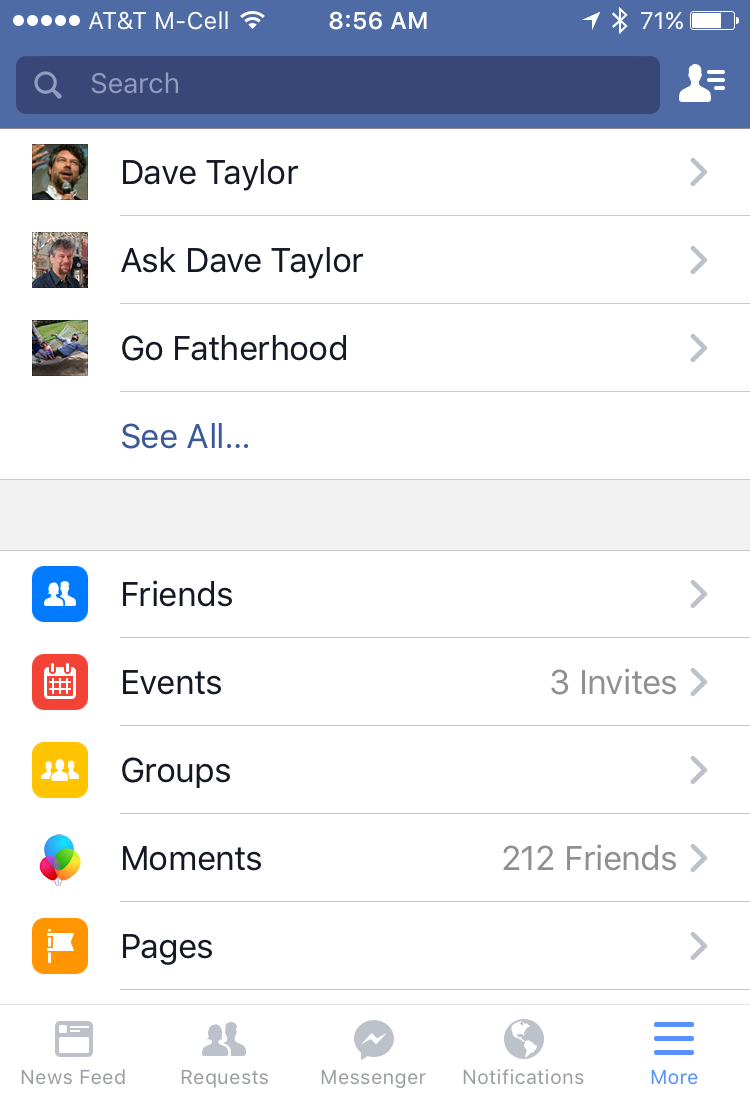 Once I tap on "Dave Taylor" on this screen, I'll get to my profile page in the Facebook app for iPhone: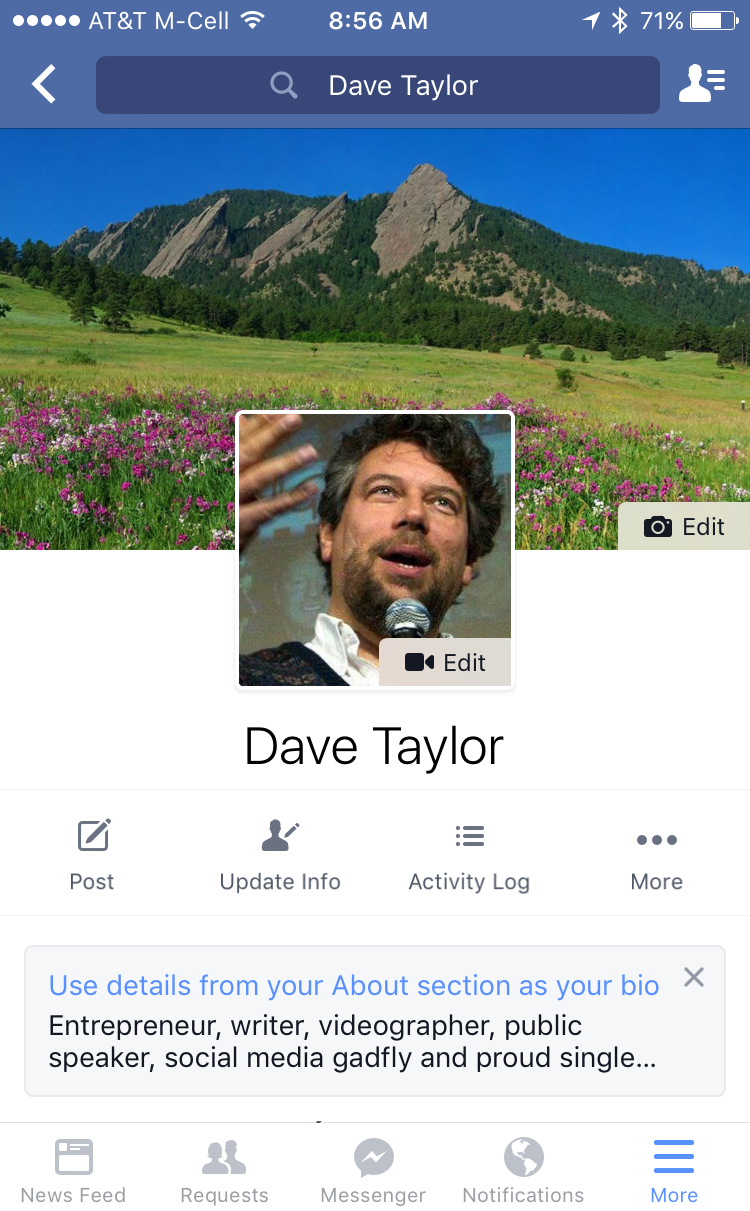 You can see my profile photo. To change it to something Easter appropriate, I'll tap on the photo itself (or you can aim for just the "Edit" button, but it turns out the entire photo area works). You'll be presented with four choices: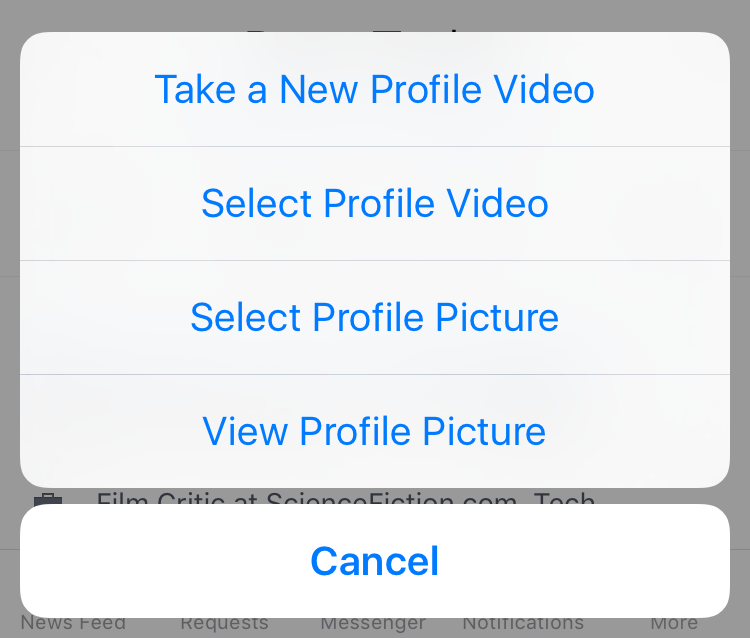 Well, you can "Cancel", so maybe there are five choices here! 🙂
In this case, you want to "Select Profile Picture" to proceed. Mine goes to "Camera Roll" but you might have to dig around for the photo you want to use:
There's that cute bunny photo! I'll tap on it to select it and the Facebook app will now let me fine tune the crop and zoom: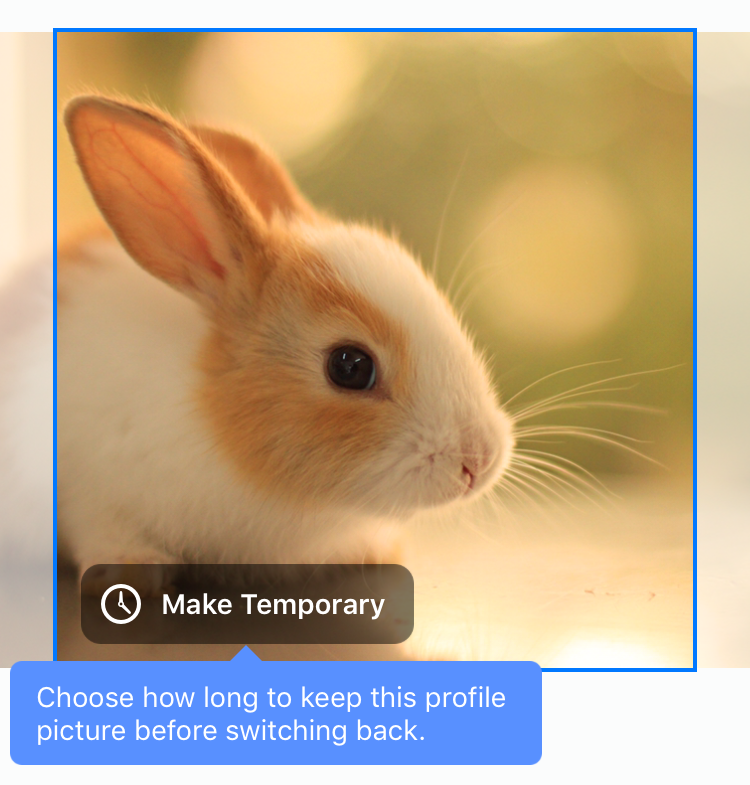 Ah, there's the button we seek: Make Temporary.
Tap on "Make Temporary" to pick how long you want this image as your Facebook profile photo and it offers up a couple of choices: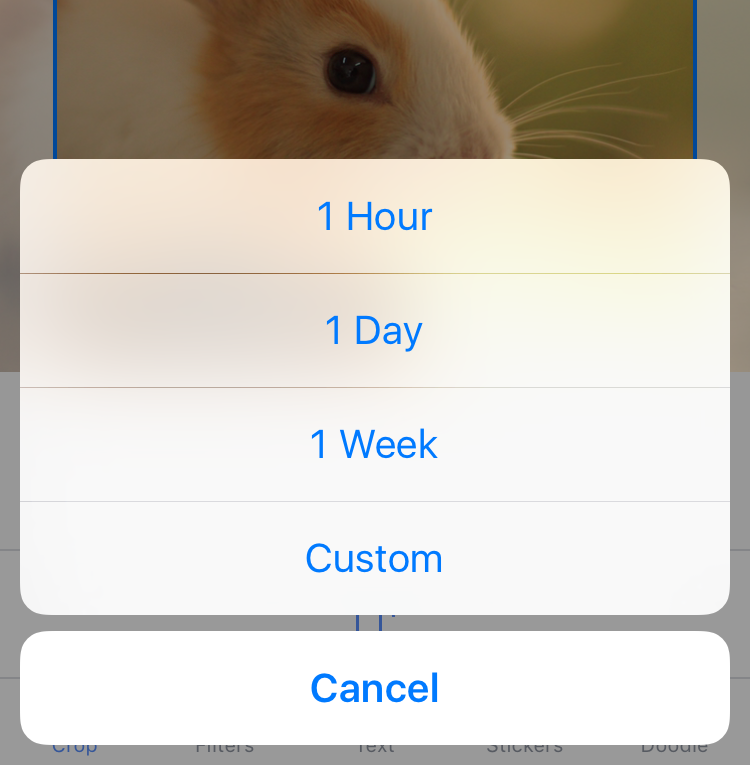 I'll choose "1 Day" since I'd like to look like a cheery baby bunny for the entire day of Easter. I could pick Custom to have it change back exactly at midnight, but it's easy to just go for 24 hours… 🙂
A tap on "1 Day" and I'm ready to go, as shown: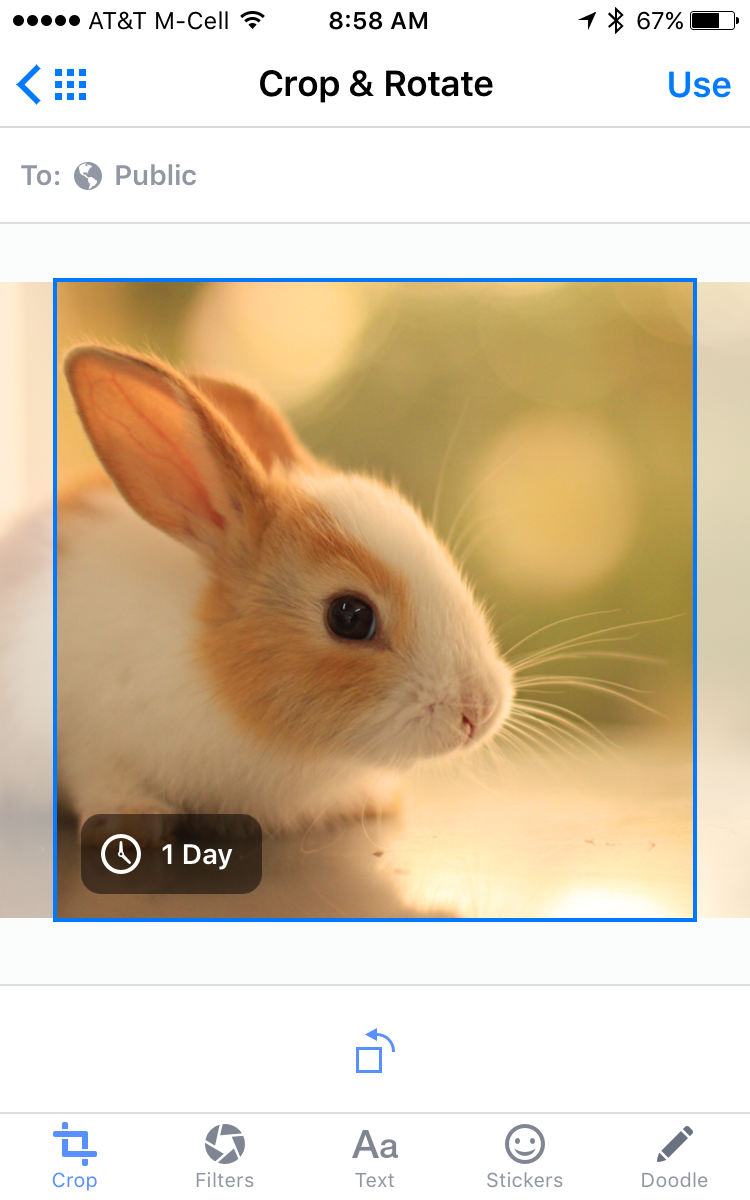 There are other things I can do here, including apply filters, add text and stickers, and even doodle on the image (see the bottom row) but that bunny is just perfect as he is, so I'll tap on "Use" on the top right.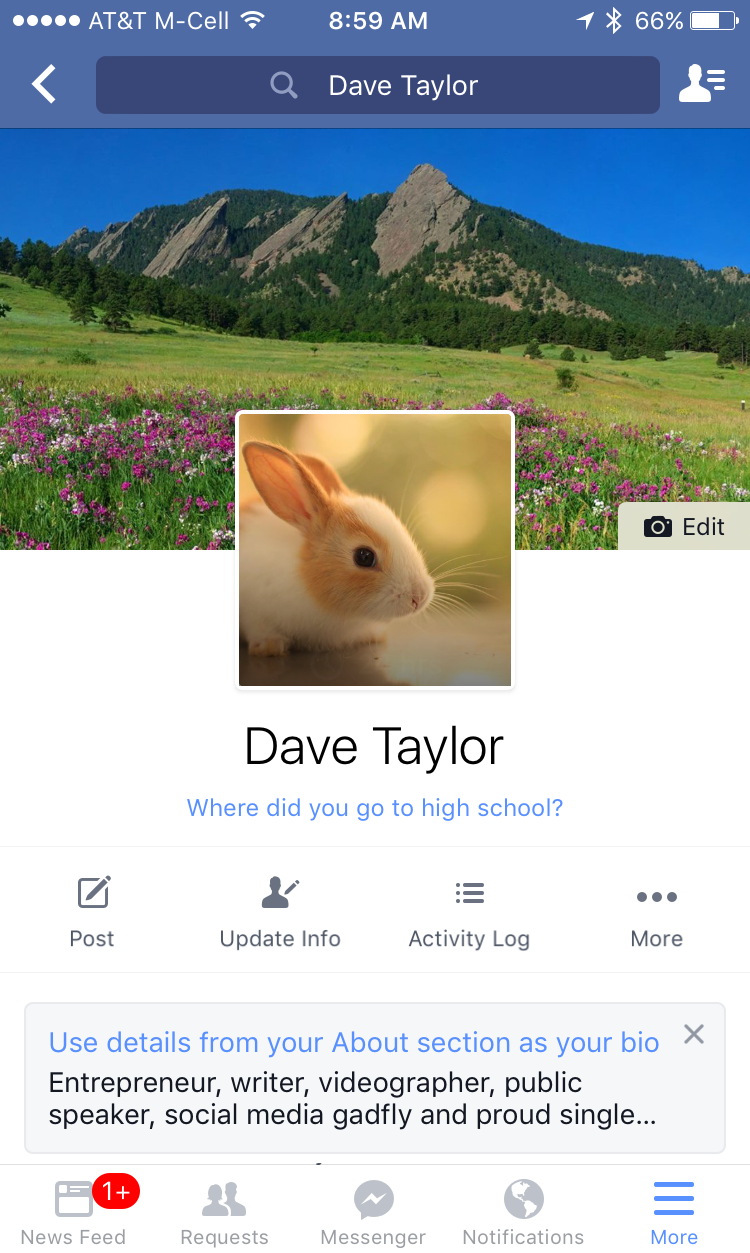 See? Isn't that far cuter than my original photo? And just perfect for Easter too, of course.
And while the Web-based Facebook interface doesn't let you set temporary profile photos, it does know that they're set:

Pretty cool, actually. And now you know how to set up a temporary profile photo on Facebook.
While we're talking about Facebook, I have a ton of Facebook help on the site I encourage you to check out, and don't forget that there's a popular Facebook page for Ask Dave Taylor too. Why not subscribe now?