I'm a teacher and find that I use Zoom a lot to present lectures. I generally use PowerPoint to organize my content, and it's really frustrating that PowerPoint takes over the entire screen in Zoom. All my toolbars vanish! Is there a way to change that in Zoom or PowerPoint?
Since video conferencing programs like Zoom and Microsoft Team have the ability to share a single window on your computer, there's really no reason – or benefit – to having it switch to full screen in that environment. There are, however, a lot of disadvantages, including having all your control toolbars and windows vanish. Lots of people have someone else "monitor the chat" or similar, but that's unnecessary because you can have your PowerPoint presentation in a window, while your students or participants see it full screen! Perfect.
This means that you can have your PowerPoint slides in a window and have all your Zoom windows, toolbars and controls visible at the same time. You can even watch the chat room while you're presenting. It's quite a revelation if you've been doing it the old "full screen" way for months or years!
Once you realize this, it turns out that this feature is available in most all presentation programs, and it's on PowerPoint for Windows and for the Mac system too. In fact, let's start with the Mac because, well, why not? Here's the Microsoft PowerPoint toolbar (I know, Microsoft calls it a "ribbon") when I have chosen "Slide Show":

What you've probably never noticed is the button labelled "Set Up Slide Show". That's where you can change your presentation output format, logically enough. Click on it. A window with lots of options appears: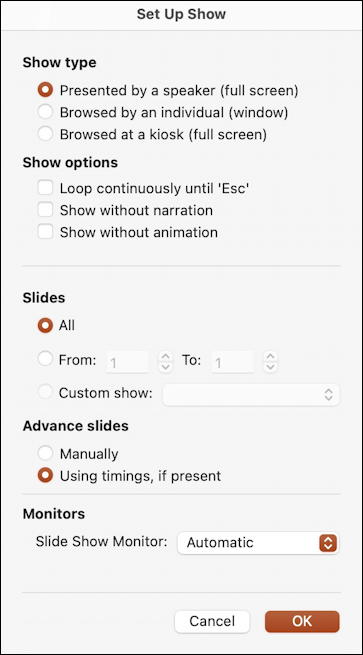 It's the first section you want to focus on. Click and choose "Browsed by an individual (window)"…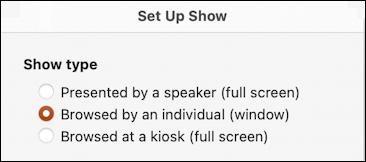 That's it. Click on "OK" then play your slideshow to see how different it all looks. Remember, a best practice with Zoom and similar tools is to have your presentation started and already on its first slide before you start sharing, which is much easier with this configuration!
WHAT ABOUT APPLE KEYNOTE?
If you're on a Mac, you might ask "what about Keynote?" and that's a fair question. Turns out Keynote is even easier to switch, it's just a single menu option: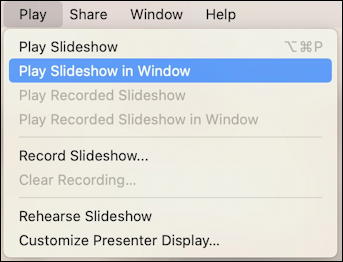 All well and good, but what about if you are on Windows?
CHANGE POWERPOINT PRESENTATION TO BE WITHIN A WINDOW
Microsoft has done an extraordinary job normalizing the interface between the Mac and Windows versions of their Office suite, and this is really highlighted by comparing the earlier screen snippets with their corresponding view in Windows 10. Launch PowerPoint on your PC and click on "Slide Show". Here's the ribbon you'll see:
Sure looks familiar, doesn't it? Click on "Set Up Slide Show" and the resultant window is a bit different because of how Win10 lays out preferences, but otherwise, it's also surprisingly similar: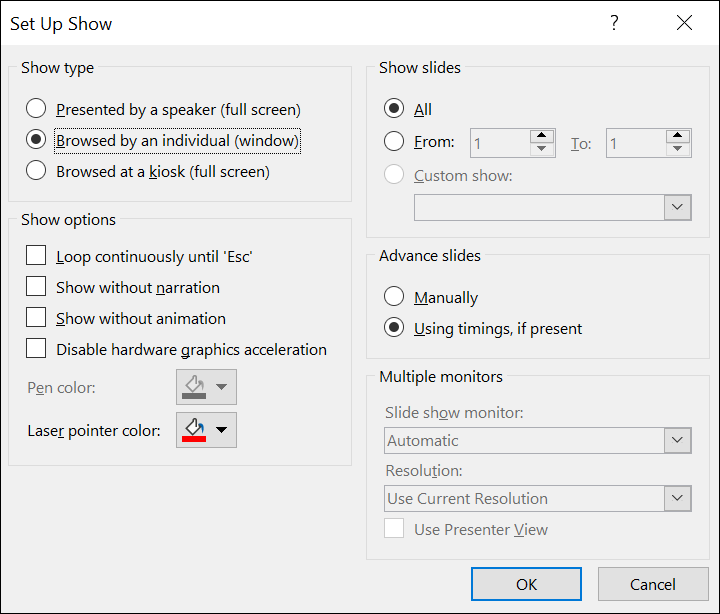 Again, just choose "Browser by an individual (window)" and you're good to go. Done. Easy. I do sort of wonder if they'll change this setting to say something like "best for video presentations"…
In any case, try this new mode of presentation and see how much better it integrates into Zoom and other video conferencing programs!
Pro Tip: I've been writing about Windows and Mac systems – and Zoom! – for quite a while. Please check out all the different tutorial areas while you're on my site, including Zoom help, Windows help and Mac help. Thanks!