I'd like to change things up and am wondering if I can move the Windows 10 TaskBar from the bottom of my screen to the top. Doable? And does everything work correctly in this new orientation?
The short answer is yes and yes. Windows has been designed from the beginning to let you put your Taskbar on any of the four sides of your screen, actually, though it's a clumsy fit on the left or right because it's really designed to be horizontal, not vertical. Sort of like if you wanted your TV screen to be really tall and really narrow: It just wouldn't work very well. In terms of moving your Win10 Taskbar to the top, however, that's easily done and can certainly make Mac users feel a bit more at home with Windows in many situations. It's like muscle memory: Do you look up or down for the programs you prefer?
There's a lot more you can change up with your TaskBar too, including what color scheme it's using (though usually that's just part of your theme, you can override it if you prefer, here's an article on how to do so: Change Color of Windows 10 Taskbar). Let's focus on the location of the Taskbar, however, though we can sneak in a few extra tweaks as we go too…
First off, here's my regular Win10 screen with the Taskbar along the bottom, as is the default configuration: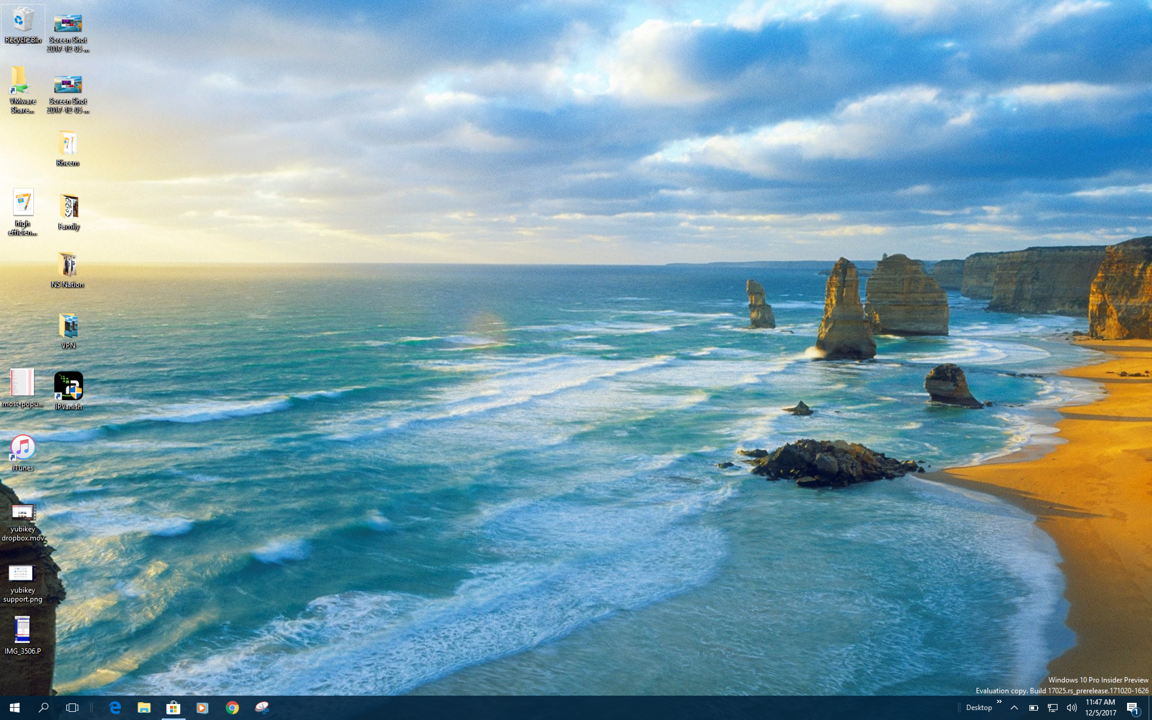 (it's a high res screen so everything looks tiny, but you can see the dark blue Taskbar along the bottom, I hope!)
There are a number of ways to get to Taskbar settings, but let's just right-click on the Taskbar to generate a pop-up menu: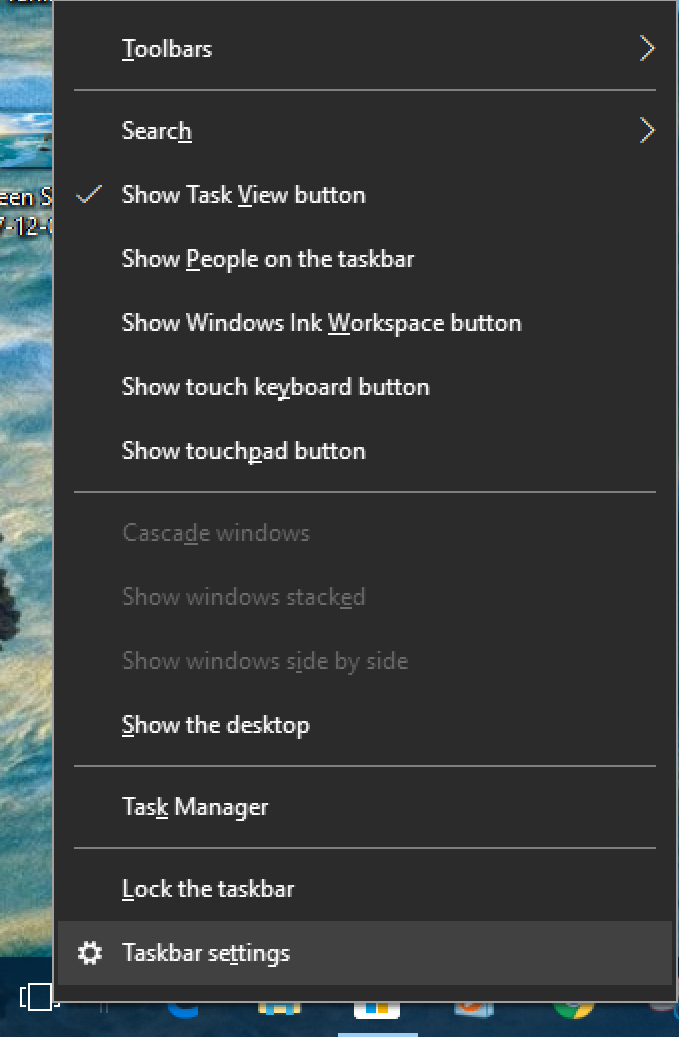 You can see the option desired at the bottom: Taskbar settings. Note you can also get here by searching for the phrase "taskbar settings", of course. Either way, you'll get to a Control Panel that offers a whole lotta choices. Scroll down just a little bit to find these: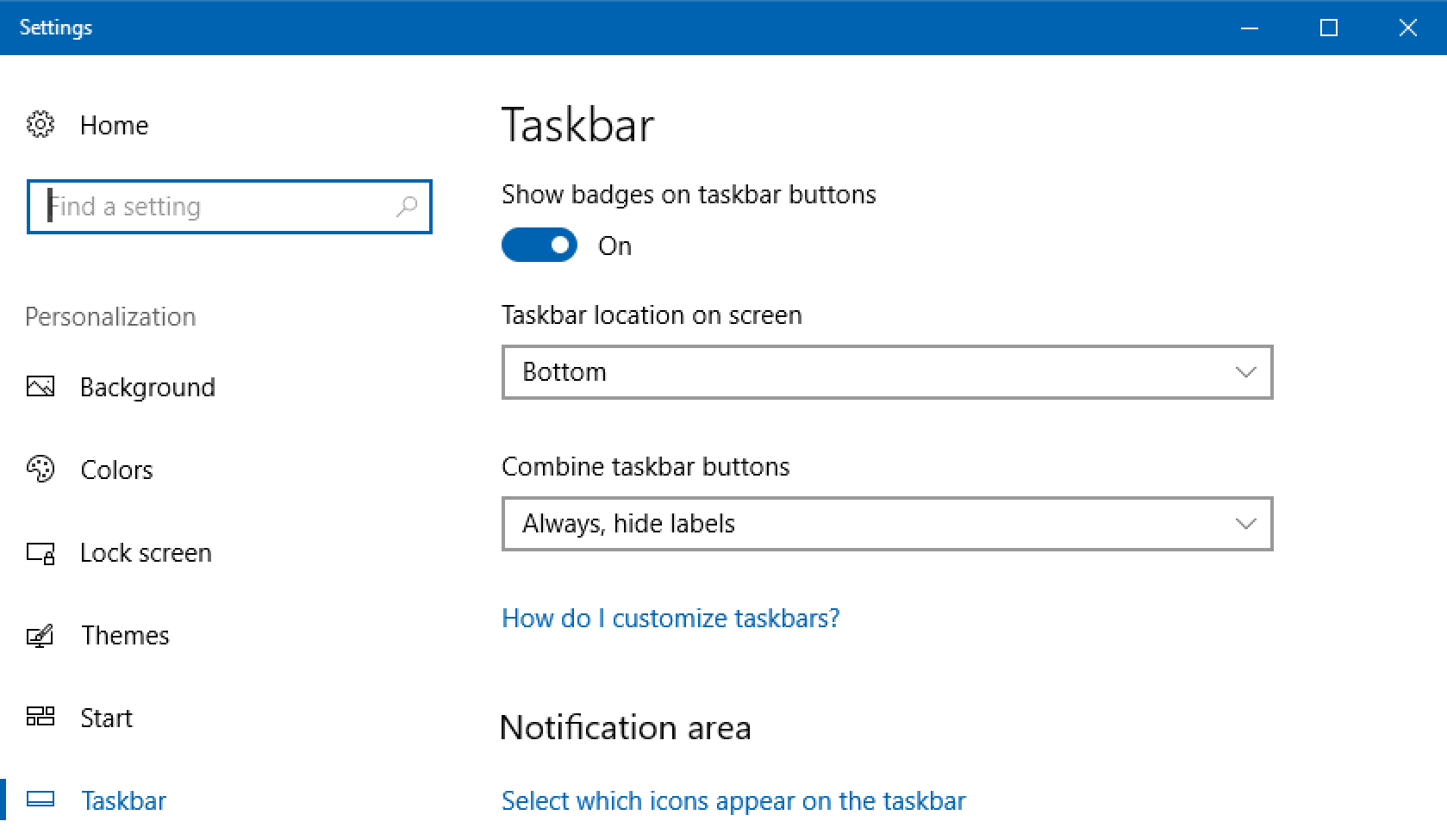 That's the main one you want to change: Taskbar location on screen. Change it from "Bottom" to "Top" and you're done. While you're at it, though, try switching up your Combine Taskbar Buttons setting too just for something different. Here's a closeup of my TaskBar on the top of my own display:
Notice that because I changed my "combine" setting that Settings now has a word as well as its customary icon. A bit more user friendly, I'd say.
A few more settings to consider while you're here too:
Many people like this idea of having the Taskbar hidden off screen unless you need it – here's how you can change that and give it a try. Also note the "Use small taskbar buttons". Another way to have it look different for you and see if it works better for your workflow and usage!
That's it. Pretty darn easy to do, actually, and I like the idea of changing things up to try something different.
Pro tip: While you're here, don't forget to check out our extensive Windows help article library too!