I notice that Google's Gmail service automatically identifies and highlights phone numbers, making them clickable. Is it possible to actually call people from within Gmail?
I'm about to blow the top off your head because not only has Google slipped an entire phone system into Gmail, but it's also free and works really well. I know because that's my preferred way to call people or join conference calls, from the comfort of my computer. Add earbuds and a mic — just about any smartphone compatible unit will do — and you've got a perfect setup for chatting with your pals while watching a World Cup match on your computer, talking through a Web page design with a client or secretly keeping yourself occupied surfing the Web while on a boring staff meeting call.
The only caveat is that there is a plug-in you'll need to install from Google to get it to work properly, one you can grab from google.com/chat/voice/ and install it. Not too hard!
Once that's done, you'll need to go into your Gmail settings to ensure it's enabled. Choose "Settings" from the gear button, then the "Chat" tab and look for this: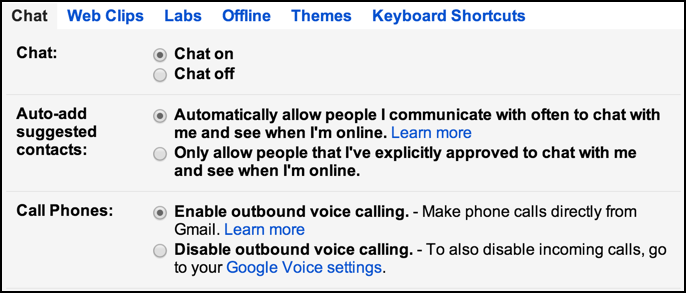 First, enable Chat with the first option, then see the "Call Phones" settings? That's what you want to enable. In fact, if you don't trust my link above, you can click on "Learn more" while you're viewing your own settings and get to the same place. But seriously, why don'tcha trust me? 🙂
Once you've installed the plugin and enabled outbound voice calling, a tiny cartoon talk bubble icon shows up on the lower left corner of your Gmail screen: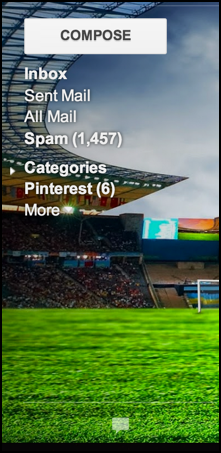 (Yeah, I have a World Cup soccer background for my Gmail. It's very, um, soccer-y)
A click on the chat icon and a few more options appear: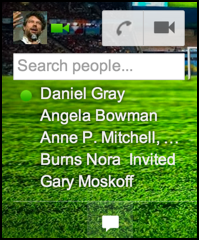 In this case, I have a few friends already on my connection list, Dan is actually available and online right now (the green circle adjacent to his name) and Nora hasn't yet accepted her invite from me (hence the "invited").
Along the top it shows my icon that other see (you can change it in the Gmail settings if you want), confirmation that it sees my video camera as a green video icon, the phone button and the video chat button.
Click on the phone button!
On the lower right edge of your window, this appears: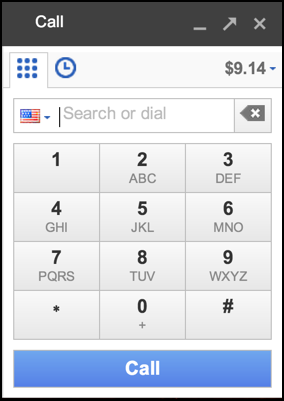 You can see that my overseas calling balance is $9.14, but if you're only making domestic calls here in the USA they're all free, regardless of what number you call. At this point you can click the buttons to dial a number, paste in a phone number from an email message or document, or even just click on a number highlighted in an email message.
In a recent message from my buddy Barack, he included a number to get in touch with him. When I clicked on the number in his Gmail message, the phone window popped up automatically, with his number loaded in. A click on "Call" and…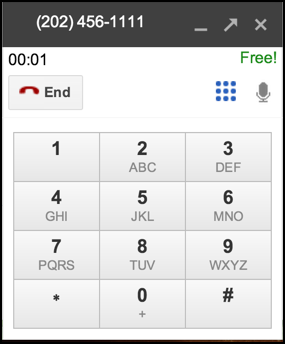 What's great about this setup is that as long as that tab stays open in your Web browser, you can absolutely do other things at the same time as you're on the phone call. Want to upgrade the sound quality? Even a cheap $20 external mic will do wonders for your voice, or just use the headset or earbuds + mic from your smartphone with your computer instead. Surprisingly easy and even the built-in mic tends to sound better than most phone handsets.
That's all there is to it. Fast, easy, and free. What's not to like?