My PC crashes when I have a lot of programs running simultaneously and my Dad said it might be that I have some bad RAM memory. Is there some way to test my RAM before I spend money to replace it?
It doesn't happen too often, but the RAM (random access memory) in your computer can theoretically go bad due to any of a variety of causes. What's frustrating about that is it's a sporadic problem not something where 100% of the time it'll behave the same way during boot or when you launch a particular program. Worse, it can easily corrupt your files or your entire file system. Back everything up stat!
Other signs that you might have a memory failure issue are the infamous blue screen of death, random crashes or reboots, crashes during heavy memory usage (games), messed up graphics on screen, failure to boot, and the computer booting but the screen staying blank. All are no bueno!
Windows has a built-in RAM memory test utility which is easy to use, fortunately, though its interface is a throwback to late 80's PC computing, of all things. That blue screen of death? Yeah, it's that color background, so don't panic when you see it pop up. And what do you do if it reports some bad memory? Identify which memory card it's on and replace it. Probably you'll want to upgrade to more RAM while you're at it – and more RAM always makes a computer run faster, so that's a nice boon too.
But let's start by launching the Windows Memory Diagnostics Tool. Start by searching for 'memory test' on the Win10 search bar:
That's what you want: Windows Memory Diagnostic. It's a bit weird because when you click or tap to launch it, you might expect to have an app run within Windows, but that's not how it works. You do get this prompt, however: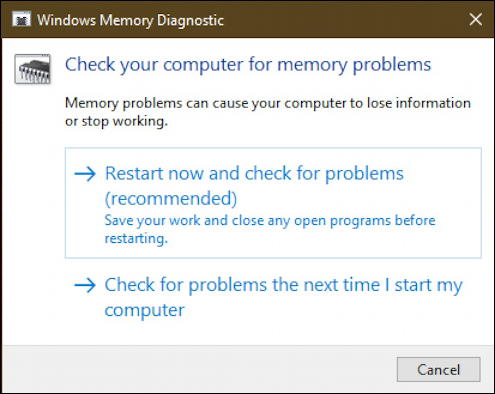 Notice it's going to restart to run, so you really want to save all your files and shut down every other program you have running before you choose "Restart now and check for problems".
Ready?
Click on "Restart now" and your computer will restart into this retro blue text-only screen stretched across your entire computer display: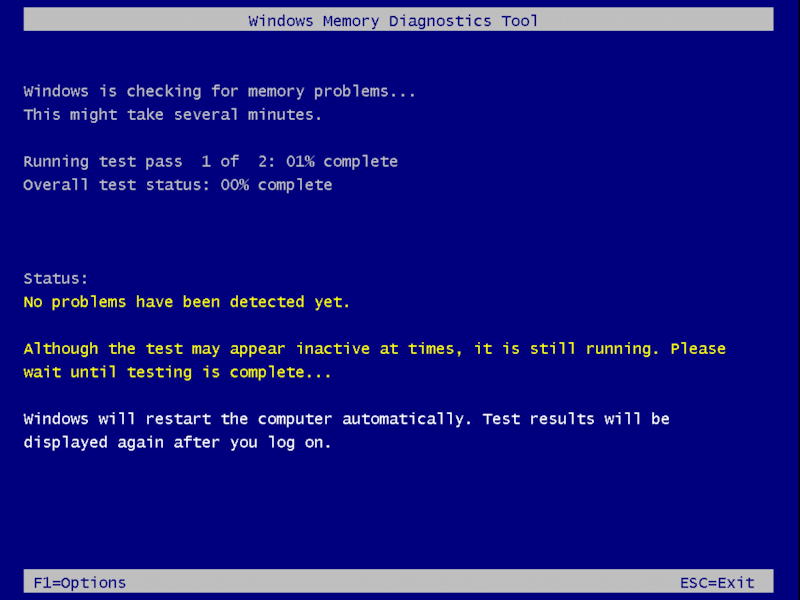 In my experience it takes about ten minutes to run fully, though that's going to vary quite a bit based on how fast your computer is and how much RAM you have installed. If you're curious, you can press F1 to see the options with the Windows Memory Diagnostics Tool:
By default it runs the "Standard" test which should be fine for most users. If you're concerned that it isn't catching the problem and want to run the Extended (much longer) test, choose that by using the arrows on your keyboard or the Tab key, then f10 to apply and have the longer test run.
After a while…
And a bit later…
Hopefully you'll keep seeking "No problems have been detected yet". If something goes wrong generally you'll just see FAIL as a final status, but otherwise it'll run the test then next thing you'll know you will see this:
Pay attention when you log back in to your Windows account too, because they'll be a notification similar to this that flashes on the lower right of your screen for a  few seconds:
That's it. If you are seeing a FAIL message, you might want to run that Extended test but it's time to replace at least some of your RAM to get your computer back to full health. Good luck!
Pro Tip: I've been writing about Windows and the PC world for quite a while. Please check out my hundreds of useful Windows PC help articles while you're here!