Since Microsoft Edge is built on top of the Google Chrome code base, is there any way to force switch Edge to "Dark Mode", where black on white content becomes white text on a black background, now that it's no longer in Chrome itself?
Being able to switch to a dark "theme" is quite the rage with modern devices, and with good reason: Late at night all those bright white screens and menus can cause eye strain and be unpleasantly bright in a dark room too. Switching to a dark theme on your PC, phone or tablet can alleviate the problem, as can using blue light filters like Night Light on your Windows device.
Problem is, that adjusts the frame and Taskbar on your PC, but doesn't change the color scheme of the Web sites you visit, some of which can be very white – like this site! – which isn't so attractive late at night. The Chromium browser team (that's the code base that Google Chrome and Microsoft Edge shares) decided to experiment with that by identifying sites with black text on white and offer a feature that could flip it around, automatically offering white text on black. That's Dark Mode. It showed up in Google Chrome early in 2020 but by mid-summer had been pulled again; turns out it's really hard to do that accurately and legibly on a wide variety of sites.
Microsoft Edge has a different development team and as of right now at least that feature is still in the browser and works great on the sites I tested. How do you enable it? Well, it's a bit tricky, so let's have a look…
To start out, here's a reference page with black text on a white background:
Notice that it's not just black text on white, however, there's also some grey text included, a dark blue underline denoting which section of the site I'm viewing, etc. We'll see how that compares once Dark Mode is enabled.
To get to the experimental settings in Microsoft Edge, you need to enter a rather peculiar URL:
You can see it's edge://flags/#enable-force-dark  You can click on that (which won't work in any other browser, of course) or type it in for yourself. Once you do, you'll find that there are a lot of experimental switches and flags to explore: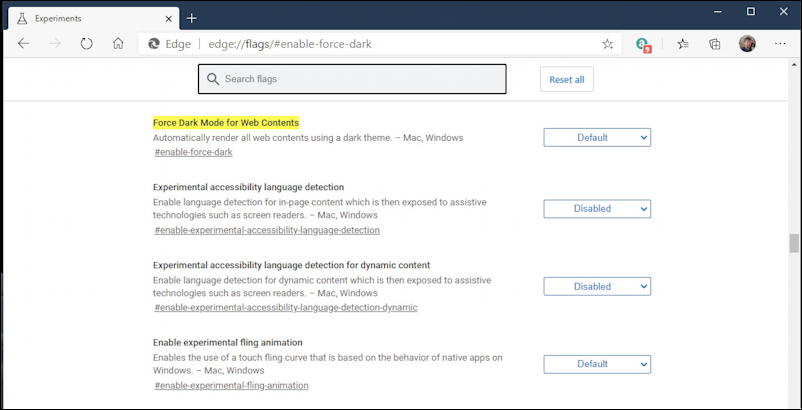 The one we're interested in is already highlighted: Force Dark Mode for Web Contents. To change it from the default (which is "off") click on the "Default" button to see all the choices:
Quite a lot of variations in the feature which shows how complex the problem is, but fortunately you can ignore all of them and just choose "Enabled" as shown. Then scroll to the bottom and restart your browser (make sure you've saved what you're working on in any other tabs, of course).
You'll be taken right back to the very same Edge Flags page, but this time it's in dark mode!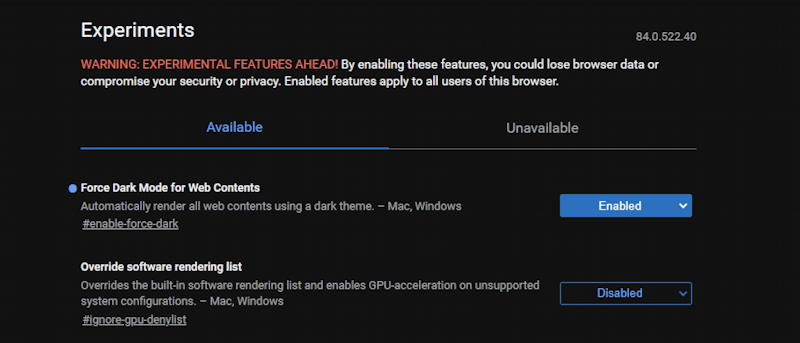 As the warning highlights, you do play with these features at your own risk. This particular one is not going to do anything worse than make some sites ugly and unreadable (in the worst case scenario) but others definitely can have unpredictable results, so do be careful before you go full hacker and enable everything! 🙂
With that enabled, how's that sports news page look? Pretty darn cool, actually: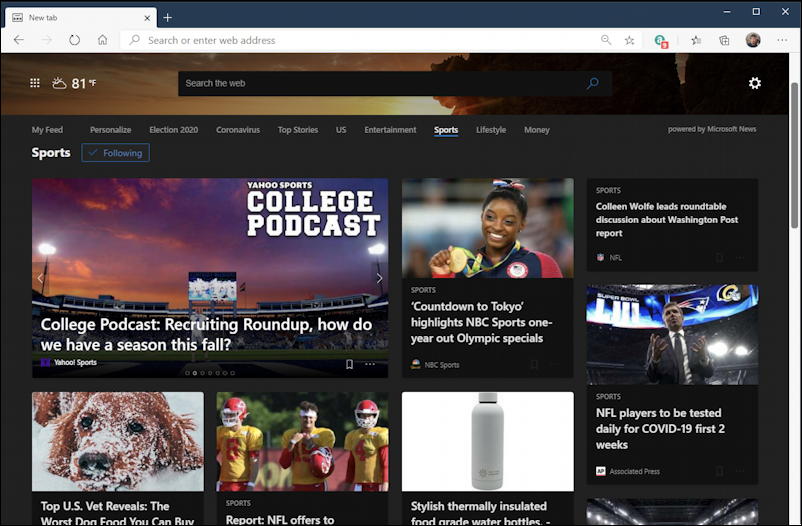 Nicely done, Edge. Now all I have to do is switch to a dark theme to go with Dark Mode in MS Edge and it's a whole new Web.
Decided you've had enough and want to disable Dark Mode after experimentation? No worries, you can do that just as easily. Just go back to the same URL — edge://flags/#enable-force-dark — and choose "Disabled" from the menu, restart your browser, and you're all back to the default settings.
Pro Tip: You too can be a Windows expert by reading through my extensive library of Windows help and tutorials. Heck, Microsoft likes my content so much they selected me as a Windows Insider MVP! Please do check out all of my help pages while you're here.