I have played around with a lot of different themes in my Gmail account but now I just want to go back to the default black text on a white background. How can I go back to the default theme settings??
Every time I see someone with a stock Gmail theme, I wonder if they realize how much that can be personalized and whether they've deliberately and consciously opted to have it be, well, dull. Even if you don't want to use your own photos, there are now dozens of really cool themes that are just a few clicks away and can really spiff up your Gmail experience. [See: Change Gmail Themes]
Then again, there is a certain retro 'zen' to having the default design, and you are set to be the first to see tweaks and changes as they're rolled out too. Heck, Gmail's changed quite a bit since it was originally launched, as highlighted in a fun story by Time Magazine on the history of Gmail!
Anyway, let's do what you request and switch back from a distinctive Gmail theme to the default solid white background and icons.
To start, here's my current Gmail theme: Planets:
Yes, I really do keep my inbox this slim; that's a total of 6 messages in my inbox. You aim for inbox zero too, right? 🙂
There's lots to like about a graphical theme that matches your own interests, but to change it, you'll want to click or tap on the gear icon on the top right: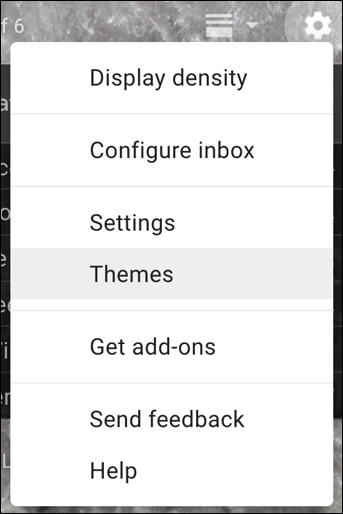 You can get to Themes from the more general Settings menu, actually, but let's use the "Themes" shortcut. Click or tap on that to proceed and you'll be in the modest, but still pretty darn cool themes library: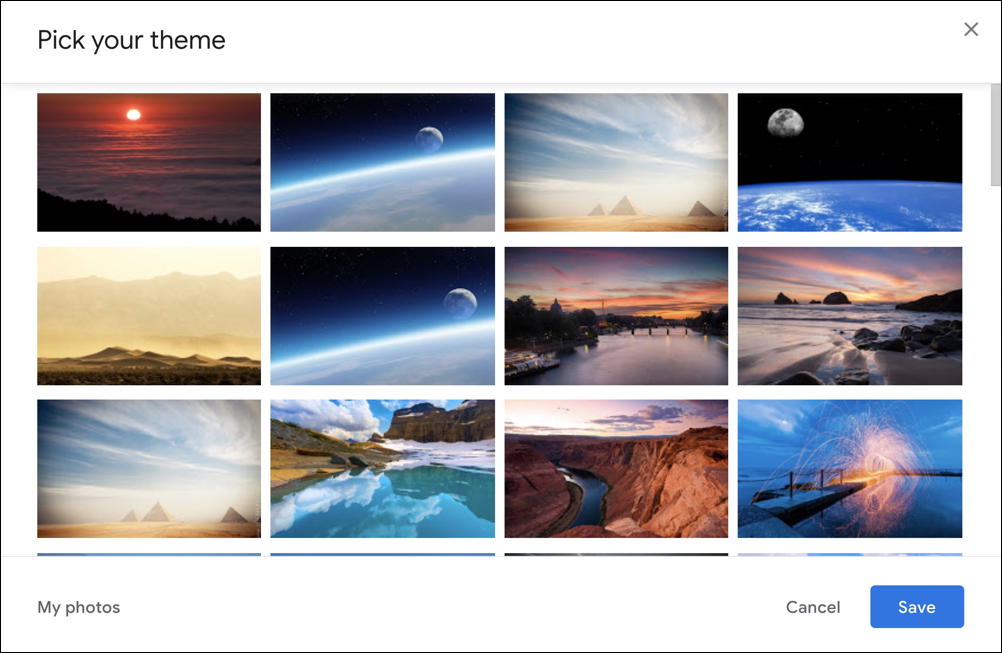 This first section shows the themes I have used in the past – you can tell I like space and scenic landscapes! – but notice the link "My photos" on the lower left too. If you change your mind and want to try using your own photos, that's the path to travel.
But we want to go back to the default Gmail theme, and to do that, scroll down just a bit further in the gallery…

Amongst all the solid background you can see one that is, well, a bit dorky with controls and interface elements. That's our target! Click or tap on the default Gmail theme and instantly you'll see your Gmail inbox change to match. Like it? Click or tap on "Save" and it's a done deal:
It's a bit bright for my eyes, so I'm going to switch back to a landscape theme, but now that you know the clicks needed, you can try out various themes – including the default! – and see which works best for you!
Pro Tip: While we're chatting, I'll highlight that I've been writing about Gmail since when you needed to get an invitation to have an account. Please do check out my extensive Gmail help area for tons more tutorials.