My girlfriend said her boss gets free samples of new foods from Amazon.com. I'm skeptical, but does Amazon send out free samples and if so, how can I sign up?
I suspect that the vast number of Amazon customers have no idea that the company does indeed send out free samples of a wide variety of new products! Of course, it's not really Amazon that sends them, I imagine that the various companies pay Amazon for access to distribution lists of people who've said yes, they would like free baby stuff (for example), and they then send samples with discount coupons that they – and Amazon – can track to see if the samples convert into sales.
Enough chit-chat, however, let's jump onto Amazon and I'll show you where you can sign up and specify what kinds of free products and goods you'd like to receive!
To start, go to the Amazon home page – in a Web browser only, though, because the mobile app doesn't offer this signup link – and look for the three-horizontal line button on the top left:

See it adjacent to the Amazon logo? In the biz, they call that a "hamburger menu", actually.
In any case, click on it and a long, long menu appears. Scroll down a ways to find "Product Sampling":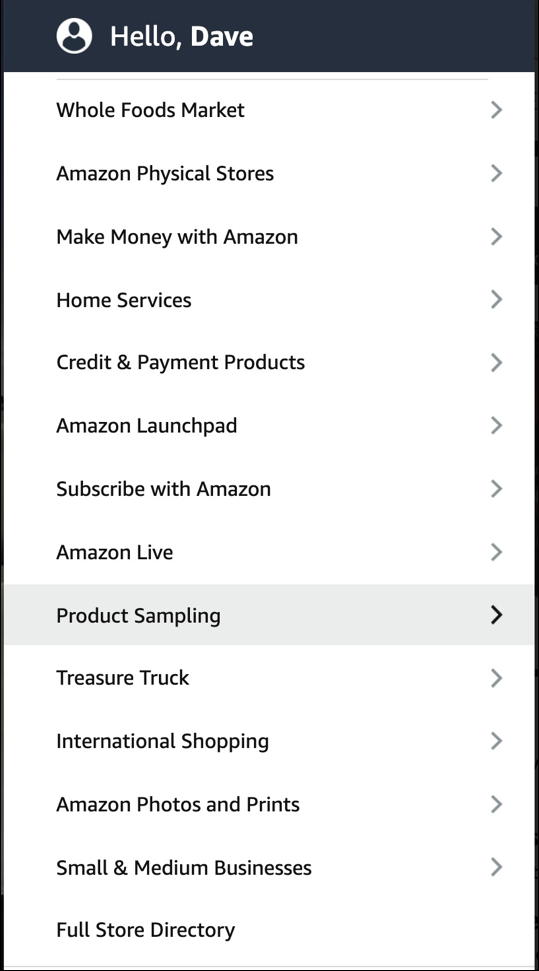 Check out some of the other options too: didja know that Amazon has a Treasure Truck? And Amazon Live? If you're an entrepreneur you should also check out Amazon Launchpad too.
For now, however, just click on "Product Sampling". One more step, rather somewhat pointless it seems, but… here it is: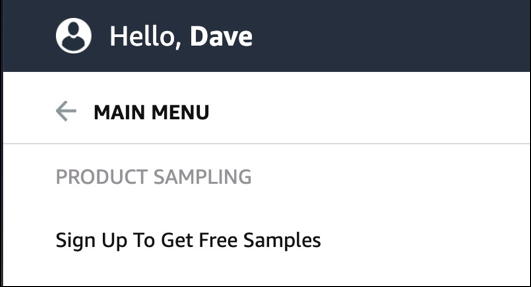 No surprise, click on "Sign Up To Get Free Samples". And be prepared to say "ooohhh, cool!"
Scroll down and you'll see dozens more examples of the kind of products that are part of the product sampling program. Coffee? Bars? Granola? Heck yeah!
To actually sign up, you'll need to visit your preferences page. There's a link under the "How do I sign up to get FREE samples?" header in blue. Click on "preferences page" and it'll offer an opportunity for you to specify which categories you're actually interested in:
Make sure you specify Yes at the top, then check off one or more categories that are of interest. There doesn't seem to be any limit, so if you want to sign up for all of 'em, go for it. Better yet, you don't have to be an Amazon Prime member to get the free samples either.
And that's it. Click "Save preferences" to save your choices and with any luck, you'll get some free samples from Amazon in the mail in the next month or two!