I'm a bit Reddit fan but am frustrated that if I want to share a half-dozen photos, I need to post them one at a time. I thought Reddit was going to fix this problem? Note: I'm using my PC so don't know if it works on the mobile app.
You're in luck! Reddit just introduced multiple image posts as an option. Honestly, they were pretty slow adding this feature, but unlike other ever-more-complex social networks, Reddit is still to be commended for having a simple concept and not expanding in every possible direction simultaneously. It's also important that you specify you're using the Web version of Reddit rather than one of the different mobile apps. The mobile experience is pretty different and since there are third-party Reddit apps like Apollo and Narwhal it's anyone's guess how long they'll take to incorporate the new multi-image post feature.
I've been on Reddit for quite a while, and have to say that I much prefer the Web interface on a bigger screen than the endless scrolling of any of the mobile apps I've tried out. My kids are the opposite; they never, ever use the Web version of Reddit and exclusively use the site with one of the third party apps. Same site, different experience. Kind of fun, really, and an antidote to the homogeneity of Facebook, I'd say.
Anyway, hop over to Reddit.com and start a new post. The compose window looks like this: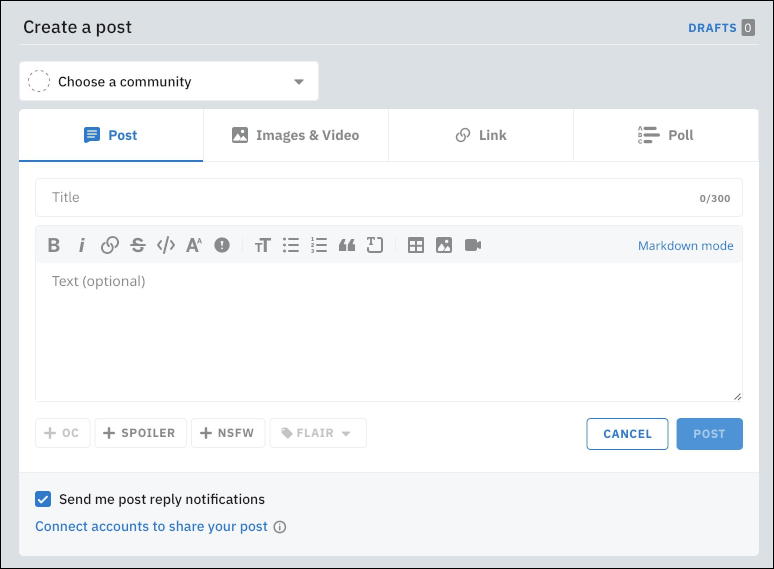 As always, start by choosing a community. I'm going to use r/mazda for this test post…
Then click on the "Images & Video" tab.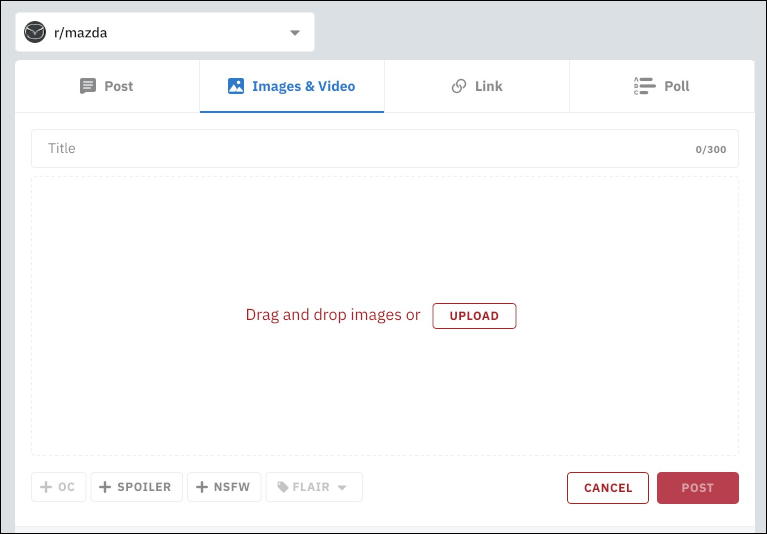 Easy enough, just drag and drop all your images onto the window!
Here's what it looks like when I do that with five Mazda prototype vehicle photos: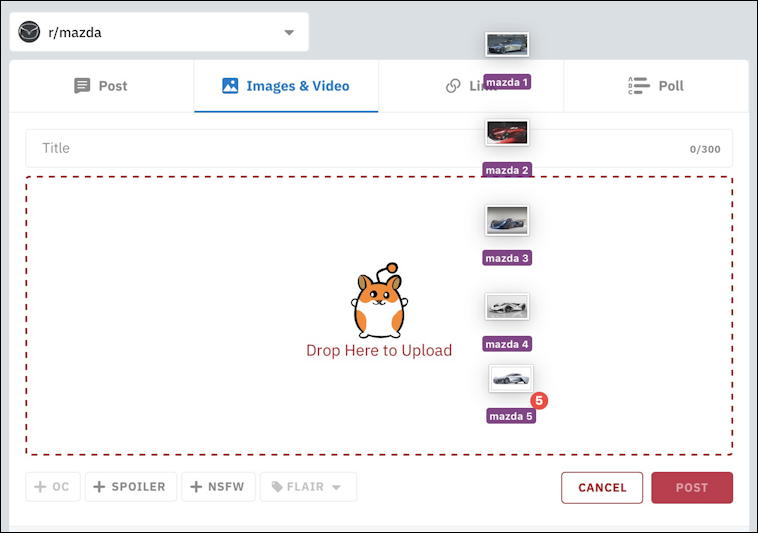 Notice that the target drop zone has gained a dashed red line around it and Snoo'ster, the cute Reddit hamster. Once I drop these images, they are all uploaded to Reddit and the next update I get is:
At this point I can add a tag (at the very bottom) but far more fun is to add a caption and link to each image. That's an optional step, however, if you really want to just post and go. Oh, you do need to give it a Title so don't neglect that step.
Here's my caption and link for the gorgeous RX-Vision:
Step through all of the photos you uploaded, adding captions and links as appropriate, make sure you like your choice for Title, and click on the "Post" button on the lower right.
It's live, you just got a karma point for posting, and hopefully other people in the subreddit will find it interesting and useful:
Notice how it shows that there are 5 images, offering 1/5 on the top right and a highly visible "next" arrow overlaying the image. Also check to see how the caption shows up. Very nice, Reddit!
Pro Tip: I've been writing about Reddit since I first joined the service. It's pretty entertaining! Please check out my Reddit help tutorials for more how-to content to help you get up to speed too!