So glad to have my start menu return in Windows 10 after missing it in Win8 for so long, but now I'm curious: can I resize it? Can I get rid the tiles entirely?
You're not the only person who finds it a boon that Microsoft Windows 10 has restored the beloved start menu after the dark years of Windows 8 and its replacement by the start screen. Even better, Win10 now features a world where you live within the Desktop view, as has been the case for every version of Windows since 3.1, if not before. 🙂
Though there's no easy solution, it does also turn out that you can prune your Win10 start menu down to the Windows 7 style of just text entries, without any "tiles" showing up, but it's a pain. Frankly, I like the tiles! Maybe I just used Win8 too long?!
In any case, let's have a look. Here's a Windows 10 start menu:
There are a number of things you can tweak to customize your Start Menu, but let's start with the most basic: perhaps you want to just have it be bigger!
To do that, click and drag on the right edge: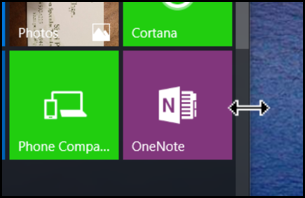 You can easily stretch the menu to make it three columns wide, for example:
But you can also go the other way, dragging it towards the left to make it narrower.
However, you can't make it so narrow that the tiles vanish, which is a bit counterintuitive. I guess no-one in Redmond is allowed to get rid of those multi-size tiles!
Instead, right-click on a tile to pop:
Ah, here are all the options you want. To turn off a live tile (like the news tile in the first screen capture that shows "Obama's Climate Push…" news) you can choose Turn live tile off. To resize a small tile bigger or big tile smaller, choose Resize. Want to have the particular app also show up on the Taskbar along the bottom? You can do that too with Pin to taskbar.
Finally, to remove the tile, choose Unpin from Start. Do that for every single tile — and it's a tedious job! — and you'll just have the entries on the left side and second column of tiles will suddenly vanish!
That's all there is to it. In another blog post, I also show how to change the color of your Start Menu if you're so inclined. Stay tuned for that one!