I hear that Amazon Prime membership is going up from $99 to $119. Is there any way I can renew my membership for another year before that price change happens?
You're correct. Amazon is raising the price of its popular Amazon Prime membership annual subscription from $99 to $119 on May 11, 2018. [Variety has an interesting article why the price is going up, if you're curious] Since I too am an Amazon Prime member, I was also quite curious whether there was any way to circumvent the price change and renew my membership while the going was good. The good news is that there is, but it's a bit tricky…
To start out, I jumped on a chat session with someone from Amazon customer service and asked them point blank; how can I renew my Amazon Prime membership early? They thought there was a renewal option on the membership page but as we continued chatting she realized that what she saw and what I saw were very different. She then suggested that I cancel and just get a new membership at the lower price, but you don't get a pro-rated refund on the unused portion of your membership if you've used prime shipping more than four times. So no go.
But then she had a great idea: Buy a membership gift card for yourself. And that's the secret, coupled with having someone at Amazon customer service turn off the auto-renewal of your annual membership fee. Yes, you need to work with customer service on this too because we Prime members can't disable auto-renewal charges.
Once you have customer service disable your automatic renewal, you'll get an email notification like this: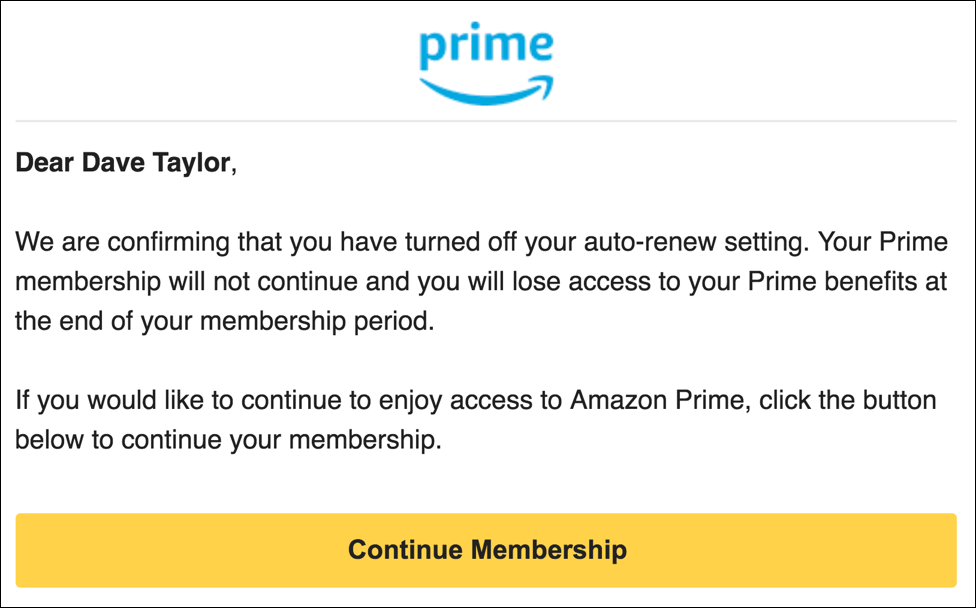 Now go back to your Amazon Prime membership info page on Amazon [Accounts & Lists > Your Prime Membership] and confirm when your membership is actually going to end. For me – as you can see – it's mid July, 2018:

Ignore the anxiety provoking messaging and don't click on "Continue your membership".
Instead, jump straight to Buy An Amazon Prime Membership Gift Card. Use my link to make your life easier or you can navigate through the Byzantine maze of Amazon to find it yourself 🙂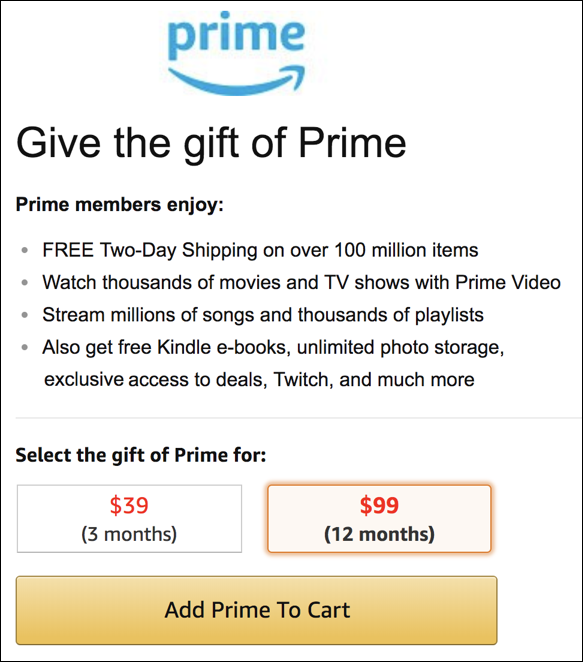 I opted for $99 for 12 months, though I suppose you could gift yourself the $39 for three months. Just for the record, $99 for 12 months = $8.25/mo while $39 for 3 months = $13/mo. No bargain there, for sure!
This gets even nicer because you can pay for the gift card membership now, but defer having the gift card actually delivered until it's closer to your expiration date! In fact, click "Add Prime to Cart" and you'll get to this prompt: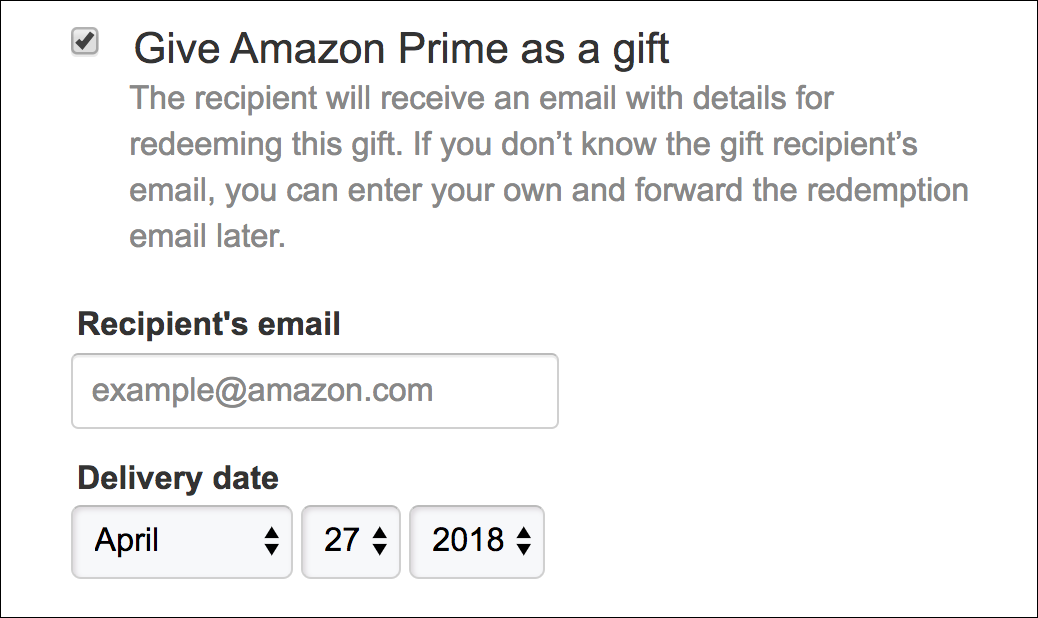 So what did I do? Enter my own email address and July 1 as the desired date. One more confirmation of payment and it's done: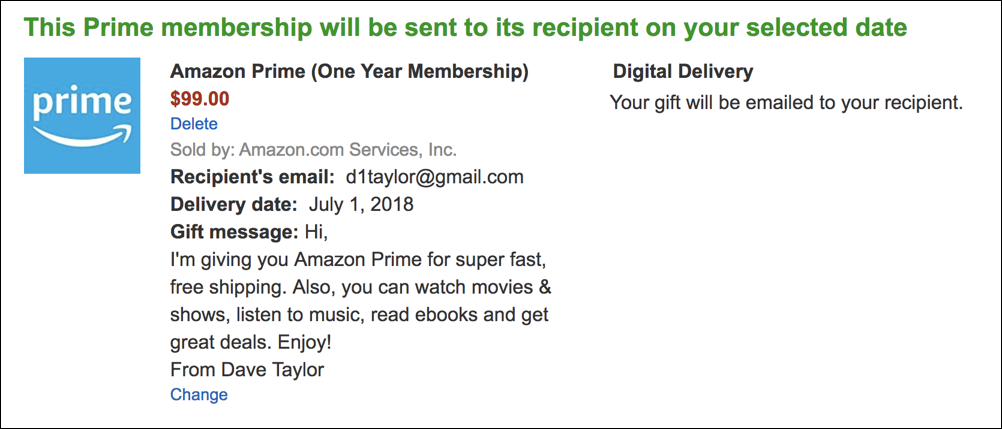 What's nice is that I can now forget about it and on July 19 or perhaps even July 20 then dig up the gift card info I sent myself at the beginning of the month and renew my Amazon Prime membership for another year at the $99 price, even though that'll be many months into the new, higher priced membership.
And that is how you save some money on renewing your Amazon Prime membership when you know the price is poised to jump up almost 20%. Not too complex, really.
Disclosure: The link to buy your Amazon Prime gift card above is an affiliate link. You pay exactly the same price, but you also get the warm fuzzy of helping keep the lights on here at ADT HQ. Thanks!