I've always used Instagram by taking photos on my phone and posting them, but I'm wondering if there's any way I could post a photo from a Web page or other source?
The original intent of Instagram has always been that people would use it to share smartphone photos so you have that sense of immediacy and so we're all saddled with the same challenge of getting really good — or interesting! — photos with our iPhone, Galaxy S5, HTC One, whatever. But even that's a bit fuzzy and I almost always take photos on my own iPhone 6 with the Camera app, then open Instagram to post it rather than take the photo directly from within Instagram.
What you ask is quite easy to do too because Instagram can pull photographs out of your photo gallery album so most of the work involves getting the photo off the Web page and into your gallery instead.
To demonstrate, I'm going to post a photo on Instagram that's off my GoFatherhood.com site. Here's the article:
I scroll down a bit and there's an image, displayed nice and big.
A tap-and-hold gesture on the image brings up a few interesting choices along the bottom:
A tap on "Save Image" and this particular photo is saved in my iPhone photo album.
That's the hard work done. Now a switch to Instagram (where I have to orient my phone vertically, alas, since Instagram doesn't support horizontal or landscape orientation):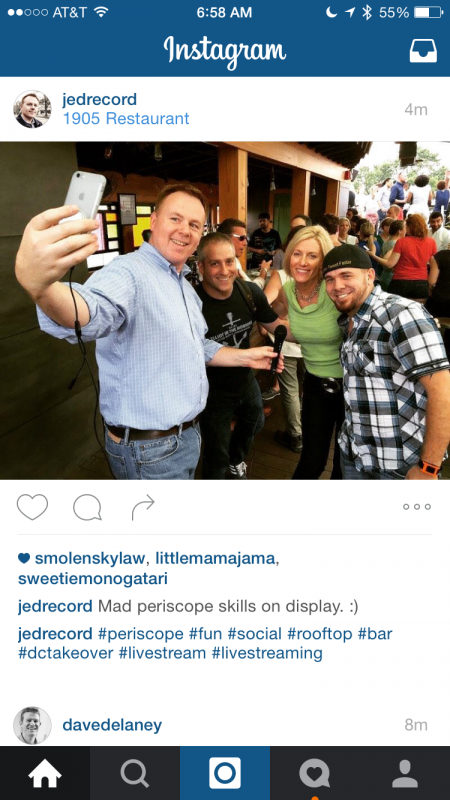 Very nice photo, Jed! 🙂
What I need to do to post the new photo is to tap on the square camera icon on the bottom row, the one that's (confusingly) already highlighted. It then shows a few thumbnails along the bottom:
A tap on the photo I want to post — it's #4, rightmost on the first row — and it shows up in the main view area:
From here it's just a matter of tapping "Next" on the top right and choosing any filters or adjustments you want to make
"Moon" looks interesting, but let's just stick with the photo as-is from the Web page.
Looks good? Great. Time to add some info, as I've done here:
Instagram is very hashtag friendly so if you aren't using hashtags, I strongly recommend you start adding them. Watch what your friends post to learn the best options!
Finally, I tap "Share" and… it's live:
Looks great!
Now, a caveat: Just because there's a photo online doesn't mean you have the legal right to repost it on your Instagram feed, so be careful with copyright and make sure you respect other people's imagery. Thanks!
And one more thing: You can find me on Instagram as d1taylor.