I know how to post photos to Facebook and Pinterest. Heck, I can figure it out on Google Plus. But on LinkedIn, how do I post a photo as a status update?
I think we're all so used to how Facebook does things that sometimes it's hard to think about other approaches to a user interface in the social media world.
In fact, you can post photos, videos, even PDF files to your LinkedIn status or, as in your case, as your status update, but you have to look for clippy.
Yeah. I said it. Clippy. That stupid animated paperclip from a best-forgotten chapter of Microsoft Office history.
Well, actually, it's not clippy, per se, but rather just a paperclip icon. Because once you click on it, you'll find that there's a lot more you can do on a LinkedIn status update.
To start, here's a typical update window:
Click in the box to start typing in your update and it expands slightly to include a share option, but not much else changes:
By comparison, Google Plus has all sorts of options appear once you click and go to start entering your update.
Still, we're on LinkedIn. So the secret here is the light grey paperclip icon.
Enter your status text as I've done, then move your cursor over it:
Alright. Click on the paperclip and select an image.
In this case, I'll chose an NSA advert I saw earlier in the day and when I "choose" it, the image is uploaded:
After a few moments I'm looking at my status update again:
Looks good? Click on "Share" and after a moment (since the photo's already updated) it's live.
And here's what everyone sees: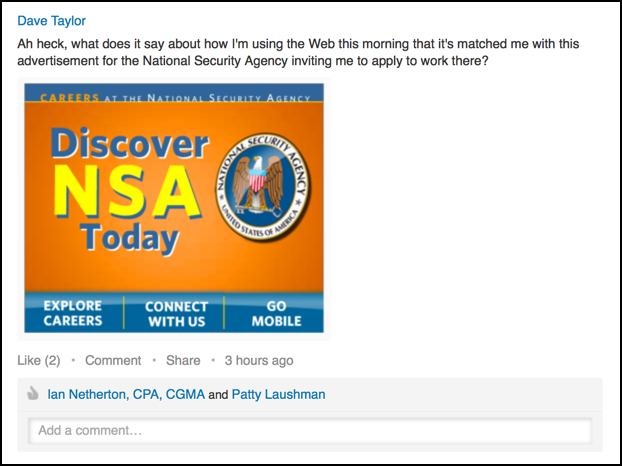 Looks good. In fact, heck, already got a few likes on it!