I post a lot on Twitter about politics, particularly gender politics. And I get a lot of haters, many of which seem to set up bogus accounts just to harass me. Can I turn those accounts off or mute them??
The modern Web is a rough environment for any sort of political discourse, whether you're talking about gender politics, racism, religion, gun control or any of the other thousand flashpoints that can burst into hostility in the blink of an eye. It's very different from an in person interaction too, because we digital citizens aren't limited to what we'd say face to face with someone any more. We don't even have to stand behind our words at all and while the rise of anonymity has been a boon to whistleblowers it's also come with a cost: trolls.
As you know, we're not talking about trolls in the Tolkien sense – if only! – but people who post hostile comments and remarks purely for the joy of being mean or provoking someone else. For reasons I can't explain, there are people online who find it amusing or a chance to gain some power in a conversation by being able to say such outlanding and provocative things that they then control the conversation. Even when others know that's what they're doing!
Making it worse – and this is where Twitter comes in – these same people can accomplish their provocation by simply creating fake accounts on Twitter and using those to harass others. That's what it sounds like you're experiencing. And you're not alone. In fact, Twitter has created a set of sophisticated filters that won't make these people vanish, but will filter them out of your notifications so that you don't have to see them or be bothered by them. Sort of like yelling in the football stadium at 3am when it's empty. They have no idea you aren't being triggered, but you can live in blissful ignorance of their, well, ignorance.
The easiest way to turn all of these features on is to jump onto the Twitter mobile app. I'll use Twitter for iPhone to demonstrate.
Here's a typical home screen, rather dominated by the "In case you missed it" content: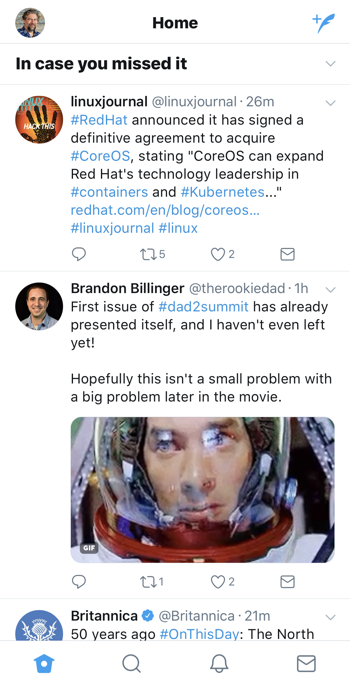 Along the bottom are the four main areas, as you undoubtedly known. Left to right: home, search, notifications and direct or private messages. Tap on the Notifications bell icon.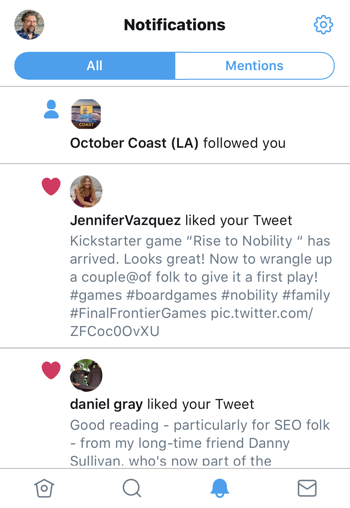 Where you want to look is the top right. When you're in Notifications you can easily jump over to settings for the Twitter for Mobile app and that's what you want to do. Tap on the gear icon on the top right.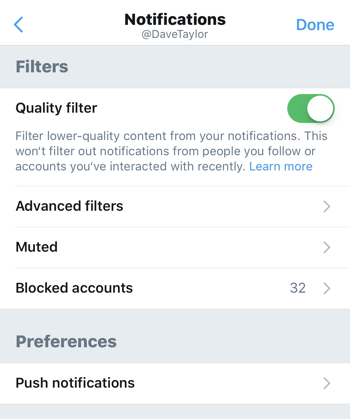 A number of interesting settings – including the fact that I block 32 accounts on Twitter and you could too – but more importantly notice the "Advanced filters" option about halfway down. Tap on it and you'll say "aahhhhh…." as you look at the ways you can block troll tweet notifications from bothering you:
Turn all of those on and I bet your notifications from trolls and idiots will go down quite a bit, if not vanish entirely. Hope that helps you get more out of Twitter!
Pro Tip: While you're here check out all our Twitter help and why not follow me on Twitter too? I'm @DaveTaylor.