I'm one of a group of contributors to a Pinterest board focused on parenting and it's frustrating that Pinterest doesn't notify me when other members add new pins. Is there a way that Pinterest can email em when things are added to the shared Pinboard?
You bet there's a way. In fact, Pinterest does a nice job with its email notifications, though it's spread across two different areas of your Pinterest experience, which is supposed to make it easier to work with. I think. 🙂
I also know exactly what you mean about the frustration of being a contributor to a shared board and realizing that others are adding things that you aren't aware of because — horrors! — you aren't checking it every few hours.
Fortunately, there is a notification system in place and while things like having Pinterest notify you if someone follows you or one of your boards, leaves a comment, likes a pin, etc are all located in the Settings area, the email notification feature for a shared board is somewhat different.
Let's start with a pin that someone else has posted to a shared Pinterest "pinboard". It'll look like this: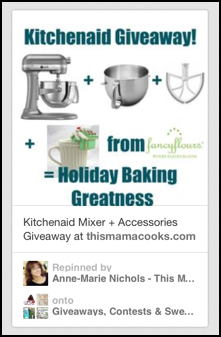 Anne-Marie has no idea that I don't have notifications enabled, so I can't blame her. I mean, I wouldn't anyway, but still sometimes ya feel like someone should be to blame for these technological hiccups, right? 🙂
To fix the problem – a far better approach than casting blame! – click on the board name. In this case "Giveaways, Contests & Sweepstakes".
You'll see the board with all its pins: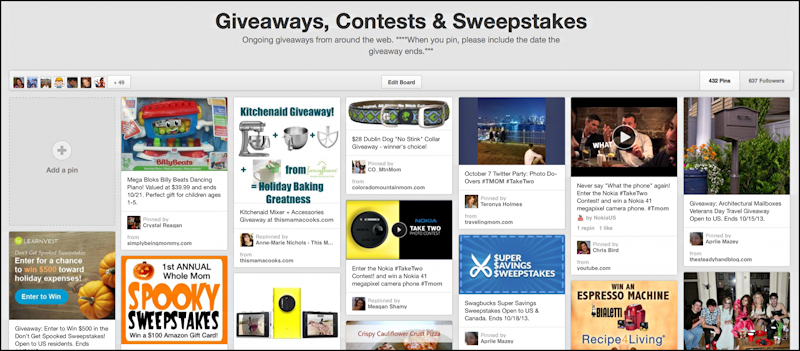 It can be hard to see on a screnshot this big, but there's an "Edit Board" button immediately underneath the name.
That shows up because I'm one of the contributors, of course.
Click on it on your own board, and …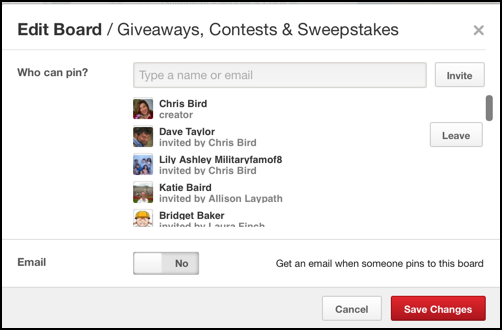 You can see the list of contributors and the creator of the board (Chris Bird). I can quit by clicking "Leave" but that's not what we're here for!
Instead, notice at the bottom the email notification switch "Get an email when someone pins to this board." That's what I want.
To change the setting, I click on the "No" slider and it turns into – surprise! – a "Yes" slider. Another click on "Save Changes" and I'm done.
That's it. Now, when someone posts something to the board, here's what I'll see in my email inbox:
Cool. Now I'll be sure to stay up on all the Pinterest sweepstakes and giveaways!