I have a huge list of connections on LinkedIn and would like to analyze the data in various ways. Can I export all my links or connections from LinkedIn?
You can definitely export your entire LinkedIn contact database in a variety of different formats, but I want to start by pointing out that the social pact between you and someone else on LinkedIn is built around that platform, so if you export the data and start cold calling or emailing them, you might get a more negative reaction than you expect. Or perhaps not: A colleague does this all the time and adds all his LinkedIn connections to a mailing list for non-LI email. He always has an opt-out and unsubscribe option, his messages are polite and professional, and he's had exactly two complaints in over a year of communicating. Not too bad at all, actually.
Still, you'd want to be very careful that you aren't spamming people and some folk are savvy enough that they use a different email address for their LinkedIn account than anything else, so they would be able to figure out how you got 'em on the list and could potentially report you to LinkedIn for being a spammer. So be careful, eh?
With that caveat in mind, go to your LinkedIn home page and find the Connections menu: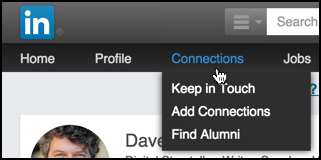 Don't choose any of the specific entries, just click on "Connections".
You'll get to a page with lots of info, but all you care about is this part along the top:

The key is to click on the unassuming gear icon on the right.
Surprisingly, it doesn't pop up a menu or anything, just takes you to your Settings page. And a busy page it is.
Just look on the right for this box labeled "Advanced Settings":

Now you're almost done. Click on Export LinkedIn Connections and you'll have to pick an output format:
If you're not going to import the data into a contact manager, you can pick any of them and them read it into Excel or another spreadsheet program for analysis. Just make sure it's CSV (comma-separated values).
Click "Export" and you'll need to prove you're human:
Handy tip: "260". 🙂
Click "Continue" and the data is exported and downloaded. For me, it was incredibly fast, especially considering there were over 2000 records in the list.
And, just out of curiosity, I peeked into the data file from the command line. Here's what I saw:
$ head -15 linkedin_connections_export_macosx.vcf 


BEGIN:VCARD




VERSION:2.1




N:Peake;Jim




FN:Jim Peake




TITLE:Website Design and Development - SEO Lead Generation




ORG:Webdesign-Rep.com




EMAIL;INTERNET:jim@xxxxxx




END:VCARD




BEGIN:VCARD




VERSION:2.1




N:Speiser;Arnnei




FN:Arnnei Speiser




TITLE:Martial Arts Instructor




ORG:WJJF - World Ju Jitsu Federation




EMAIL;INTERNET:arnnei@xxxxxxxx
(I've 'xxx'd out their email addresses for their privacy)
So there you have it, exactly how to export all your LinkedIn Contacts. Now use this knowledge wisely.