Every time I do a search on Amazon for something, I then see ads for it on other Web sites for weeks. It's really annoying! Can I turn this feature off?
I know just what you're talking about, these are what's know in the industry as tracking ads because, well, they track your behavior and supposedly yield good results for the advertiser. Since we have Google AdSense ads on this site and AdSense definitely participates in the tracking system, it's quite possible that one or more of the ads you're seeing on this very page are tied to something you've bought or searched for on Amazon.com right now. And we have zero control over it as a publisher.
As a Web user I will share that I don't like them. I prefer ads on pages that are thematically associated with the page content, not ads tied to my behavior on a different site. The tracking is just weird at times: I'm looking at a site about car buying, but I'm seeing ads about women's sneakers because that's what my daughter was researching just prior?
Fortunately you do have some level of control over this behavior through your own Amazon.com account settings.
To start with, go to the Amazon.com home page and choose "Your Account":
Most likely you'll need to log in at this point if you don't already have yourself perpetually logged in. Once on the Your Account page, you'll see that there are a whole lot of options on the subsequent page. Scroll down to the last block of choices, labeled "Personalization":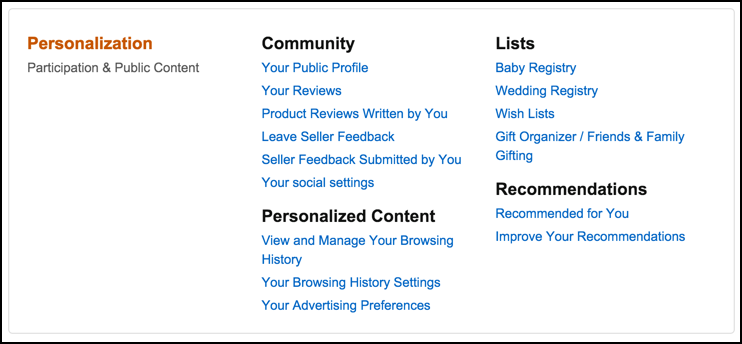 The very last option on the page (d'ya think Amazon wants us not to notice?) is "Your Advertising Preferences".
That's the one. Click on it.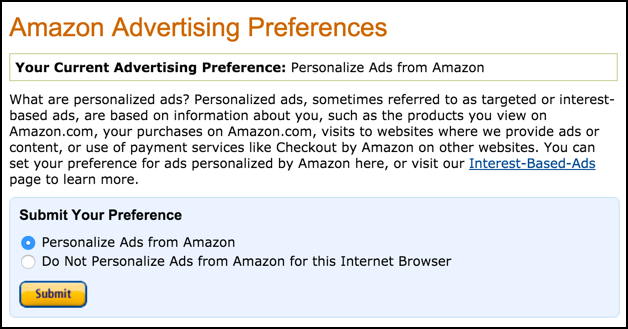 So there it is. Simply choose "Do Not Personalize Ads from Amazon for this Internet Browser" and a modicum of sanity will be restored to your Web browsing experience.
In this browser, at least. But that's a start.
While you're here, btw, on "Personalization" also click on "Your Browser History Settings" too, as it's quite interesting: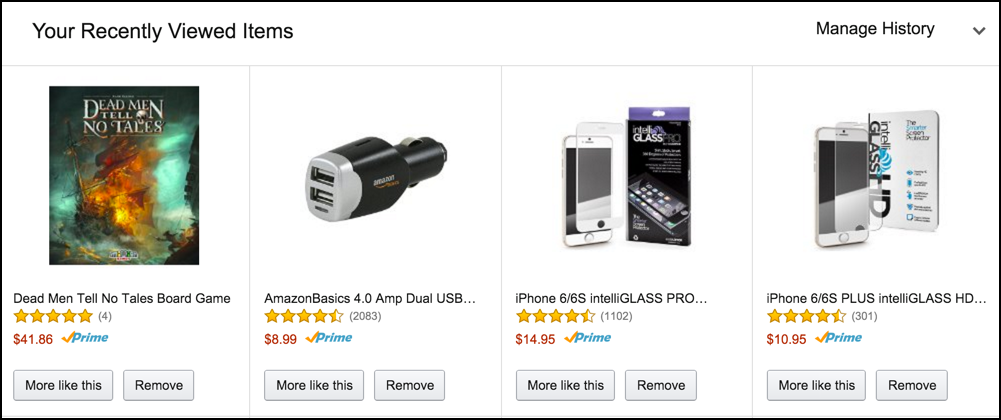 You can see what I've viewed recently on the site, but more importantly, you can see that there are "Remove" buttons if those searches were for a present for someone or just things you don't want reappearing on your subsequent "Recent Searches" display on other Amazon.com pages.
And don't forget to click on "Manage History" on the top right too, to reveal:

There you go. You can remove all items or turn browsing history completely off.
Hope that helps you establish a better relationship with Amazon.com!