I have a new Google Pixel 4 and love it, but am wondering if there's a way to change or customize what happens when I squeeze the phone? Right now it pops up Google Assistant, but I work in a quiet office and don't want to talk to my phone…
Turns out that all Google Pixel phones after that first generation have Active Edge and it's a darn handy shortcut. Got an older Pixel 2? That has Active Edge! You do have to enable it, of course, but one of the best features is that if your phone's ringing and you don't want to answer, you can simply squeeze the sides of the phone and it'll mute. I wish all phones had this sort of fast mute, actually, particularly at a movie theater! 🙂
By default, Active Edge is enabled on the latest generation of Google Pixel phones, however, so if you haven't seen the assistant pop up from the bottom of the screen, it's because you just haven't tried squeezing your phone! I imagine that for many owners, this is something that doesn't happen until they're installing a new phone case. Once you find it, though, I bet you'll fall in love with the feature because it's so darn convenient.
So let's look at how to customize it. First, here's my own Google Pixel 4 XL home screen immediately after I've squeezed the sides of the phone: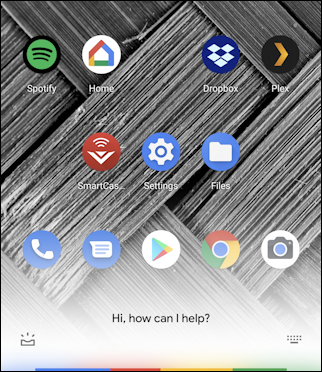 It's listening. Just talk! Or if you're in a situation where you can't actually talk or don't want to chat with your phone, tap on the tiny keyboard icon on the right. It actually lets you type in your queries and get a printed, not spoken, response:
Extremely useful and a squeeze-and-a-tap away, two major ways to interact with Google Assistant.
But what about those settings? The fastest way to get to the Active Edge settings is to search for "squeeze" in the Settings app:
A variety of settings show up, but rather than view them all in this rather chaotic form, tap on the navigational information line System > Gestures > Active Edge and it will take you directly to the Active Edge settings page in Android 10: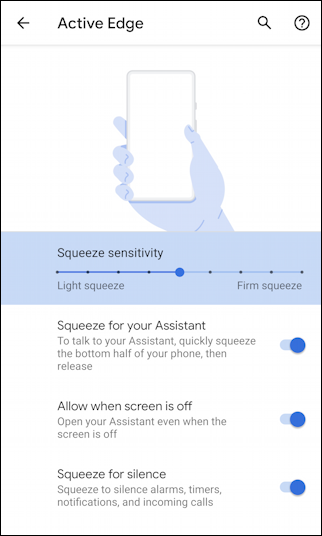 As you can see, it's easy to adjust the sensitivity of the squeeze sensor, among other things. You might find it's too darn hard to get the Assistant to show up or, conversely, that she pops up all the darn time, even when you don't want her!
More importantly, you can actually have the squeeze gesture only silence incoming calls, alarms, etc, without ever triggering Google Assistant. It's not too obvious how to change that setting but if you simply disable "Squeeze for your Assistant" that's what happens:
You can even completely disable Active Edge, but seriously, why wouldn't you leave it set up for at least the mute feature? It's one of the best, if a rather subtle feature of the Pixel smartphone line from Google.
And that's it. Now you know how to control your Active Edge squeeze gesture on your Pixel in Android 10. Perhaps some day you can pick an arbitrary app to launch on squeeze, but for now it's nothing or Google Assistant.
Pro Tip: I've been writing about Android since the early days. Please check out my extensive Android help library for tons of useful tutorials while you're on the site. Thanks! And Go #teampixel too.