I don't want to buy any fancy photo editing software, so I'm wondering if there's a tool included with Windows 10 that lets me crop photos? And how about rotating them a few degrees to skew them?
Turns out that through the many years of Windows evolution, some fairly rudimentary programs have had a chance to pick up all sorts of more advanced features. If you remember a simple and basic app from an earlier version of Windows, odds are good that it's now a new, fancy and surprisingly powerful utility in the latest version of Microsoft Windows 10! Case in point: Photos. Used to be that most people used it to organize their photos but it's grown to be a decently sophisticated graphics editor; and you don't need to be working with a photograph to get the benefit.
Rather than chat about it, however, let's just jump in. Before we do, though, a link to Microsoft's landing page for the Photos app: What's New in Photos.
Now, for this demonstration I'm going to utilize the movie poster (aka "one sheet", as we call it in the biz) for the weird H.P.Lovecraft inspired horror film Color Out of Space. It's a very bright, colorful image!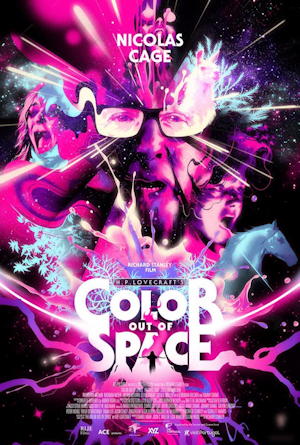 What we want to do is grab just the movie name from the lower portion, then skew it just a little bit counter-clockwise to make it a bit more visually arresting. As if this poster needs any help being visually arresting, right? 🙂
Easiest way is to double-click the icon, but if you're not sure what's going to happen, you can right-click on the icon instead: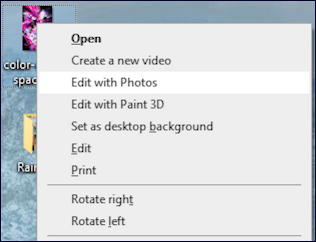 Choose "Edit with Photos" as shown. You can edit with Paint 3D but Photos tends to be a bit less cluttered so easier to work with…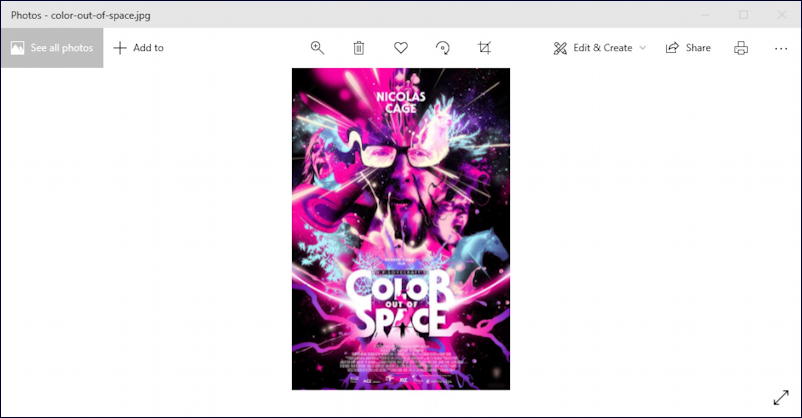 There's a big modality interface feature that you'll want to know about so you don't get confused: If you are seeing a white background, it's in view / display mode. If it's a dark background, you're in edit mode. Why they made this choice I cannot explain, but no surprise, when you click on "Edit & Create" on the top, things switch up. I'm going to then click on "Crop & Rotate" along the top too. The result: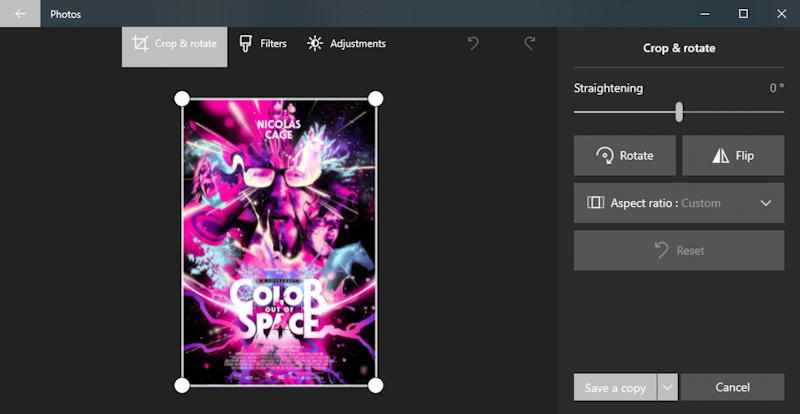 The huge circles on the corners of the box around the image are called handles in graphics editor nomenclature and the rectangle itself is often referred to as a bounding box. In case you care. 🙂
Now you can click and drag any of these handles to reduce the selected portion of the image. As you proceed the program will automatically zoom, which can be a bit disconcerting, so you might want to maximize the window on your screen.
Finally, here's the region I've selected: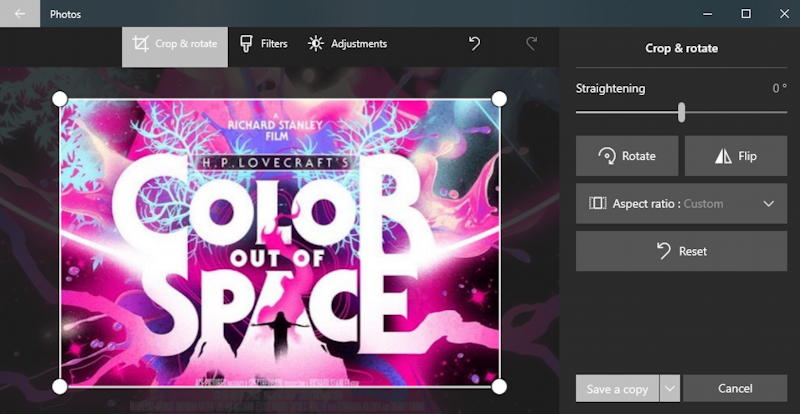 For fun, a click on the "Flip" button produces, well, interesting results: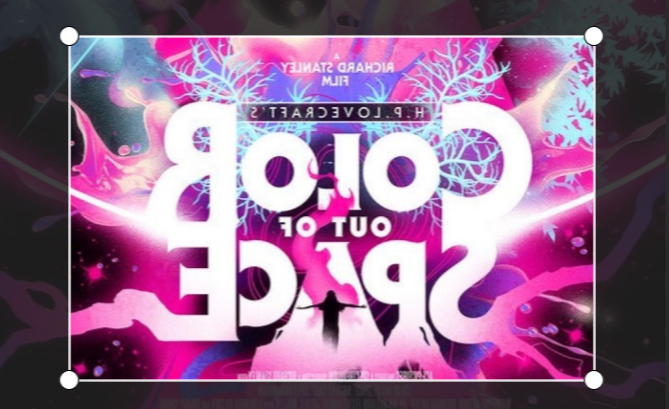 Not really so useful with a graphic that has text on it! Another "flip" and it's back to normal. Now let's work on that rotation / skew…
To do that, I'm going to use the straightening tool. Simply click and move the handle along the slider to the right and it'll keep up, rotating the image to match. Here we are at 12-degrees rotation counter-clockwise: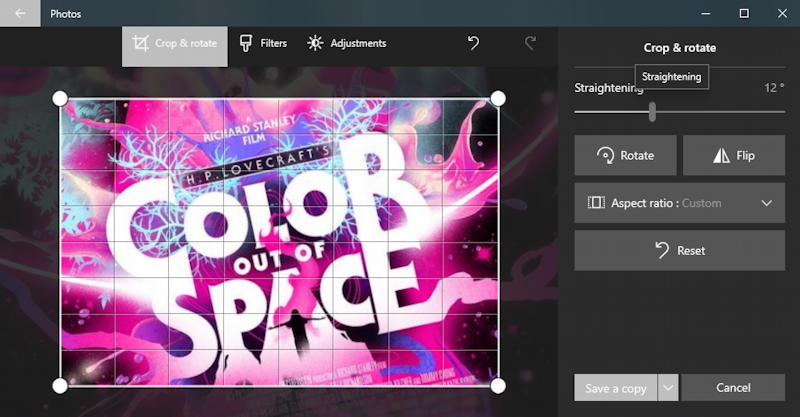 Looks pretty darn cool, and having done a prior crop means that there's "extra" image to move into the edges as the rotation takes it from rectangular.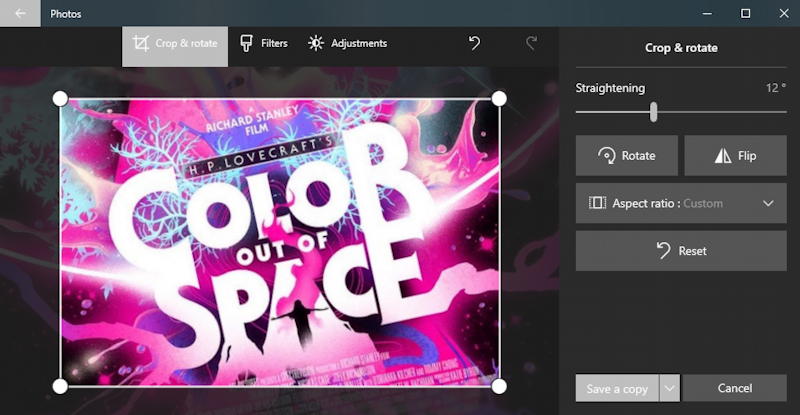 Now it's time to save it. I strongly suggest you always save the modified image with a different name, and you can see on the lower right that the default is to "Save a copy" too. It's just a good idea!
Click, pick a new file name, and you're done. Nice. Here's the final image: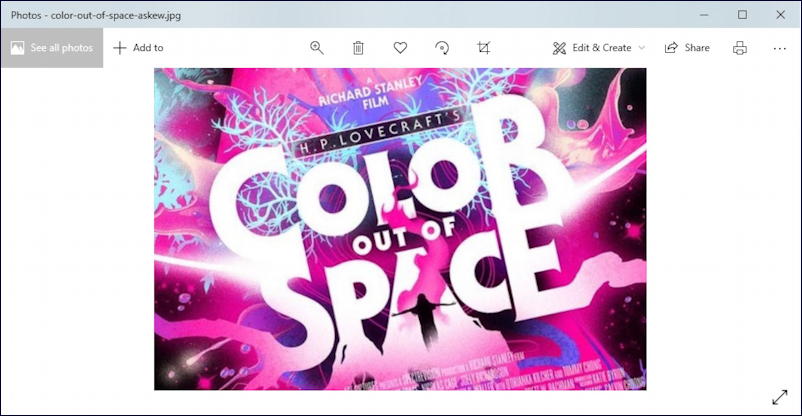 And that's how you do it. Pretty fun, actually, and since you're saving it as a new file, you can always go back to the original and try other modifications, changes, crops, etc.
Pro Tip: I've been writing about Windows 10 for a really long time. Please check out my extensive Windows help library for tons more tutorials while you're here on the site!