I'm trying to plan a road trip and have been using Google Maps. Very cool, but is there any way to reroute or detour to destinations along the way? I would like to end up with turn-by-turn directions that encompass the additional destinations.
There's no question that tools like Google Maps have completely revolutionized planning trips. This is true whether you're heading into the big city or whether you're going to be crossing multiple states or even countries as you drive. It's a remarkable transformation from the old days when you would unfold a map from your glove compartment and use a pen to try to figure out how to best get from point A to point B. Not only that, but Google Maps also can take into account construction delays and historical traffic data to ensure you have the optimal route. Pretty cool.
But sometimes the path from point A to point B includes stopping at point C, D, E and even F. Fortunately, Google Maps lets you do add those additional stops by clicking and dragging your route to change exactly where you're going or actually adding additional destinations and then re-ordering them for the optimal route. Let's have a look!
My kids have been talking about heading up to visit a close friend up in Bozeman, Montana from our home in Boulder, Colorado. It's a solid day's drive through some pretty (and barren) country. There are also only a few options for route but there are some places on the way possibly worth visiting. To start, Google Maps shows Bozeman: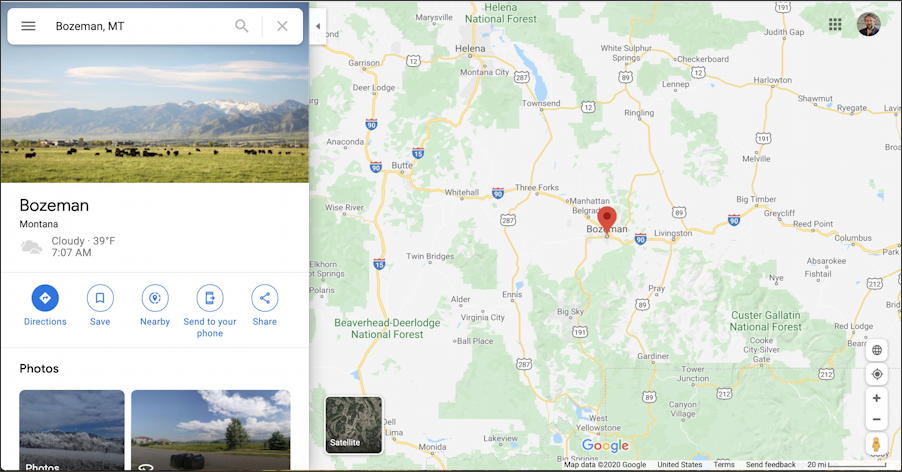 Yep, in the same place it was last time I mapped it. A beautiful little town, by the way.
To get basic driving directions, click on the blue "Directions" button on the left. Now you can enter your point of origin:
Easiest is to click on "Your location" but you can enter any address here, of course. Once you do the route pops up with any options that might be relevant: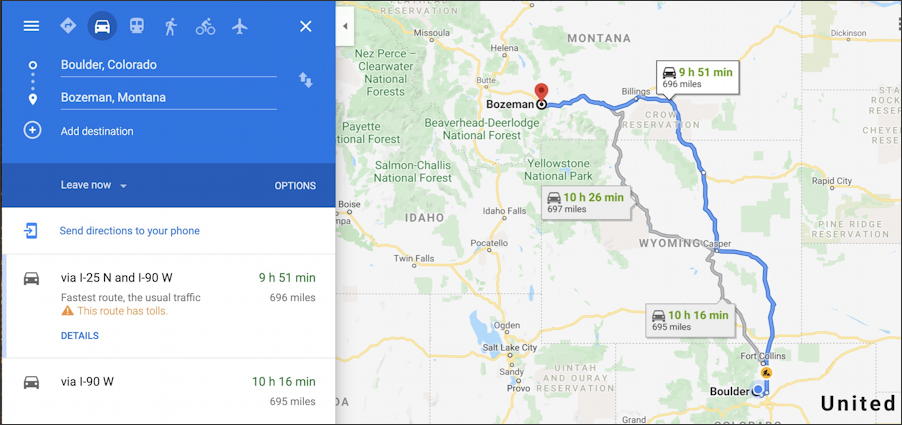 The most efficient route is 9 hours, 51 minutes drive. There are two alternative legs or segments of the route that will add about 20min (from Fort Collins to Casper) or almost 30 minutes (routing closer to Yellowstone). Click on either alternative to choose it or accept the main route.
But what if there's a slight detour you want to take just before Bozeman? Zoom in, then move your cursor over the closest point on the route. A tiny white circle will show up: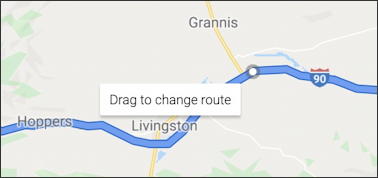 Let's add a detour to the tiny town of Chadborn, just north of Grannis. That's done by clicking-and-dragging the white dot to the destination. The route and timing will update and the map now looks like this:
Not too bad, about 15min each way off the main route of Highway 90. You can get rid of the detour by taking the white dot and dragging it back onto the main route. Easy.
But what if you suddenly realize you need to visit your Aunt in Idaho Falls, Idaho? It's kind of on the way. This time, rather than just dragging a route marker, add a third destination to the route itself on the left side: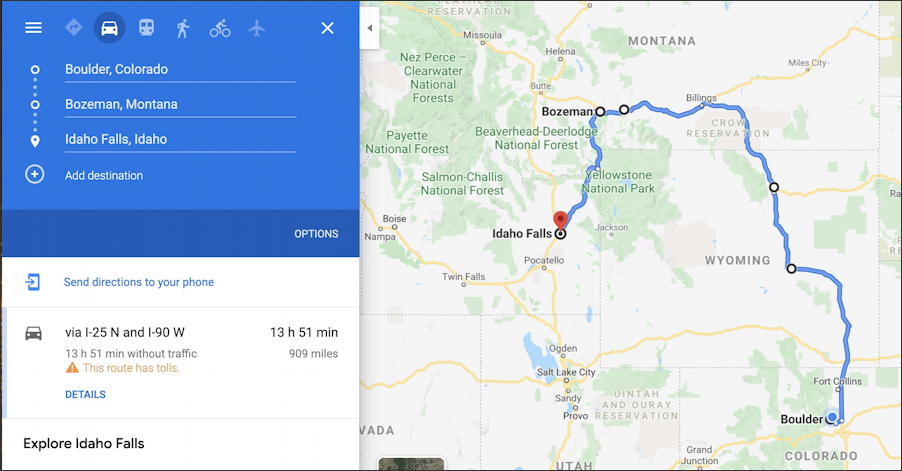 Since I've entered the route as Boulder -> Bozeman -> Idaho Falls that's what it's offered. Want to change the order of your drive? You can do that too by clicking and dragging a destination on the left to move it up or down.
When I move Idaho Falls to be in between Boulder and Bozeman, it completely changes the route, as you would expect:
Now to get the car cleaned up and ready for this road trip!
Pro Tip: I've been writing about the entire suite of Google apps for quite a while. Please check out my Google Tool Help articles here on the site!