A few weeks ago I was searching Google Maps for directions to a girl I'm interested in, but now can't find her address. Is there a way to go back and see my Google Maps search history?
Turns out that everything you do in the world of Google is saved and that you can definitely go far back in time and dig through what you've done in the past, even neatly organized by date and by Google service. Wondering about that Google Image Search you did on July 4th, 2013? They have that saved. Or a Google Shopping query from two days before your Mom's birthday? That's saved too.
Now before you freak out about privacy issues, all Google search history is only accessible by you and, well, by Google itself. Which means that I can't search to see who is looking on Google Maps to see where my home address is relative to Denver, or similar. Which, retrospectively, might be a good thing.
The easiest way to get to Google Search History is to simply start in Google Maps. Look on the lower right corner for the 'gear' icon and click on it: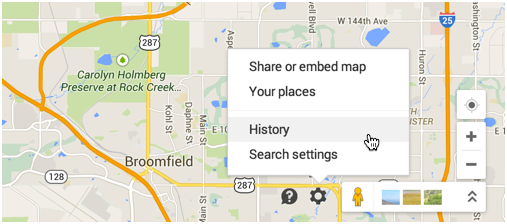 As you can see, choose "History".
Now you're in a whole new world of Google data…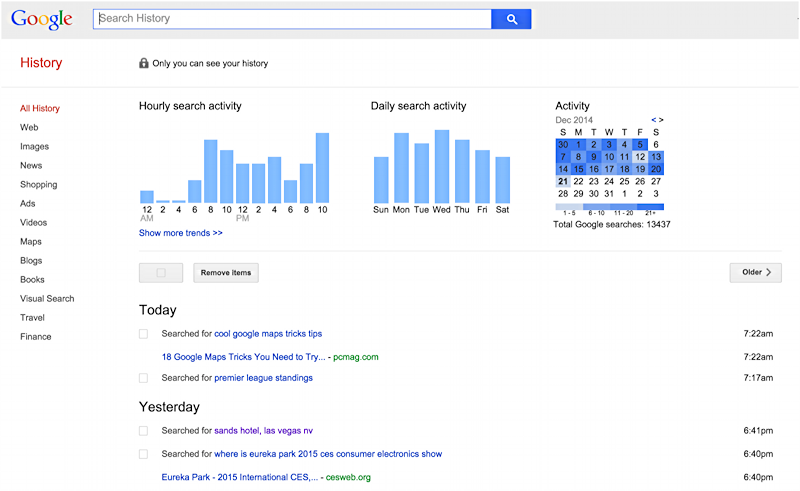 Most important is to closely examine the column on the left, it will show all the different categories of search that have been logged by the Google system, including the expected (Web, images, news, shopping) and the surprising (ads, books, finance). You can click on any of those to zero in on the searches you did in that category, but before we leave this spot, let's have a quick peek at the trends and graphs because they're kinda cool…
Here's my basic search activity:

Interesting that 8am and 10pm are the most common times for me to do searches, but that reflects my life: 8am is immediately after I drop off my children at school, so I'm getting started for the day, while 10pm is… surprise! just after they've all gone to bed.
Notice also my total Google searches is 13,437. That's a lot of search!
Click on "Show more trends" and you'll get a bit more data:

This is like a David Letterman top ten list. And I had no idea that "coloring pages" was one of my top five queries, or that I click so often on Craigslist Boulder links.
Okay, I know, back to your Google Maps search. Leave the trends area and click on "Maps" on the left side. Now you'll see your most recent map queries:

Apparently I'm always interested in finding the closest Starbucks too. Yup, that'd be accurate. 🙂
You can use Next / Prev buttons at this point to find your older history, or you can actually search your Google search history (which makes sense) for some fragment of information about your friend's address. Don't remember anything? Just dig through by date…
Apparently, five months ago I was very interested in holiday venues and beaches. That's easy. I'm always interested in beaches.
As you can see, all the data's there, and it's good that it's private, because while we don't realize how much of a life profile we're building with our search activity, there really is a lot of information that can be gleaned through analyzing this data. Hmmmm…