I'm heading to Manhattan for a work project and would like to meet up with a few of my Facebook friends while I'm there. How can I identify whom of my FB friends lives in NYC?
Facebook has an extraordinary amount of information about everyone on the service because, well, we all happily give FB vast amounts of data about ourselves. Address, high school, college, vacation destinations, children, relationships, even favorite ice cream flavor and work information. Which means that it's not a big stretch to search through Facebook's over 1 billion active users to identify people who you're friends with who also live in a particular city, whether it's Poughkeepsie, New York or Paris, France.
Problem is, while we may think of a city as an aggregate place, Facebook isn't quite that smart. So in addition to your friends in Manhattan, you'll need to know the names of the major boroughs and search for those too (e.g., Brooklyn, The Bronx, Queens, Staten Island, etc). I'm heading to Kansas City for a quick visit so I did a very similar search – and had a similar partial result – as you'll see.
To start, I'll remind you that the search box on the top of the page in Facebook is quite powerful. Don't be shy trying sophisticated searches, like this:

This simple search yields three matches for me, with a hint of even more on Facebook: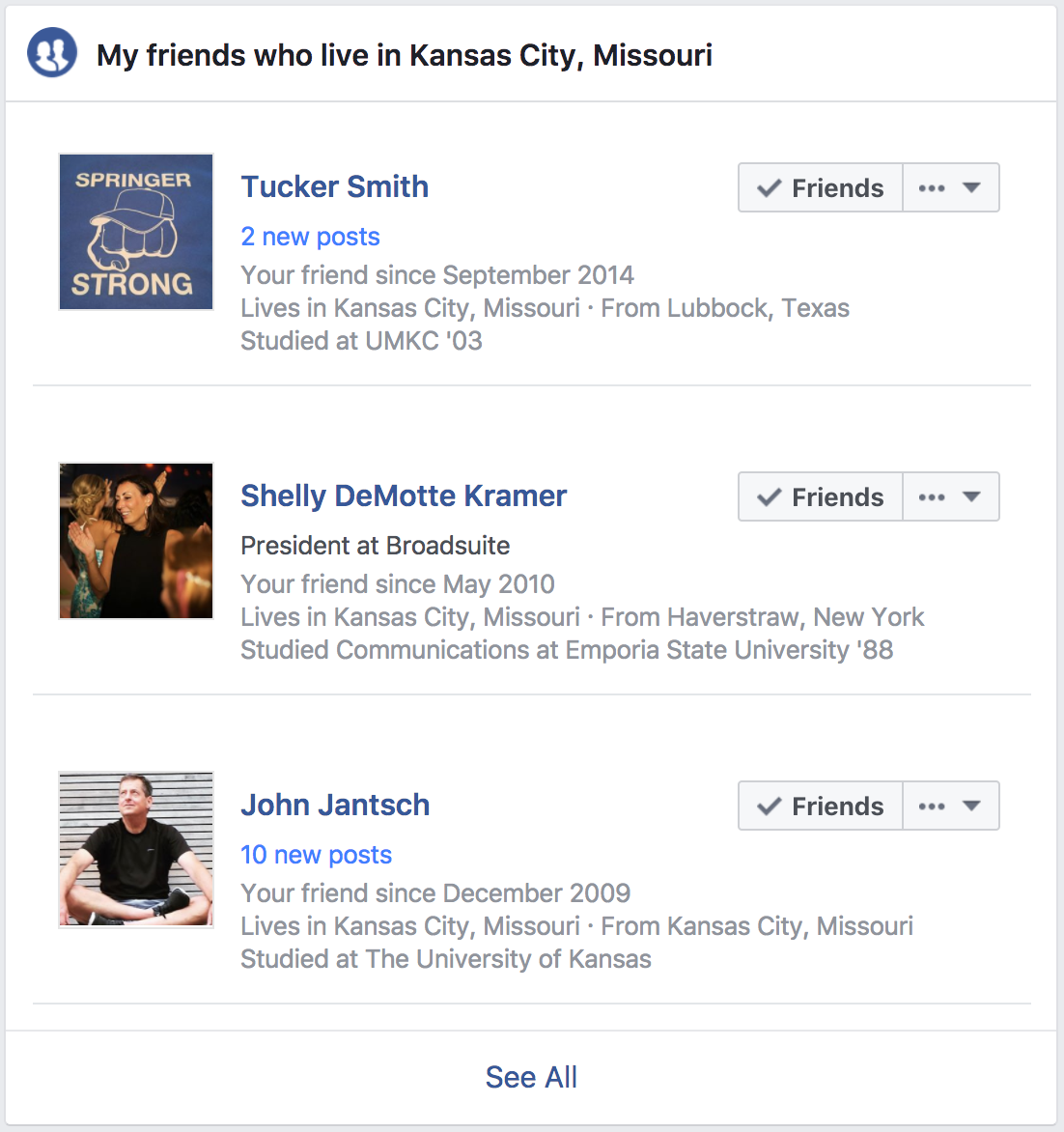 Kansas City is an interesting place because the Kansas / Missouri state line goes right through town. The above shows the results for "Kansas City, Missouri". But if I search for "Kansas City, Kansas" Facebook has no idea what I'm specifying, so if any of my friends are in KCK (instead of KCM) then they're out of luck and I can't find them.
Notice along the top while you're here that there are a lot of categories for search results, so you can also search for "Kansas City" and see whom of your friends have posted about the city too:

Still, I want to figure out friends in KC, so I'll search for a few of the biggest cities too, including Leawood, Shawnee, Independence and Overland Park. Which produces other matches, frustratingly:
It's hard to say what's broken here, but a search for "friends near Kansas City" fails and it's clear that Facebook isn't sophisticated enough to know that Overland Park is a city within Kansas City. So you're destined to end up doing what I did: some quick research on all the neighborhoods / cities / boroughs within NYC and then do individual searches for each. At least you know it's a problem and can work around it.
Finally, Facebook offers this tantalizing option for refining your search: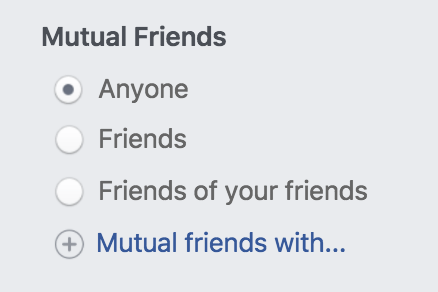 Unfortunately it didn't work at all for me when I tried it. You may hopefully have better results.
And that's it. That's how you search for Facebook friends in Manhattan or greater NYC. Have a good trip and enjoy one of the most exciting cities in the world!
Tip: Want more Facebook help? I have tons. Oh, and please follow Ask Dave Taylor on Facebook too!