I'm not a hardcore gamer and don't like games like Call of Duty, but an occasional game of backgammon or poker would be fun. Where can I find good games for my Windows 8 PC that aren't full of malware?
Just as the Mac world has the App Store as a central repository of the best in casual gaming, so does your Windows PC laptop have the Microsoft Windows App Store as the best place to look for new games, utilities and productivity apps — among many other categories! — for your Windows 8 computer, tablet, or even Windows Phone system. Since it's a centrally managed system, everything's also checked to ensure that it's not going to bring malware, spyware or a virus along when you install it, something that definitely can be an issue from other repositories online.
Now that doesn't get you the really big games, but if you are a gamer, then you already know that a splendid place to look for new titles, whether you're a fan of sports games, shooters or the latest massively multiplayer crawler, is Steam. It's a universe unto itself and the range of big (and sometimes expensive) titles is quite impressive.
But let's go back to the Windows App Store in Win8, okay? To start, find and click on the "Store" icon on your start screen:
Click or tap on it, then look closely at the top menu to see the choices.
Find and click/tap on "Top charts":

To start, have a look at "Top free games". Lots of titles. LOTS of titles: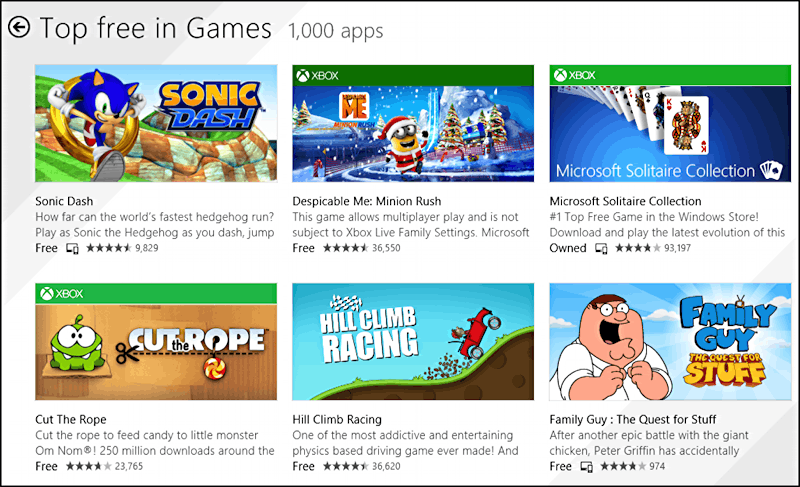 You can see that each has a picture (usually not a screen capture, be warned), a description, a star rating and a price, if any. Since these are all in the free category, seems reasonable that they're all 'free' here.
Also check out "Best rated games" too, for the best of the best…
You asked about backgammon, however, so let's dig in just a little bit. To find a specific game – or games in a specific category – simply type in a word or few words into the search box on the top right.
Here's what it looks like as I type in "backgammon":
You can explore any of these matches, or just press Return or Enter to see a full screen of matches. There are a bunch.
Different matches have slightly different information associated with them too, as you can see here:

Notice the first is free and well rated, the second is also well rated but I already own it, and the third isn't free, but costs $2.99. No worries, there's a free trial you can try before you pay the $2.99 for the program.
Find one that looks interesting and then click on the picture associated with the game. Here's one worth checking out: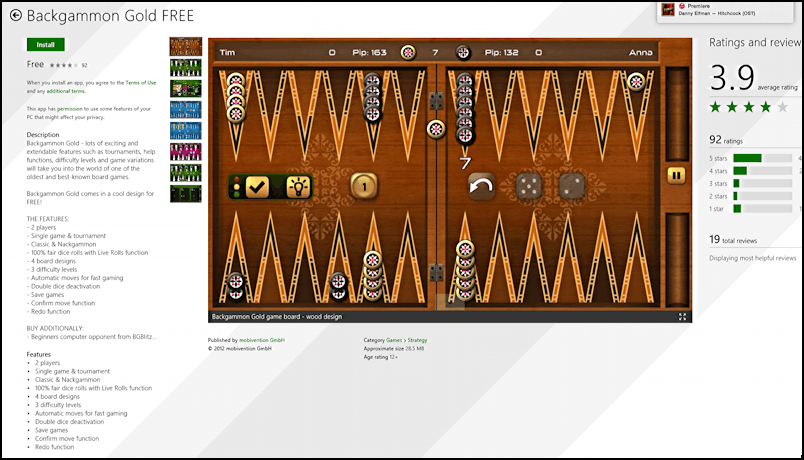 It's hard to see in this shrunk image, but the left side contains a bunch of actual screen captures (it's very attractively designed), while the right side includes an overall rating and more details of how many people gave good or bad reviews. Keep in mind, though, that it's been known for competitors to leave 1-star reviews to try to make their own games more popular, and for the game developer to leave a 5-star review to make it look more popular. To avoid that problem, learn to be skeptical when there are a dozen or less reviews!
Find one you want to try? Just click "Install" on the upper left and the Windows Live App Store will do all the work of downloading and installing the game.
Now, go play! Have fun, but be careful out there, okay? 🙂