Every so often on Facebook I see someone has a cool colored background to their status update. Nice! I want. How do I add color to my status updates?
While not a universally appreciated feature of Facebook, there is indeed a way you can apply one of about a dozen different colored gradient backgrounds to your status update. There's a catch, though: It only works within the Facebook for Android app. And even then, you need to manually choose it, you can't just have all your updates default to a pink background or similar.
But before I show you how, I will caution that when I've tried it the comments from my friends and followers were 50/50 about being happy to see the burst of color and being anxious that it seemed like a throwback to the mad interface days of MySpace! No flaming skulls (yet), but I agree that the color backgrounds are a splendid example of a little going a looonnngg way. 🙂
'nuf said about that. I'll show you how to do it from your Android device, you can decide if you want to subject your friends and followers to the experience, and how often. Deal?
To start, here's the regular Facebook newsfeeed from within the Android app: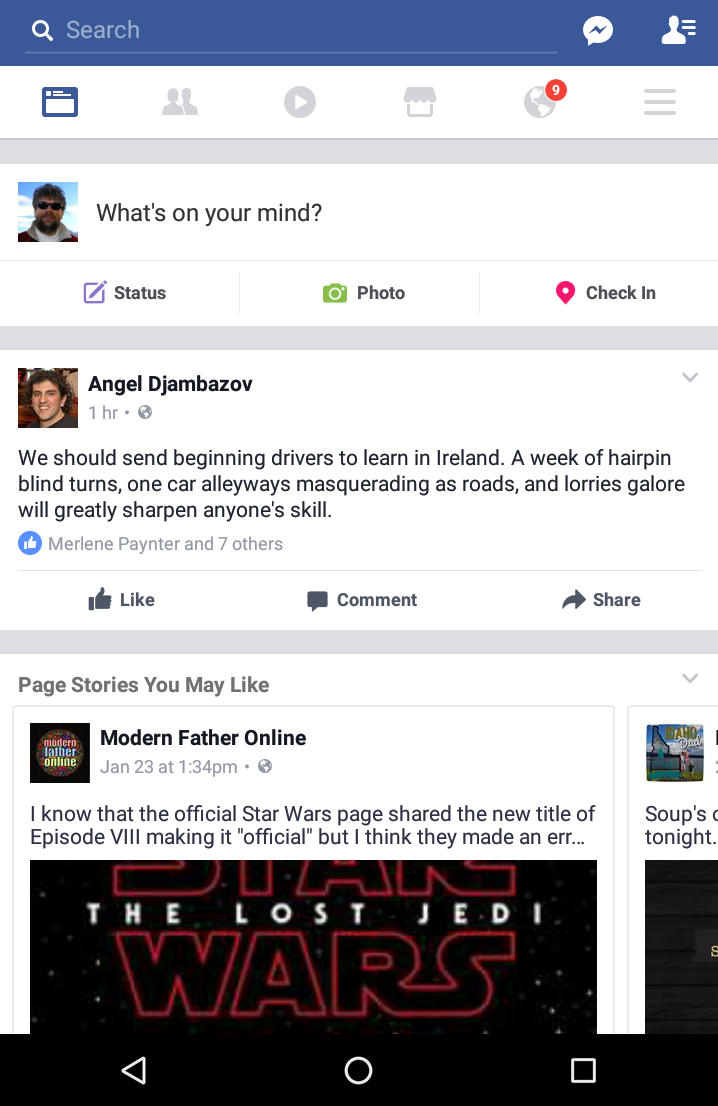 Pretty standard looking stuff, really.
If I tap on the "What's on your mind" prompt, I go to a new screen where I can enter the status update text of my choice: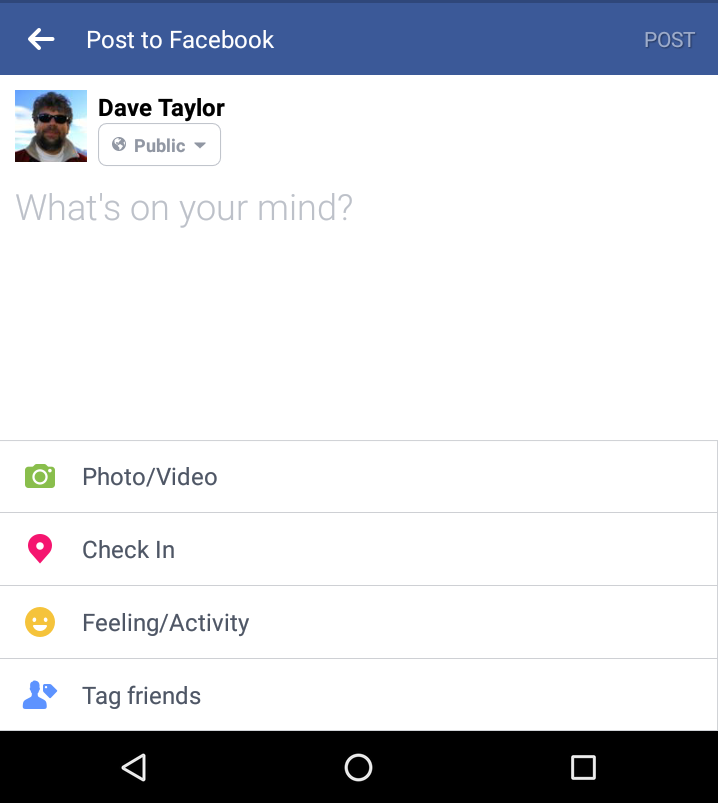 Still nothing showing up, this looks pretty typical of the various Facebook apps, though having the icons + text be one per line is a bit nicer than the iOS version of Facebook.
Start entering your status update, however, and look what shows up:
Ahhh… there they are! All the different background color options, that rainbow line of color swatches.
You can play around and see how they change the appearance of your message too. For example, blue:
Notice that the above is a solid color, consistent from edge to edge.
Choose the purple, however, and it's a gradient:
Cool. Let's pick this one and post my update! Notice also that the text automatically became centered and larger, as if Facebook knows you want to produce an instant meme or something. Handy if that is what you want to do.
A tap on "Post" on the top right corner and everyone on Facebook sees this post in all its rainbow glory: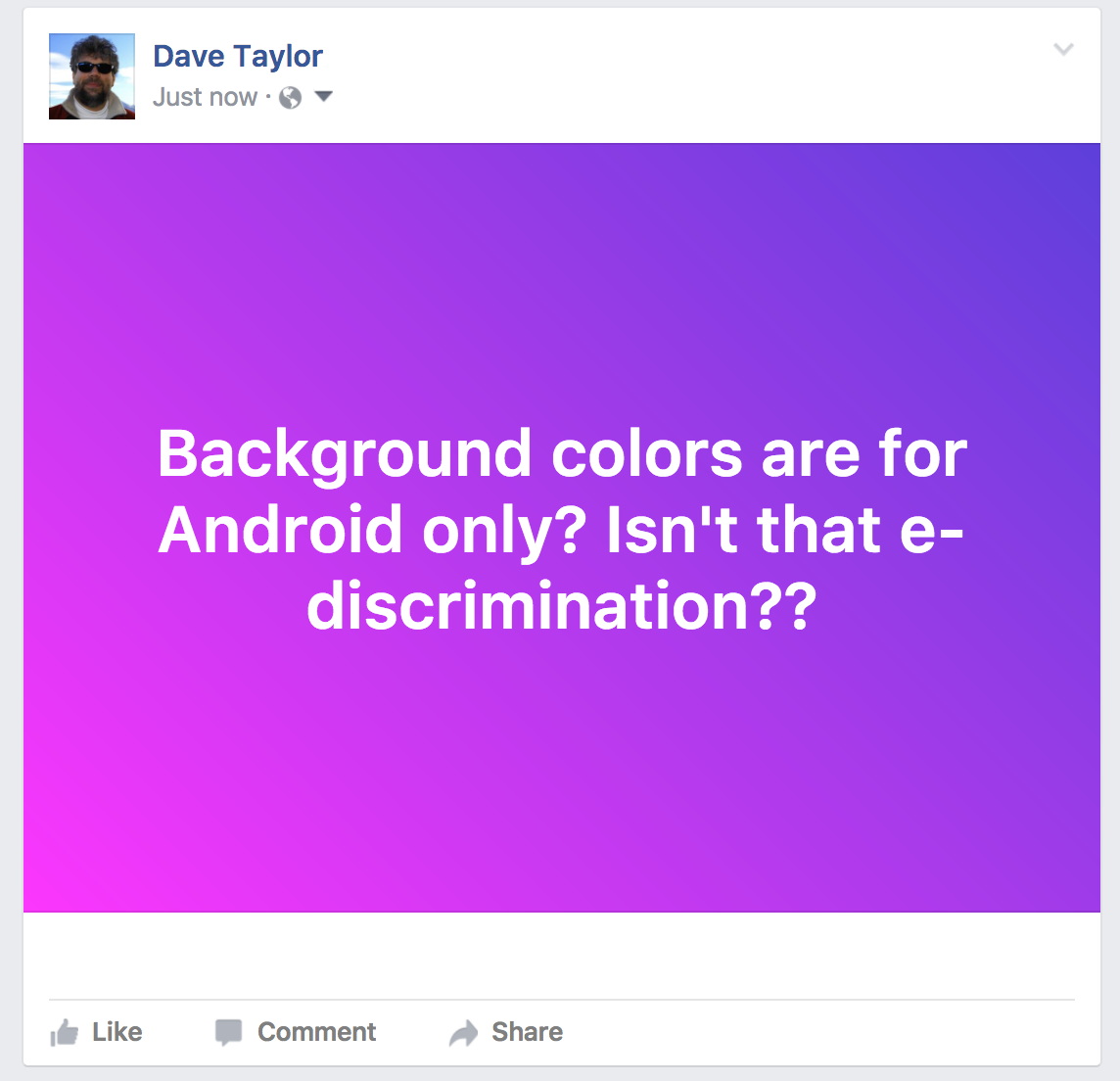 That's how it's done. If you don't have an Android device, you're out of luck. At least for now…
And while we're talking about Facebook, please do follow Ask Dave Taylor on Facebook and don't forget that I have a ton of Facebook help here on the site too!