I set up a business page for my consulting company on Facebook about a year ago and it's going well with almost 1500 fans, but people don't post to my wall, they send me messages. I hate it. I never check the mailbox on my page. Can I just disable this feature?
I manage a number of Facebook pages for my business and interests and know exactly what you're talking about, as it happens. It's crazy, we end up with not only the standard two inboxes for our personal Facebook account mail (you know that you have a "messages" and an "other" mailbox, right?) but every page you have includes its own messaging area, allowing any and all fans to send private email to the owner or admin of the page. It adds up!
You can do what a lot of business pages on Facebook seem to do, of course, which is just ignore every message you receive, but I think that's a disservice to your fans and loyal customers. No-one wants to be ignored, even if it's a huge corporation you're trying to communicate with, right? So the smart thing to do is disable private messaging.
To start, here's the top portion of my Ask Dave Taylor business page on Facebook:
It's that darn "Message" button we want to remove.
Oh, and you ARE a member of the fan club, right? If not, jump over and "like" Ask Dave Taylor on Facebook.
Done. Good job and thanks.
Looking a bit higher up on the page, you'll see a strip of different buttons along your admin strip:

Click on "Edit Page" to display a menu of options: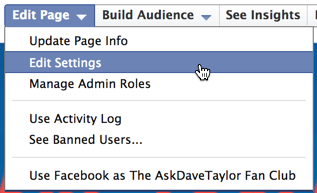 If you guessed that you should choose "Edit Settings", you're right.
So choose that, and you'll see a ton of business page settings, including:

The option you want to change is at the bottom of the options shown, "Messages".
Click on "Edit" on the right adjacent to the Messages and it'll show you your options:
You'll have it checked if you are allowing messages, so click on the check box to unselect it, as shown above. Now the "Save Changes" button activates and you can click on it.
Once you've saved the change to your "Messages" status the next time someone comes to your page, they won't see that "Messages" button, as you can see below when you compare it to the first screen capture:
That's all there is to it.
My only warning: once you disable Messages it also hides the mailbox itself for the page, so if you have pending messages from fans or customers you need to answer, do so before you make the above change.