My devices are running out of room and I suspect it's some of the games I've downloaded. Is there a way I can figure out which apps on my iPhone or iPad are so darn big and delete them from both?
There's a philosophy underlying Apple's iTunes management system for iOS devices, whether you've got an iPad or an iPhone: the master copy of files should always live on your computer and never be removed, whether or not you choose to remove the files (the apps, music, movies, TV shows) from the individual devices along the way. It's better than it used to be, though, because at least now you can delete movies and TV shows once you've watched them right on the device itself. Used to be that wasn't an option either.
But because of this philosophy, iTunes defaults to showing you all the Apps you have on the computer in a way that makes it really difficult to know whether they're for an iPhone or iPad and impossible to know which Apps are sprawling data hogs, eating up hundreds of megabytes or even gigabytes of space on each device they're copied onto.
Meanwhile, if you're looking at your device within iTunes, it's super easy to sort by size and identify the largest Apps (and delete a few of 'em if they're dead weight). But you can't delete them from that point in the program. Confusing!
Let's start out by looking at my iPhone 5s's "Apps" tab, sorted by size:
As you can see, "The Sims FreePlay" is crazy big, 833.2MB. Over double the size of the next biggest app, actually. What the heck?
At this point in the program, however, I can Install or Remove it if it's on this particular device, but the program won't ever be removed from my computer and that's almost 1GB for a game I haven't played in years. Not a good use of disk space!
If you want, you can make a note here of what your biggest half-dozen installed apps are (look for the button to say "Remove", as it does for Peggle above)…
You ned to switch to your library in iTunes, so look on the top right for the blue "Done" button:

Click on it and on the left size, pick "Apps" from the library categorization options: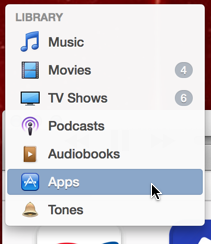 Here's where it gets a bit confusing because the default Apps view is by icon, which ain't very useful:
How big are these apps? Which ones work on the iPhone and which on the iPad? For that matter, which are actually installed on one or more devices and which are just sitting in my library unloved?
Sadly, none of those questions can be easily answered from this point. You can click on the "iPhone/iPad touch" tab to see which apps are designed for that platform, and similarly with "iPad", but to learn which are or aren't installed? Not an option at this point.
With size, however, you can at least get to a "list" view by clicking on the "List" tab along the top. The result, after you then also click on the "size" column heading:
There we go. But this is weird: notice that while the iPhone area reported The Sims FreePlay as being over 800MB in size, here iTunes is showing that it's just a smidge under 500MB. Why the difference? Likely it's because the game creates a 300MB+ data file to store all of the game-specific information, including maps, settings and related. Still worth paying attention, however, because otherwise there are a phantom 300MB that aren't accounted for, right?
At this point, finally, you can actually delete Apps, though there's no indication of whether it's actually installed on any of your syncing devices, frustrating. Just right-click:

Now you can decide whether you want to remove the App from within iTunes but still keep it on your computer, or really trash it completely so that it's gone (though still in the App Store, of course):
If you're really done with the app or apps, simply choose "Move to Trash" and you're done. Easy enough: Next time you sync the app or apps will be deleted from the device itself.
Now if only the experience were a bit more well designed in the first place…