I know I can delete all cookies in Google Chrome on my Mac OS X system, but can I delete the cookies — or a specific cookie — from a specific site in the browser?
In the last few years, sites giving you snippets of data to help retain state, to help the site remember who you are, what you did on the site, your login credentials, etc, has risen to the point that after a surprisingly short period of time, you doubtless have hundreds, or even thousands of cookies from the sites you visit. And often, sites you don't visit. How does that happen? Because most sites now include snippets or content from other sites (often as iframes) embedded on their pages. That tiny ad square? Might be from an entirely different site, which means that site too can now give you cookies.
That's how "remarketing" works, how you do something like a search on Amazon.com and then see adverts for the searched item on dozens of other Web sites over the next few days: all of those ad blocks are coming from the same ad servers and are using cookies to help track what you're doing and what you've done.
So that's cookies. And in every browser you can delete them by site or delete specific cookies one at a time too, if you're that patient.
In Google Chrome, it starts on your MacBook or iMac by choosing "Preferences":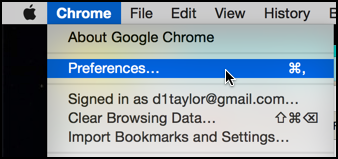 That brings up another tab which has the default settings: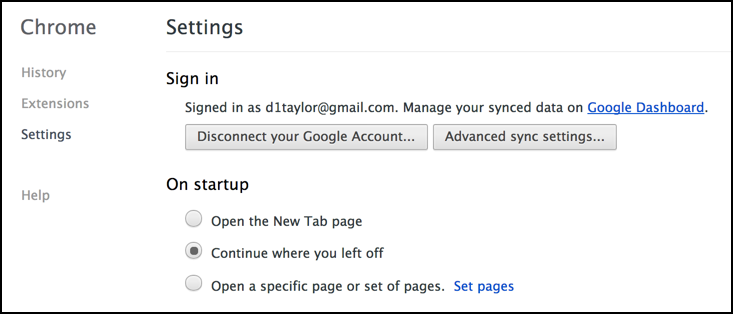 Lots to explore, but stay focused! Scroll down to the bottom of the Settings…

Click on "Show advanced settings…" to bring up even more settings and preferences, and:

There's more below this, but all you need is the "Content settings…" button, so click on that.
Now you can specify how the browser should manage the cookie data: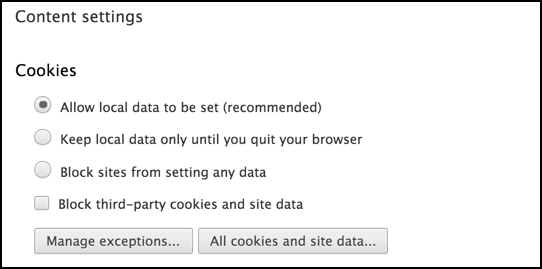 Now, finally, we can get to what we want! Click on "All cookies and site data…" and a new window pops up with your cookies:
Want to wipe all of your cookies from every site? Click on "Remove all" on the top right.
But I'm going to remove some cookies from my own site, AskDaveTaylor.com by searching for the domain name in the search box on the top right.
This brings up two different matches:

Notice that there are cookies with "www" and some without that prefix. Collectively they represent the site. Click on a specific domain and you can zoom in and learn more about those cookies:
That's where you want to get, because at this point you can click on a specific cookie to learn more about it (as it's showing) but you can also remove the specific cookie from that specific site by clicking on "Remove" on the lower left. Want to remove all the cookies from that site? "Remove all" on the top right will do the task.
That's all there is. Now just close the windows, or just close the tab entirely, and you should be ready to visit that site without any cookies tracking what you want. At least, for now.