The boss just gave me a Windows 8 – win8 – system and I like it, but the default background is dull. How can I install a new theme or background desktop or wallpaper set?
Congrats on the new computer. Be glad it's not running Windows XP and make sure you have a browser other than Internet Explorer set as your default for opening Web pages. And give yourself some time to learn how Win8 works versus the ubiquitous START menu from all previous versions of Windows. 🙂
In terms of themes and desktops, there are a lot of third party companies that offer themes and wallpaper packs, custom cursors, etc, but I am leery of all of them, muchly because it's such an easy way for malware and spyware to be dropped onto your system, and that's not what you want to have occur!
Fortunately Microsoft has you covered with its small but useful themes library, where you can find over 100 different sets of wallpapers with matching color schemes ready to click and install.
To start, the easiest way to get to it is to right-click on your Desktop: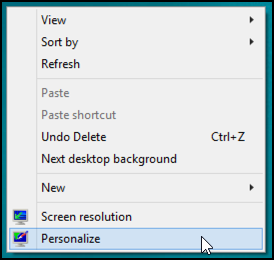 Choose "Personalize" as I'm showing and it'll give you a list of the themes installed and available by default on your system: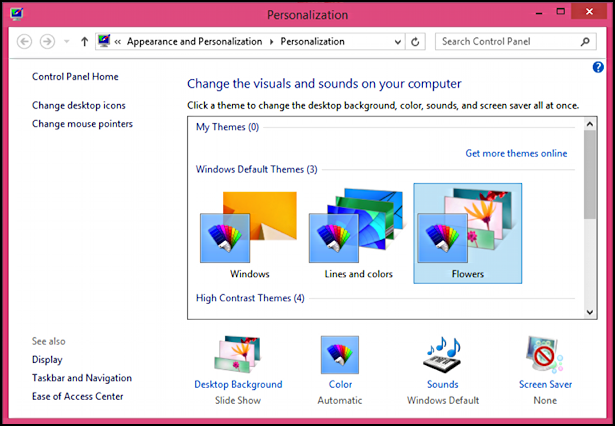 I actually quite like Lines and colors, but we're going to get a new theme to demonstrate things!
Click on "Get more themes online" (the link is near the top right).
On my Win8 system, that launches Firefox as it's my default browser:
You can navigate by the categories listed on the left or just scroll around. "Beauty of Hong Kong" is very nice, but I'm a beach person, so I want to see if I can find a match. To start, I click on "Most popular" and… there's a beach theme! Under the tiny thumbnail there's always a "details" link. A click and here's the kind of information you'll see: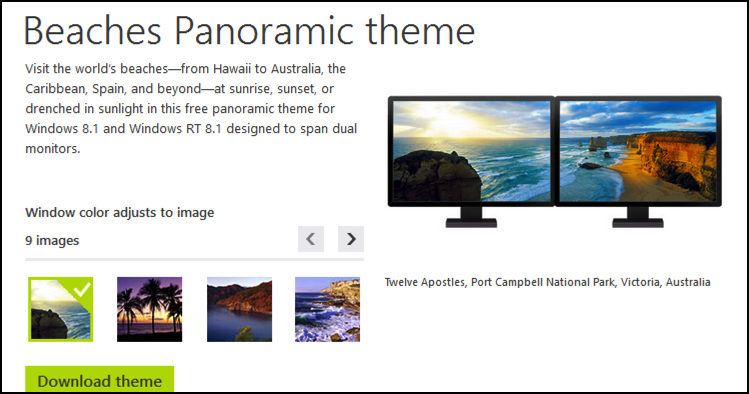 So not only does it have beautiful pictures, but this theme works on multiple monitors. If only I had multiple monitors!
Regardless, this looks great. Click on "Download theme" on the lower right and…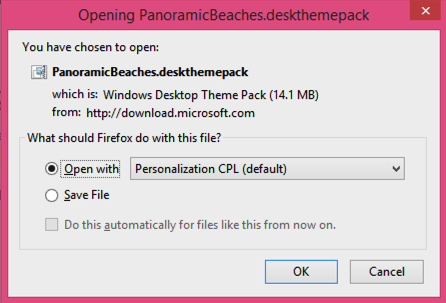 Oh sure, let's go for it!
Click on "OK" and it'll download:

That's all there is to do. Once it's downloaded it automatically unpacks, installs and is selected, as you can see from this full Desktop view:
Now, of course, I want to go to the beach. Darn it. 🙂