Hi, I am a Yahoo mail user and I want to set my own background as I don't like any of the default backgrounds in Yahoo themes. What I have to do?
There's good news and bad news regarding your desire to change the appearance of your Yahoo Mail account. The good news is that there are quite a few ways you can customize things and change your color scheme, layout, font size, etc. The bad news? Unlike Google's Gmail service, you can't upload your own photo to use as the background graphic in Yahoo Mail. At least, not today.
There's plenty of reason for Yahoo to pay more attention to Yahoo Mail, however. The latest stats I could find (admittedly, almost a year old at this point) are that Yahoo Mail has 225 million users, of which 81 million [probably it's far higher than that, though, since that particular stat is from 2014] are from the United States. Even if we assume it's declined modestly in popularity, it seems reasonable to assume that there are over 200 million users, of which I would bet at least 50% are US-based. That's a lot of ad dollars they can get by showing advertisements while you're checking out your email!
But while you can make a lot of changes to the appearance of Yahoo Mail, there isn't a way to upload your own photos or customize a color scheme or typeface used, at least not without perhaps a third-party browser extension or plug-in. And I recommend against something like that for security reasons: do you want unknown code from a third party analyzing every page of email you get?
Let's step through some of the customizations you can do because, who knows, maybe that'll be enough to make you more excited about YMail!
Let's start with the modern Yahoo Mail. It looks like this: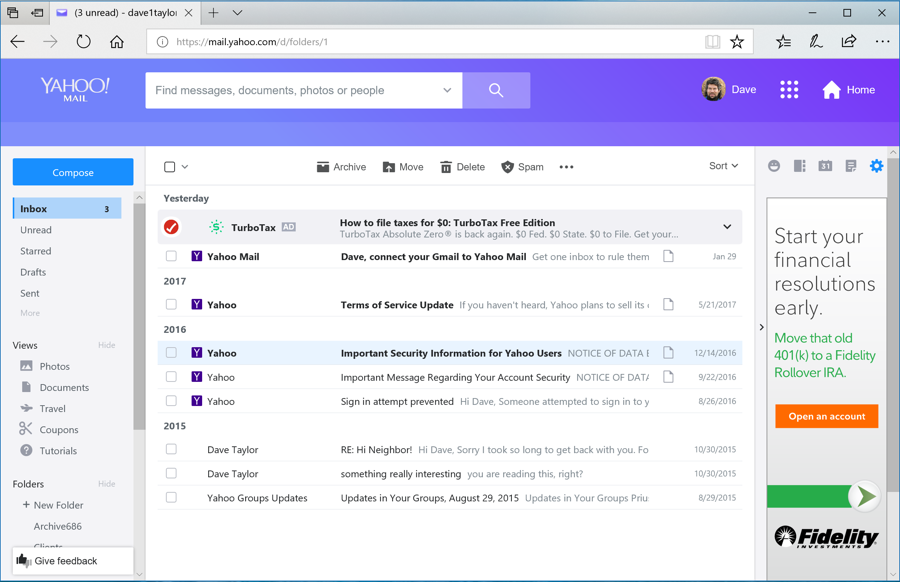 Note, if you're still using the "classic view" it's long since past time to upgrade! You can do so in the Settings, which you access from the tiny gear icon button on the top right of the window.
This simple, uncluttered design doubtless works well for plenty of users, but let's see what changes you can make to your interface. To do that, you'll want to go to the Settings menu, which you access from the light blue gear icon on the right side, just above the advert.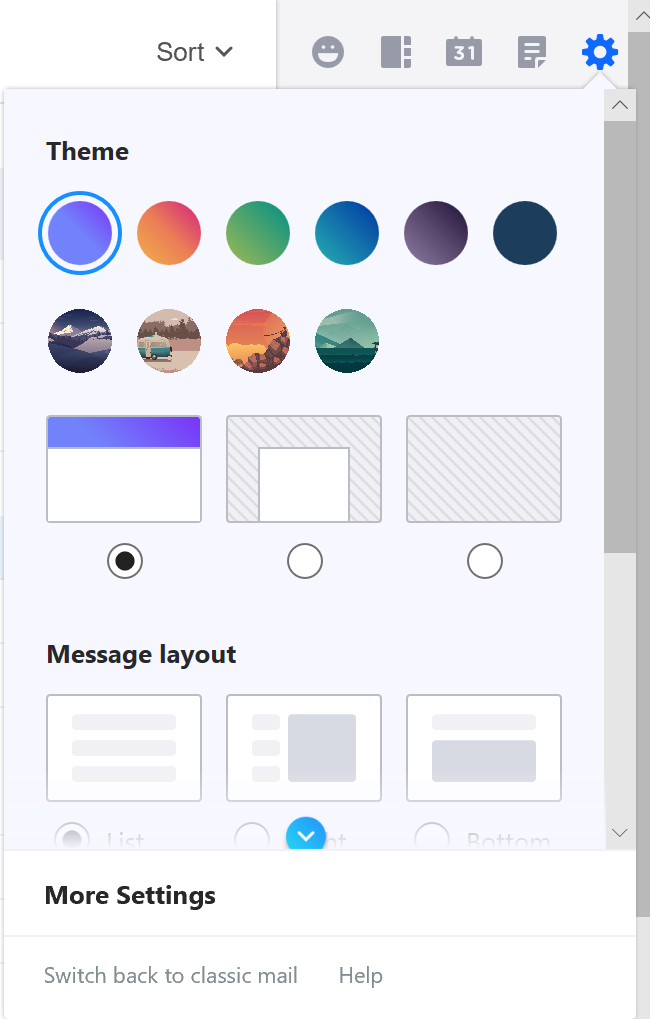 What's cool is that Yahoo knows that's 90% of why people go to settings, so all the theme options are actually right there in the menu itself. Want to try a dark green setting? or a photo background? Just click and it'll instantly change on your screen. Notice also that there are a number of additional mods. The first row of three choices refers to how much of your screen will have the image or color: The first (selected) just uses the theme on the very top portion, as you can see in screenshot #1. Second choice is everything but the actual message area, and the third option spreads over the entire window, particularly fun if you use an image.
Message layout can also be tweaked and changed if you prefer to actually see the contents of your message without an additional click. Even a simple change of the image can bring about a lot of differences: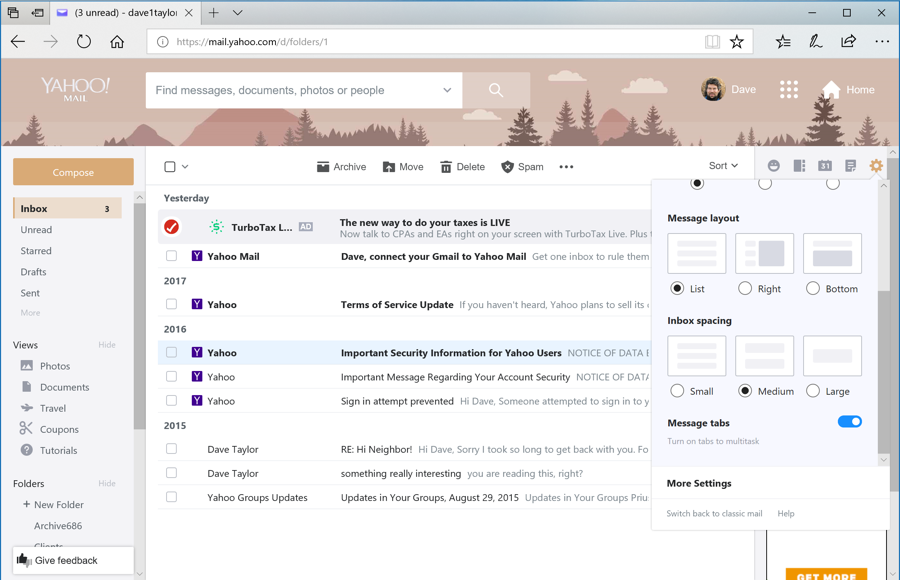 Curious about the message layout options? Check out the change here when I just click one button t have the message contents show up on the right side (and note that it's gone from two columns to three):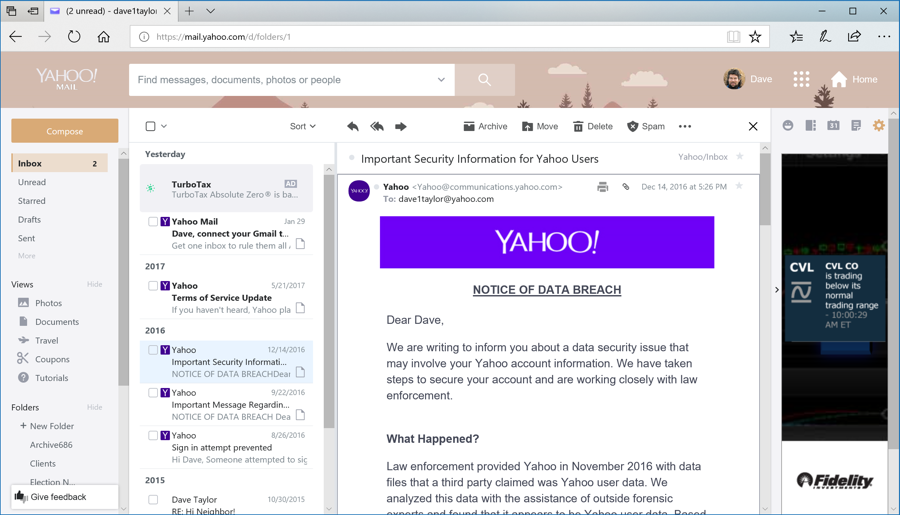 Before we're done, click on "More Settings" in the menu. That'll take you to an area where there are quite a few additional settings and preferences you can change, but more importantly, it takes you to an area where it's a lot more obvious what all the appearance and theme settings actually change:
Not as many options as you have in Google Gmail, but a lot more than the tired old "classic" look, for sure.
Hope that helps you out!