I understand that there's a way I can teach my Amazon Echo device to differentiate voices and answer differently depending on who's talking. How can I set that up so Alexa recognizes me?
If your household is anything like mine, there are a lot of different people who are asking Alexa (well, the Amazon Echo device) to perform specific tasks, whether it's turning on a light or checking the weather. Some queries should produce different answers for different users, however, like "Alexa, what's on my calendar for today?" Take the time to train the program on your voice and it can manage that differentiation.
The good news is that the process is a lot easier now too. Used to be that you'd need to speak ten or more phrases to have it recognize your voice, but now the Amazon team has winnowed that down to a surprisingly small four statements. It's easy and fast and you can set it up!
To start with the setup, go to the Alexa app on your smartphone and make sure you're logged in to your account. You probably are since, well, it's your phone. Now go to Settings:
Choose "My Profile" (now you can see why it's important to be logged into your account) and you'll be presented with the following options: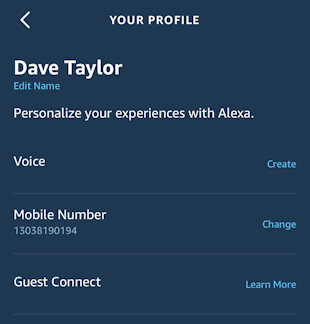 Here you can simply tap on the "Create" link adjacent to Voice.
Note: If you don't want to go through this process on your phone, you can also simply say "alexa, learn my voice" and let her prompt you for the specific phrases. We'll continue with the app for this tutorial however.
Tap Create to be prompted to say the specific phrases Alexa needs to learn your voice…
Ready? Don't have a sore throat and are in a quiet environment for best results?
Then tap on "Continue" and you'll be prompted, phrase by phrase like this:
Not very difficult at all, total time for this process is under 60 seconds for all prompted questions.
Doable, very doable.
When you're done, this is what you'll see:
Tap on "Done" to complete the task. Now you can ask Alexa questions like "Alexa, who am I?" and she'll be able to tell you. Ask the same question in a funny, high pitched (or low pitched!) voice or with an odd accent and you should have her complain "I'm not sure who's speaking!"
The cool news is that in the last few months Amazon has opened up the voice personalization information to third party skills too. Expect smart things to become smarter, so you might walk in and say "Alexa, I'm home!" and have a different routine trigger than if your spouse or child says the same thing. Or you'll request a Lyft ride and the app will respond by using your name. Pretty cool, actually.
Pro Tip: I've written quite a few Alexa and Amazon Echo tutorials here. Please check out my Alexa and Amazon Echo Help for more info!