I have lots of great CDs ripped to my iTunes library and it works great except I just noticed there's a "lyrics" option. And none of them have lyrics included! How can I add lyrics for my favorite tracks in iTunes?
Who doesn't like to sing along to their favorite performer, whether it's in your car, in the shower or as you're working in the kitchen? Heck, I'm pretty sure when I'm singing that I'm ready for my 15 minutes of fame on the concert circuit, and I bet you sound pretty good to yourself too!
Some songs you listen to enough that you just figure out all the lyrics – or can fake it – but it is nice to have the actual song lyrics included with the track too. Buy some tracks from the iTunes Store and lyrics are included but if you're ripping CDs, well, then you're on your own with the lyrics. Fortunately there are a lot of surprisingly comprehensive song lyric Web sites and it's a matter of a quick Google search to pull up what you seek, all neatly formatted.
To demonstrate, I'm going to add lyrics to the Owl City song "Fireflies" from Adam's splendid Ocean City CD.
In iTunes in my MacOS X system, the CD looks like this: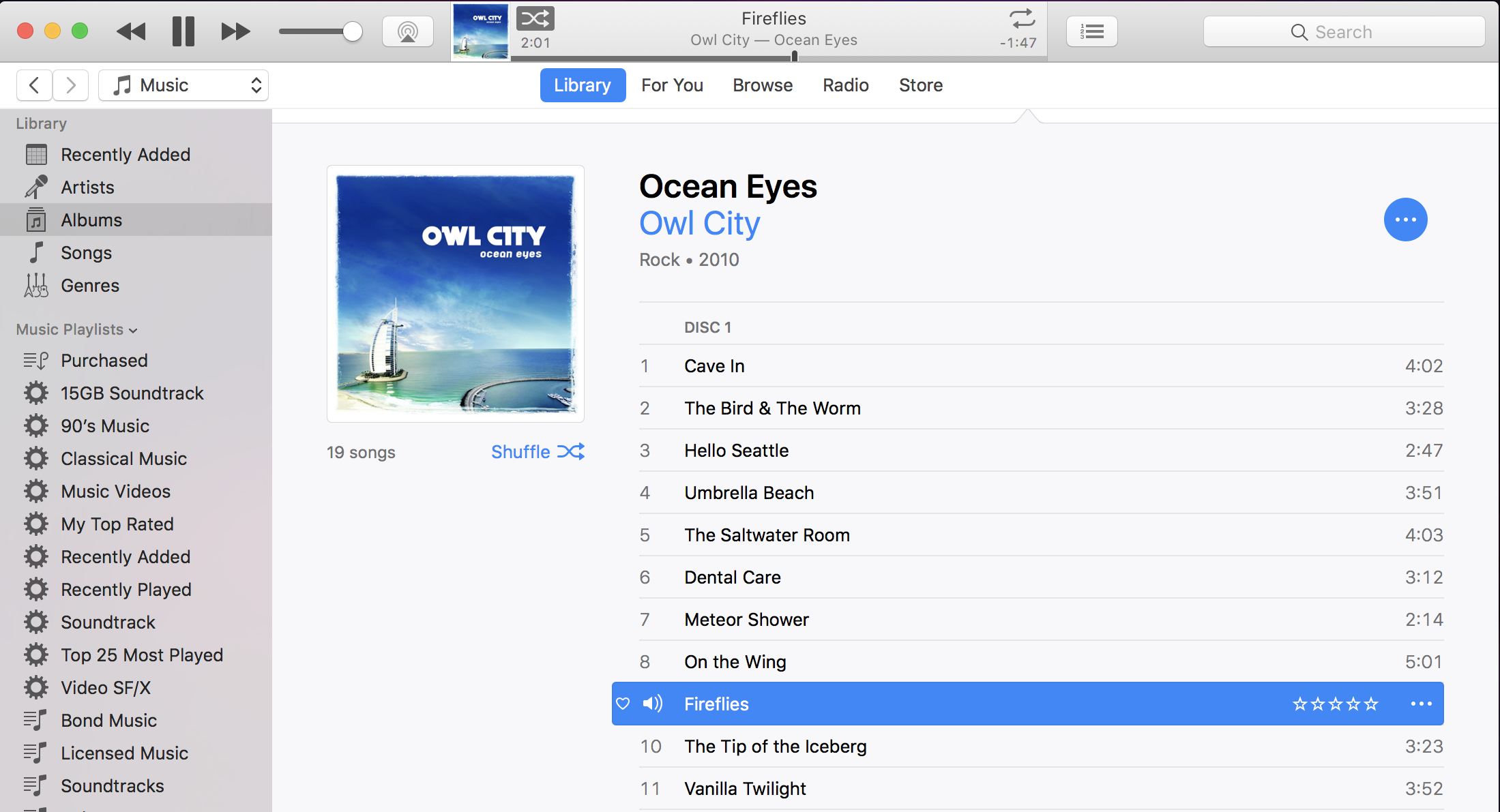 On the Mac (and Windows) version of iTunes, you can click on the button just to the right of the current track playing window, approx 2/3 along the top bar, and a window pops up with a few interesting options: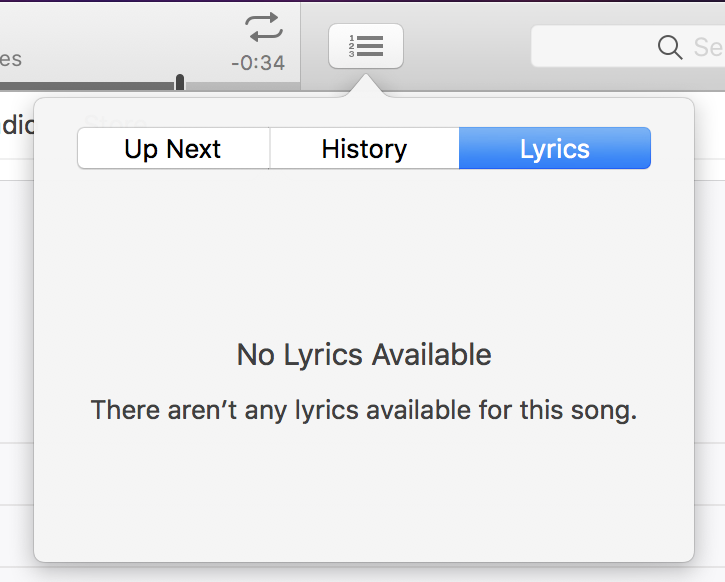 Up Next lets you adjust your upcoming playlist, History shows what you've already played and, well, it's pretty clear what the Lyrics tab offers. Unless, like in the above example, there are no lyrics associated with this particular track.
Let's fix it!
Right click on the track name in the main iTunes window or just click on the "•••" on the right of the track name. Either way, you'll end up with this pop-up menu: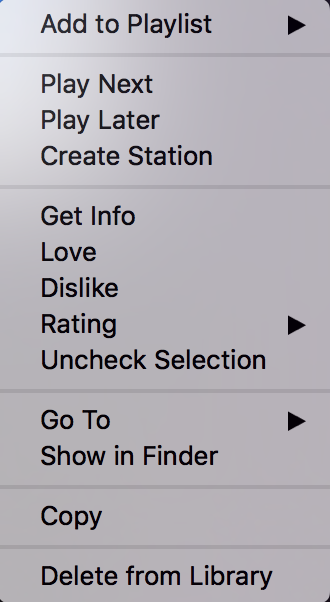 Choose "Get Info" and yet another window pops up (yeah, lots of windows!) that shows you lots of information about the track and CD, along with a bunch of other interesting things: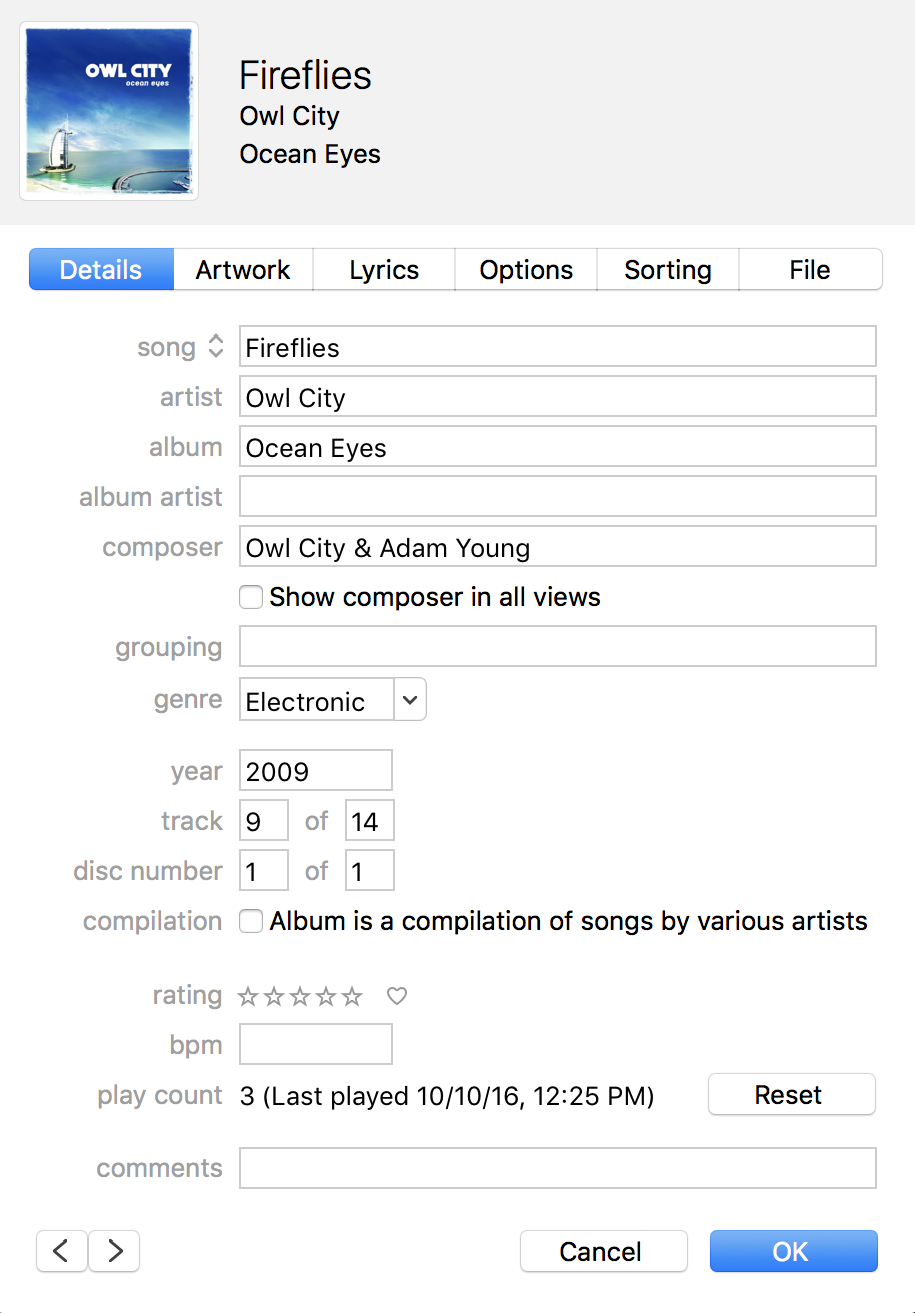 I like to keep everything correct when I import CDs so I add year of release, track numbers, and much more. If you're ripping CDs into iTunes, you might find a lot less information.
Don't have any artwork? Click on the "Artwork" tab and paste an album cover photo [which you can find on Google easily enough] into the resultant blank window.
To add lyrics to this particular track, I'm going to click on the "Lyrics" tab, which reveals, no surprise, that there aren't lyrics for this particular song: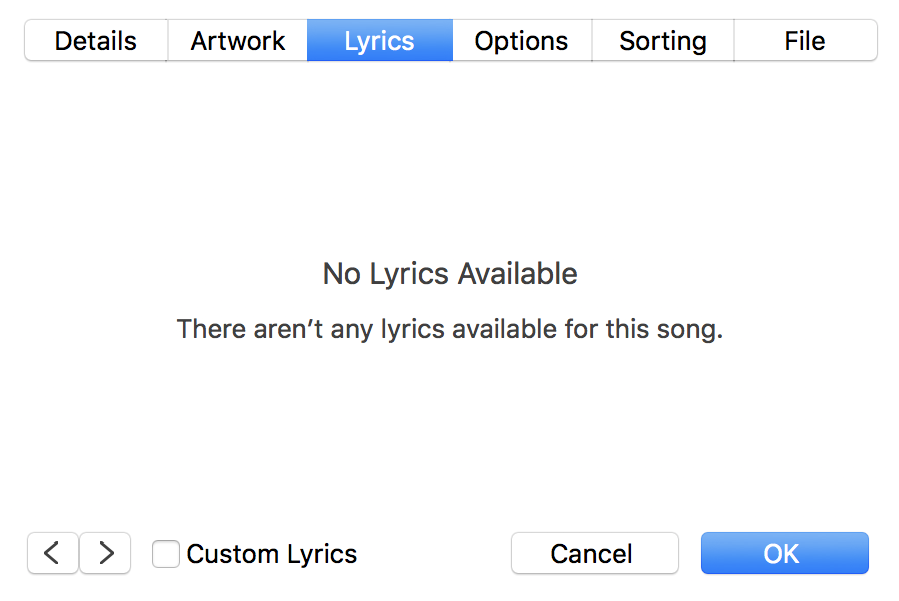 Before you leave this program, click on the checkbox adjacent to "Custom Lyrics" on the bottom so you can paste in your own lyrics for the song.
Now flip over to your Web browser and do a search for the song lyrics. I search for "owl city fireflies lyrics" and within a fraction of a second have this show up: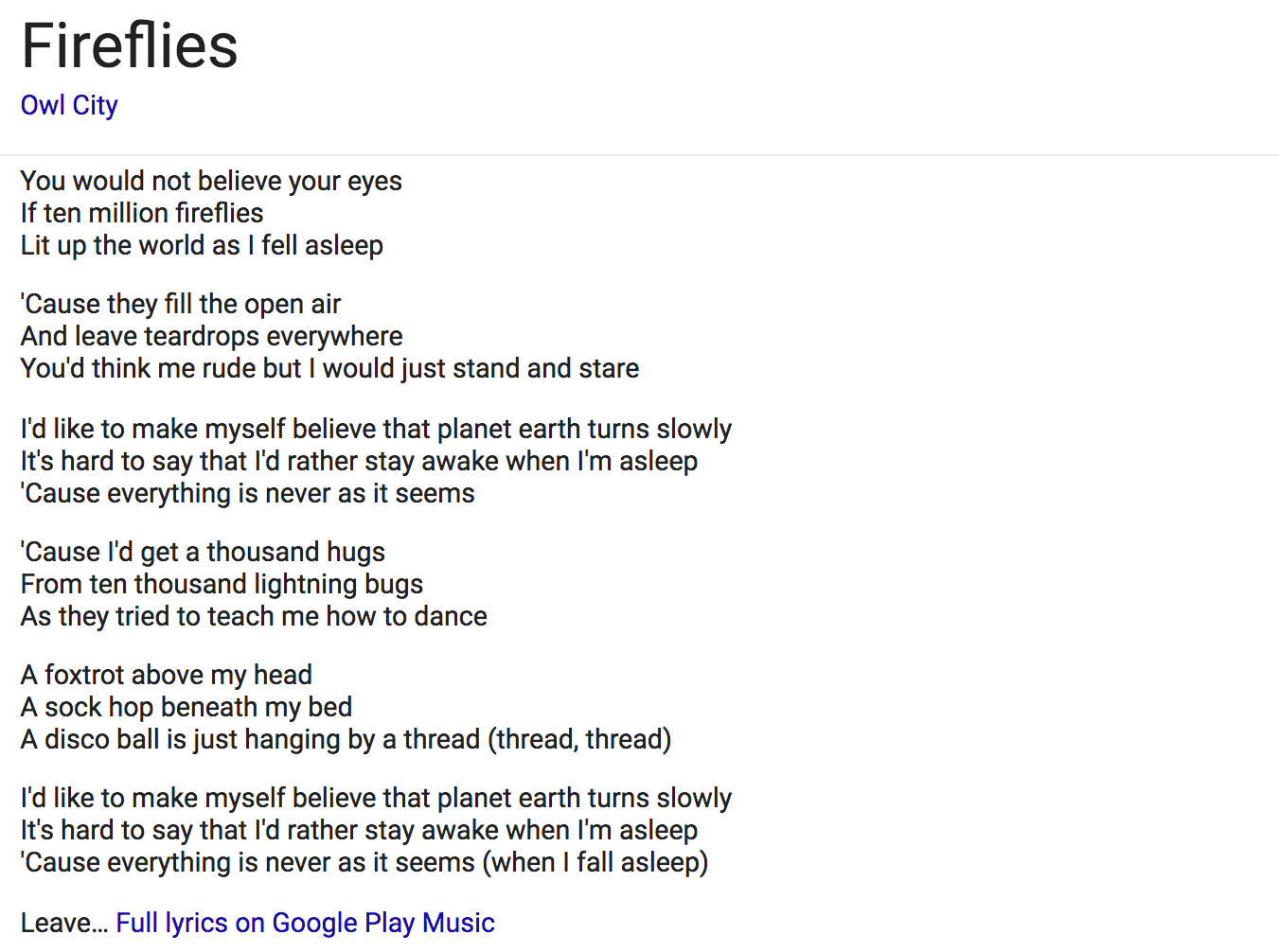 Select the entire lyrics, then use copy and paste to add it to the iTunes lyrics window. Won't let you paste? Make sure you checked "Custom Lyrics" in the window first!
Looks good! Add a few blank lines to differentiate the refrain from the different sections fo the lyrics if you want, then click "OK" to close the window completely.
Done.
Now when you're listening to the song, you can click on the lyrics button and read — or sing! — along: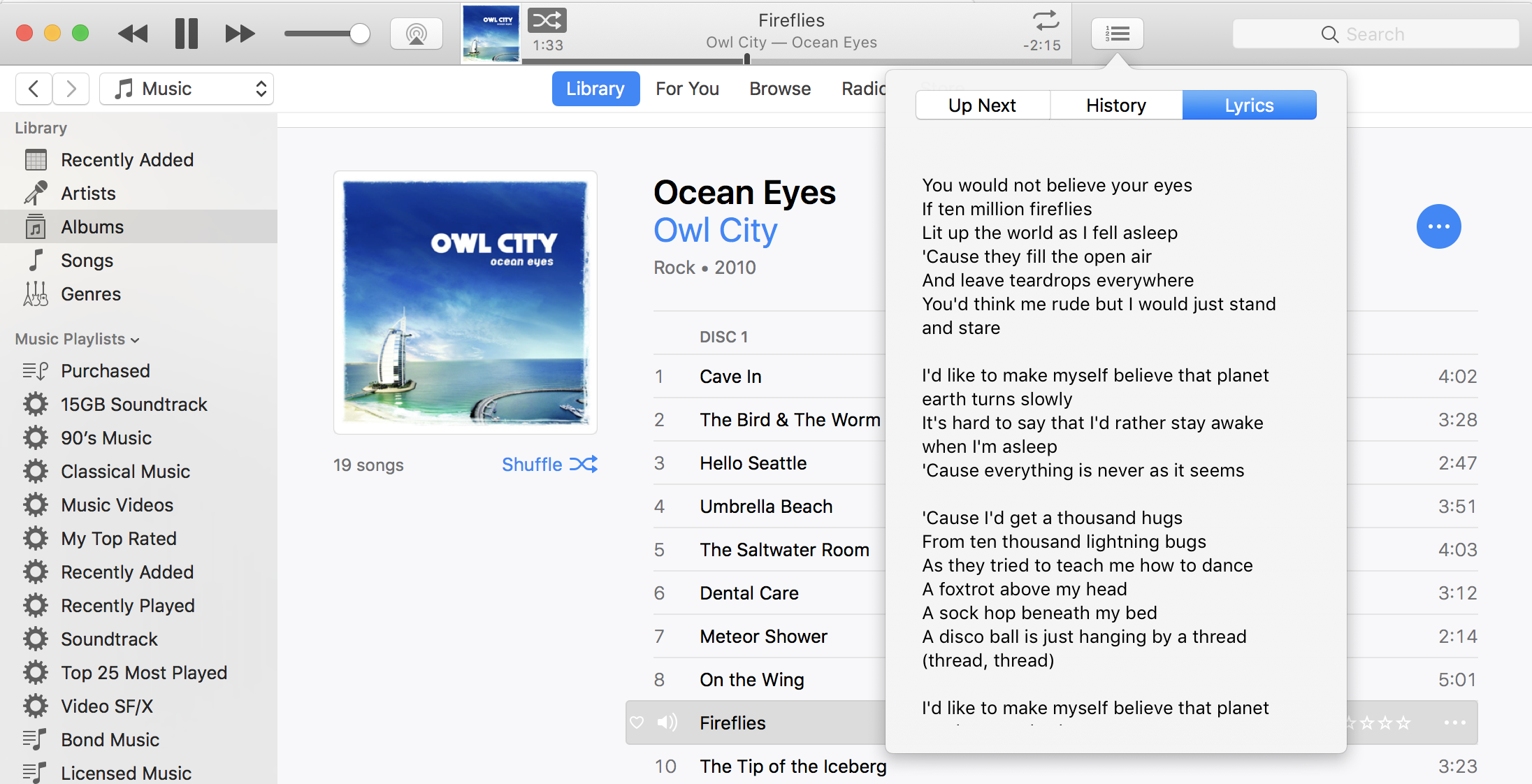 That's how it's done. A bit tedious, but you only have to do it once for the rest of time! Good luck.