I really like that I can use the "Messages" app on my MacBook Air instead of tapping slowly on my iPhone, but the one thing I can't figure out is emoticons. You know, the cute little smiley faces, clouds and other pics. Is there a way to add emoticons to my Messages?
I use the Messages app all the time on my Mac system, actually, which causes people to ask how I can tap text messages so darn quickly. We'll leave it as our little secret, right? If you recall, it started out being called iMessage, actually, but somewhere along the way someone at Apple said "i-this, i-that, I'm sick of the letter i!" and it was rechristened Mesages.
The trick to get it working is to have your Apple ID as the intermediate: make sure both your iPhone / iPad is logged in to your Apple account using your regular Apple ID and also make sure that your Mac is logged in to the account too. Then on your Mac go to the Messages program (it's in Applications) and check that it's set up in Preferences to "Enable this account" for your Apple ID. That's it. Now any text messages you get from other people that are actually sent through Apple's messages service (which for me is about 75% of the people I text) will also show up on your computer.
Which leads to the main Messages window: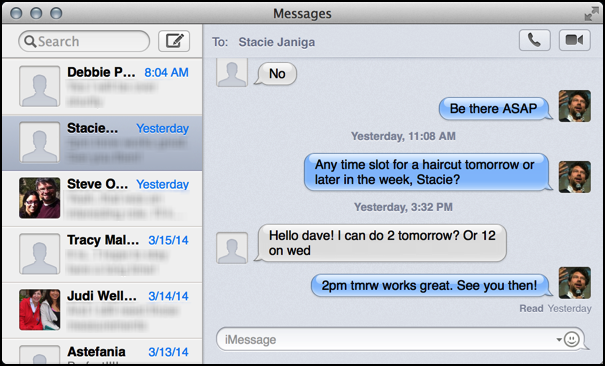 Here you can see that I'm chatting with my friend Stacie about, yes, a haircut. Very exciting, I know.
To add a message to the discussion, simply type it in the bottom window. To choose a discussion, click on it on the left side. To open up a new dialog, click on the little pencil-in-box icon on the top left.
When you do, here's what you'll see: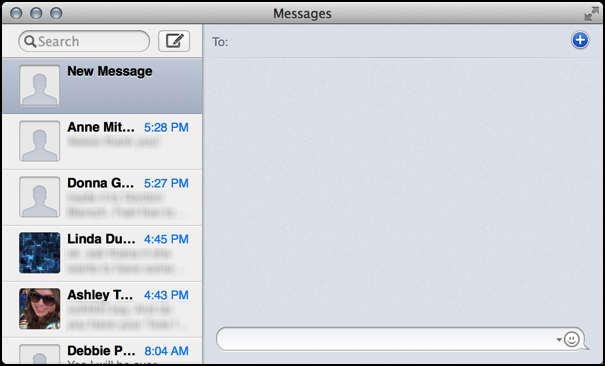 Realize you don't want to start a new conversation, or want to delete the record of one you've had already? Move the cursor into the area on the left side that summarizes the most recent message with that person and a small "x" shows up. Click it and that's gone (and can't be unremoved, so be careful).
Let's look more closely at the input box, though, because your quest is for emoticons, those cute little pics that make text messages quite a bit more fun with other iOS users!

Here I'm poised to send a message to a vegetarian friend of mine who is flying out to San Francisco. Me? I like In-n-Out. 🙂
Look closely at the little smiley face to the right of the input box, however. That's the secret link. Click on it!
Ahh, there are those little emoticons! Turns out there's quite a selection here too, each "view" can scroll up and down, and the strip along the bottom give you access to different categories of emoticons.
For example, click on the little "car" and here are the transportation images:
Click on the flower emoji and there are completely different images (remember to scroll up and down too):
Between all of those you should be able to add any of hundreds of different emoticons to your communiques with your friends and colleagues in Messages. Neat, kinda hidden, and definitely fun. And in case you're wondering, they all show up just fine on iOS devices, so feel free to go emoji-crazy. 🙂