The Japanese and American cell phone markets are opposite like lamb and tuna fish. That was one of the first things that I noticed when I spent a few weeks there two summers ago. I've always had a less than optimal view of our cell phone market's infrastructure where the best network gets the ugliest phones and the worse network gets all of the good looking phones but without the reception. That's why when I went to Japan and saw that multiple companies had summer cell phone lines coming out like seasonal clothing lines, I was taken aback.
I was used to a network here where my phone's novelty wears off within the hour that I get it, and then I'm trapped in a contract for far too long with expensive escape fees. In Japan though, I could customize my plan (daytime only service or TV reception for example) with a good looking phone and solid service even underground in subway stations, according to Japanese cell phone customers.
If the cell phone world is so perfect in Japan, why is it so fundamentally flawed here in the States? Why is it so rigid, straight forward and uncompromising? Why as consumers haven't we demanded the flexibility that the Japanese cell phone industry exudes?
First and foremost it's the fault of the service providers.
Why the rigidity? Why the inability to work with creative and innovative companies to push the progress of what a phone can do? Instead of making phones smaller and shinier, why not try to incorporate things into phones that we as consumers don't even know we need yet?
When the iPhone was brought to Verizon, they sent Apple away, dismissing Steve Jobs and company's requests for freedom within their network as crazy talk. AT&T, maybe sensing what was to come (or what should come), took the dive and allowed Apple to run more freely than anyone ever has when working with cell phone providers, allowing revenue sharing, Visual Voicemail, a full iTunes store a cell phone and then the App Store. But when the iPhone captured the hearts of gadget-lovers in America, Japan sat unscathed, texting away on phones that were years ahead of phones on the American market.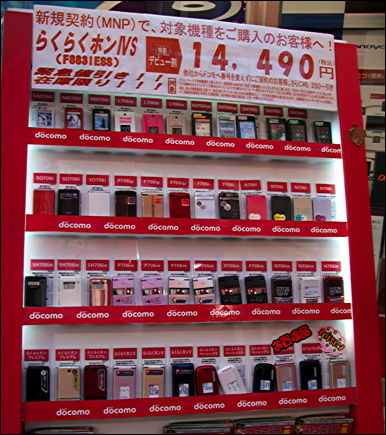 Japanese Cellphone Vending Machine
Image used under Creative Commons license, original from d0ug&r0byn @ Flickr

The iPhone's success here, or rather its lack of success in Japan has to do with one major factor: the home computer, a piece of technology that the iPhone relies heavily on for music dumping and software updates, a piece of technology that is not as widely embraced in Japan as it is in the States.
There they use their cell phones for everything from making phone calls to recording videos, playing music and paying for drinks at vending machines so why don't we? After the carrier's inflexibility, it's only fair to blame the other side of the coin, the companies that make and provide the phones that we use.
Japan's seasonal lines are scrapped across the Pacific for phones that are churned out by the week with poor interfaces and cheap touch screens. Samsung's latest venture is a group of phones that set out to either rip off the iPhone or capture people too stubborn to switch off of Verizon, I'm not entirely sure yet. It's too bad that Samsung doesn't have half of the engineering prowess that Apple does and subsequently turns out phones that Verizon won't recommend to you in their stores for the simple fact that they don't want to deal with you in a few weeks when it breaks.
I'm tired of the choice between the expensive smart phone or the cheap, breakable piece of plastic. I'm tired of going back to the store two months after I buy a phone to get a new one because the old one stopped working.
It's time that American cell phone companies embrace what technology can do in terms of innovating the cell phone market. Why not do things the way that the Japanese do, incorporating e-wallets into phones with RFID chips and cameras that aren't 1.5 megapixel pieces of junk? We as customers need to demand from providers freedom in our contracts, the ability to customize our plans to fit exactly what we do with our phones. Everyone is different, shouldn't our cell phone plans reflect our needs? Moreover, our phones should reflect our personalities instead of the drones in I,Robot.
I want freedom and I want it now! I just don't want to move to Japan.
Zack Shapiro is a staff writer for the CU Independent and an active blogger. You can find him on his website
ShutUpInternet.com
and on Twitter as
@zackshapiro