My sister shares her location with me through the Apple 'Find My' tracking service which is great. But when she's en route to my place, is there any easy way for me to figure out how long until she arrives? Ideally a Mac solution, not an iPhone solution…
When it was first released, Apple called the service Find My Phone but it soon became apparent that there were other devices – and people – you might want to track on a map too. Then Find My Friends appeared, but why have two apps? Instead Apple now just has the grammatically awkward "Find My" app on iOS, iPadOS and MacOS X system. They all look and work pretty darn similarly, but since the heart of the program was always a way to find stationary objects, the ability to calculate things like distance to destination is a bit clumsy.
Fortunately the program can work with Apple Maps and between the two there are some really slick tricks you can accomplish, one of which is exactly what you seek; figuring out how long until someone who is sharing their location with you arrives at a specific address or destination. To demonstrate I'll share the location of my daughter on her road trip from Seattle, Washington to Denver, Colorado since she's sharing her location with me. Her first night destination: Missoula, Montana. A solid day of driving, for sure!
I launch Find My on the Mac and she and my son both show up, even though they're quite a long way apart: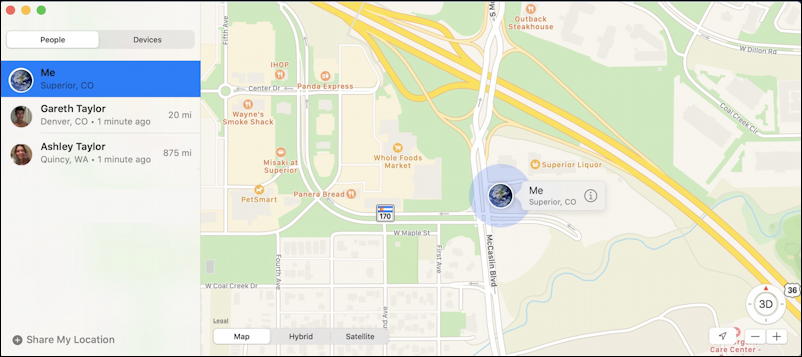 The highlighted location, however, is my own; I'm in Superior, Colorado as I write this article. You can see that Gareth is 20 miles away in Denver and Ashley is 875 miles away in Quincy, Washington. Where's Quincy? A click on Ashley's name and the map recenters to her location: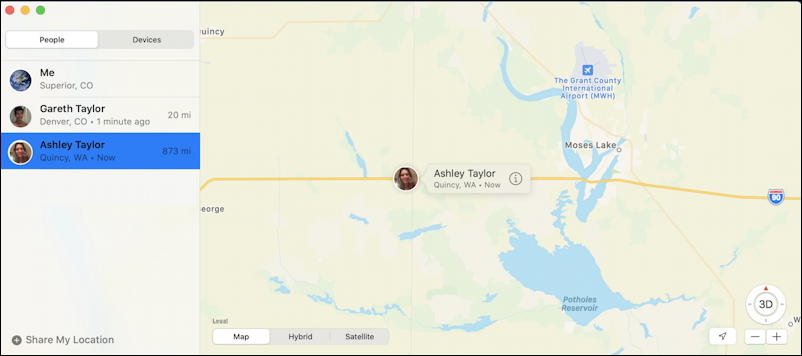 I'm imagining it's quite beautiful on her drive, but how far does she have to go to get to Missoula? While it's not at all obvious, there's a lot of information you can glean from the "i" in the circle. That's Apple's "more information" icon and in this instance, when I click on it, I get this additional info popup:
Most importantly, "Directions". Click on that button area and their location is fed (as a latitude/longitude) to Apple Maps. A critical step! A click and I'll see the same spot, but in Apple Maps, showing directions from that point to my current location in Superior, Colorado:
Two route options from Quincy to Superior, 1,223 miles, 16 hours and 50 minutes through Montana or 1,196 miles, 17 hours 1 minute, through Idaho and Utah. Fortunately she's not going to do that in a day, but it is interesting to see that these two dramatically different routes are so similar in driving time and distance.
But what about her Missoula destination? Where the top left of Apple Maps shows "My Location" you can click on the adjacent 'x' and type in a different destination entirely. While I'm at it, I'll also click on the sideways 's' icon to correct the direction of travel, and now I can see the distance and estimated time to Missoula from Quincy:
As shown, it's 313 miles with an estimated driving time of 4 hours and 23 minutes. Still a solid half-day of driving, but not too overwhelming. You can do a similar sequence of clicks with your sister too and easily ascertain how long until she arrives at your location or gets to any other destination you specify. Easy once you know the purpose of that little circle 'i' icon on the more info window, right? Note also that the sequence is almost 100% identical if you want to do this on your iPhone or iPad too, even to the same little icon to transfer their current location into Apple Maps.
Pro Tip: I've been writing about the iPhone and Mac since the beginning of both systems. Please check out my extensive iPhone help and Mac help areas for lots more tutorials and useful articles!