I need to refinance my home and before I download any questionable apps, is there a built-in mortgage calculator in Microsoft Windows 10? I seem to recall that there is…
I concur that it's always a good strategy to minimize the programs and apps that you install on your Win10 or other computer, whether they're relatively lightweight apps like a specialized calculator or something more sophisticated. One solution is to see if there's an online or Web-based option and Google actually has a mortgage calculator built in to its search engine, if you can believe it! Just do a search for mortgage calculator!
But let's stick with Windows and the programs that are included with the OS because there is indeed a program that helps with personal finances, both helping you track the news, follow your stock investments, work with overseas currencies and, yes, calculate mortgage or loan payments. It's called Microsoft Money. And the best news? It's been included in Microsoft Windows forever.
In the world of Windows 10.1, it's a tile on the Start Menu. In Win10, it's on the start screen. In both cases, you'll see something like this:
Can you see Microsoft Money? It's an Active Tile, so instead of just being a solid color and an icon, it'd actually a photo with text superimposed on top. The tile with "GM's German-made Buick highlights risks from trade…". Later I'll show you how to disable the active tile so it's easier to find, but for now, just click on it.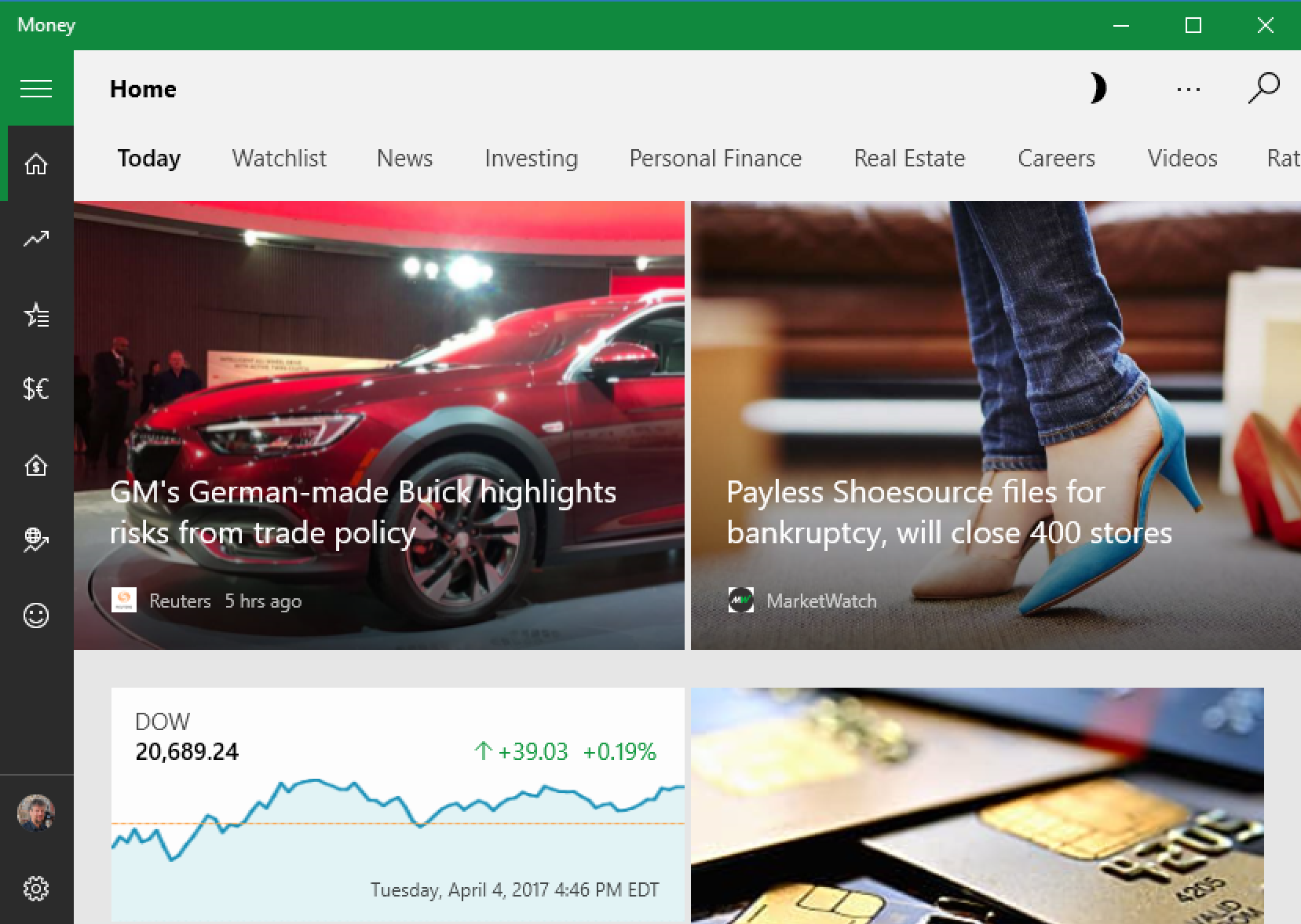 Most people launch MS Money and never realize how many things it can do because they don't get past the news reader factor.
The important things are all those icons down the left side. For example, click on the $€ and you get to the currency exchange area:
Even here you have to be a bit of a detective to figure out how to best navigate the interface. Turns out that not only do you get currency exchange rates that are up to the minute accurate (they fluctuate a lot) but if you can find and click on "Currency Converter" (near the top) there's a full-blown foreign exchange rate calculator that lets you quickly translate and figure out how many Japanese Yen a Canadian dollar purchase would cost, etc. Or just convert from US dollars to Euros: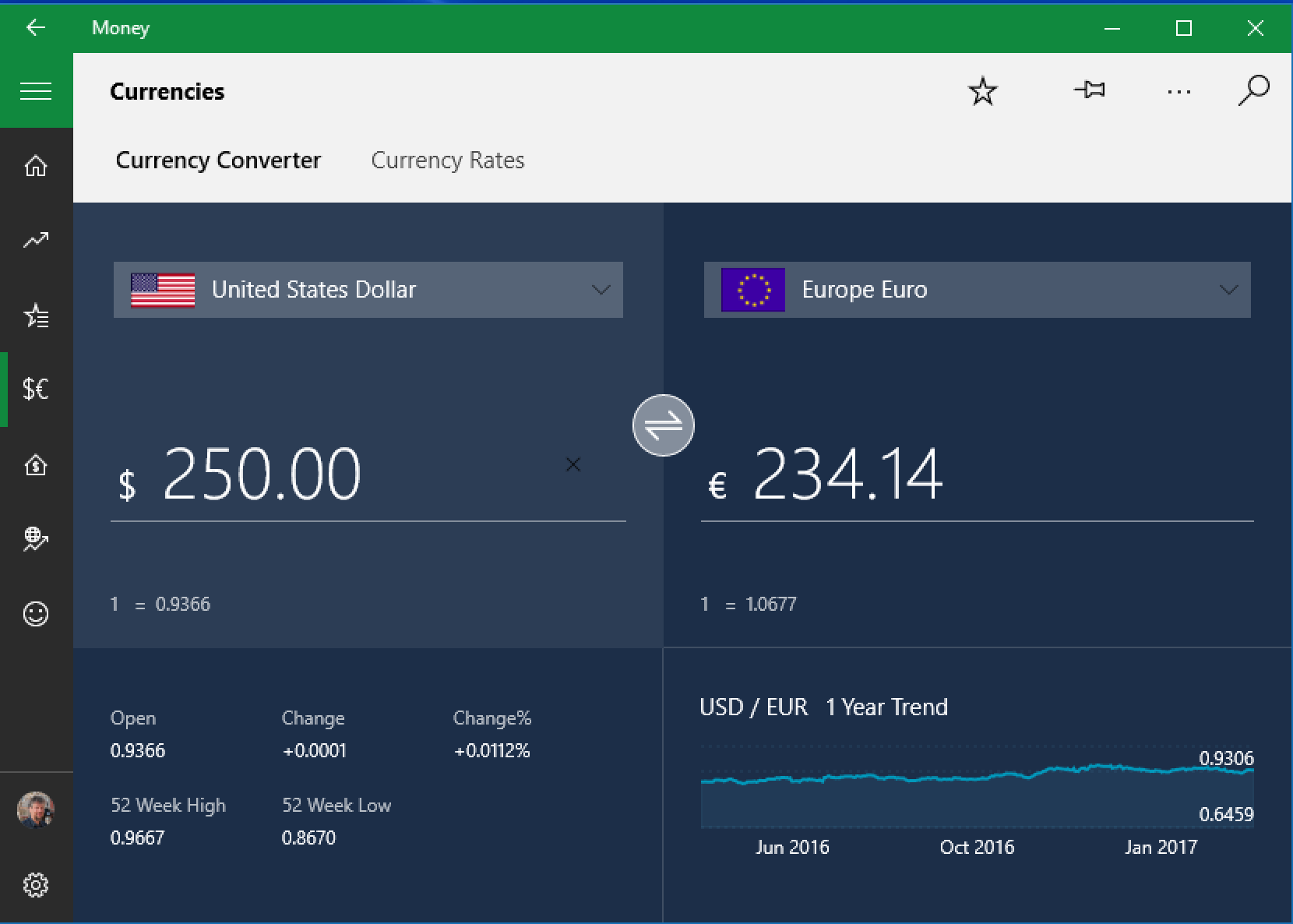 But we're not done with the quick MS Money tour because we haven't gotten to the mortgage calculator that you seek.
That's found on the tiny house w/ "$" symbol icon on the left side. And here's what it reveals: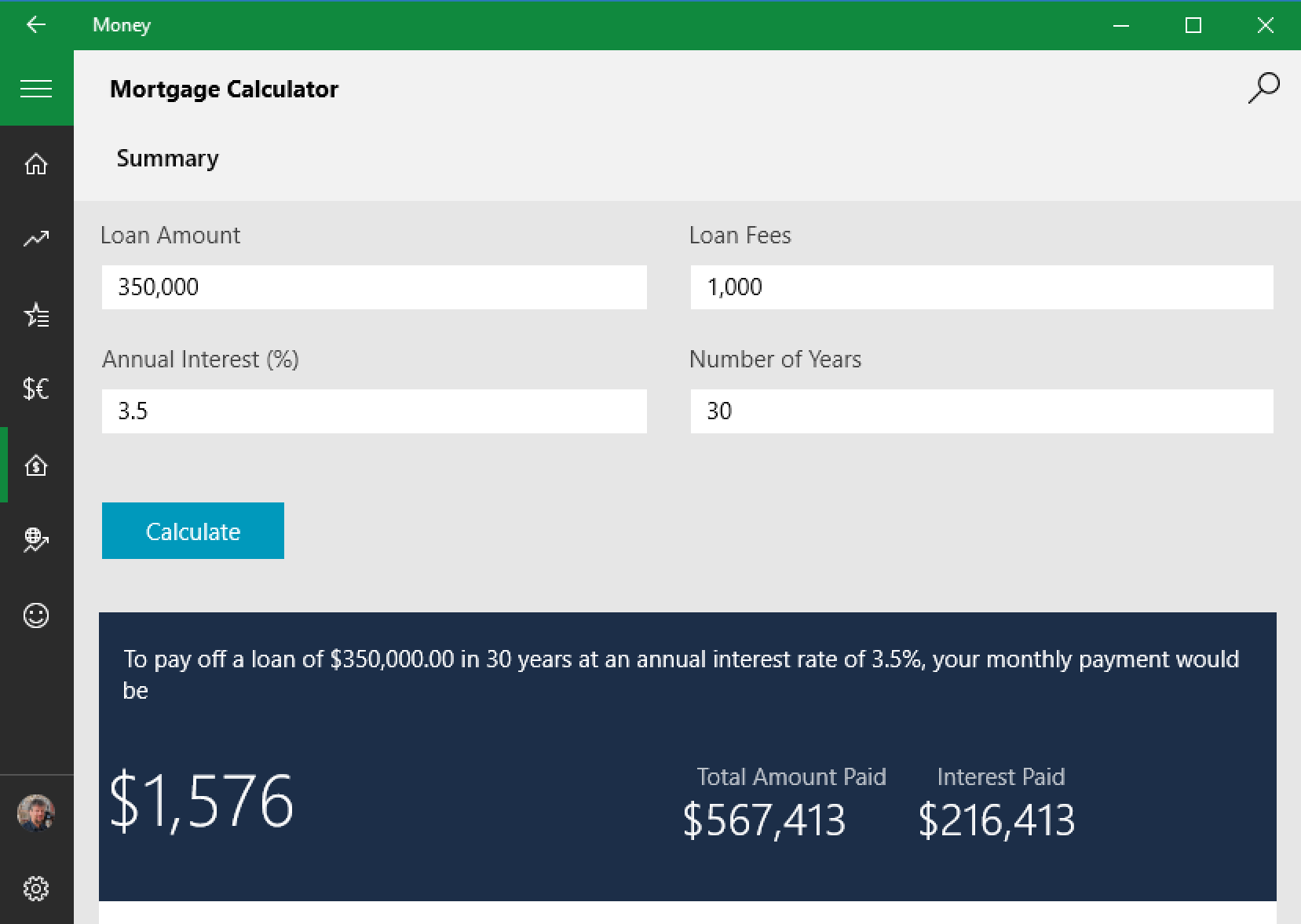 There ya go. A slick and easy to use mortgage (and other kinds of loans like car loans) calculator that's built into MS Money on your Windows 10 system, whether you have a tablet or computer.
Before I wrap up, however, I promised to show you how to turn the "active" Microsoft Money tile into one that's just a simple square and easier to find and utilize. That's done by right-clicking on the tile in the Start Menu or Start Page, which brings up this menu:
Easy enough: Choose "Turn live tile off" and it'll be just a simple colored tile again. Notice also that you can pin the program to your Taskbar if you'd like and, on the previous menu, resize the tile to make it larger or smaller.
What does an "inactive" Money tile look like in the Start Menu? Like this:
Much, much easier to find and work with in my opinion! Oh, and good luck on your refi!