Now that I have a few dozen of my friends connected to me on myspace, how do I easily send them all messages about stuff that's going on in my life? Is there some sort of mail capability I can't find?
Actually, in the MySpace world, email is really designed for one-to-one communication. If you want to send a message to all your friends then you should be using a MySpace Bulletin, which is easier to do than it sounds! 🙂
Down the left side is your "My Mail" section: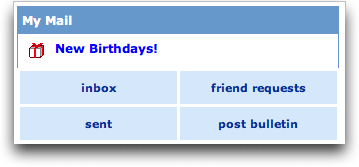 Click on "post bulletin" and you'll see a simple input form: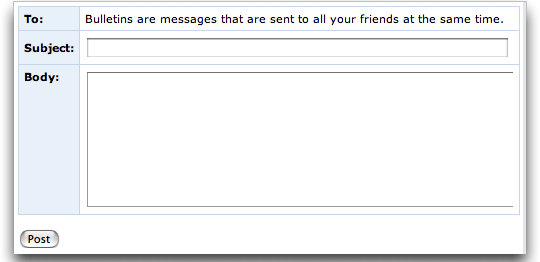 I strongly suggest that you have a descriptive and informative title to your bulletin, because your friends will only see that unless they're sufficiently interested to click through and read the rest of the bulletin message.
Once you've clicked on "Post" you'll actually be shown the bulletin a second time and asked to confirm that you really do want to send the specified bulletin to all of your friends. Finally, you'll get this:

That's all there is to it. Now your few dozen closest [MySpace] friends will have a copy of your bulletin in their bulletins list, and hopefully at least some of 'em will read it!
Here are two more useful MySpace links for you to check out too: